Often, athletes remember their first time playing their chosen sport as a revelation, as if it showed them that they were hardwired to love the game. But that's not how Antonia Faber, a lefty who's Germany's highest rated female player and Europe's seventh highest, described her first impression of disc golf.
When her husband dragged her out to a course in their hometown of Potsdam, Germany, in 2013, she was underwhelmed.
"I didn't like it in the beginning," Faber said. "It was too slow."
Faber was a longtime tennis player, and it's not hard to imagine that the constant action of the sport she had played for over two decades made it hard to adjust to the slower pace of disc golf. However, there was one more hurdle that was likely even harder for the competitive Faber to jump over.
"Also, I wasn't really good at throwing," Faber admitted.
The change in Faber's attitude toward the sport didn't take too long to come, though.
"At the end of 2013 my husband and I went to Austria for a holiday at a farm," Faber recalled. "There was a big field, and he gave me two discs and taught me how to throw them. After that week, I could throw around 80 meters instead of 30 [260 feet instead of 100]. That fast learning curve just hooked me."
Since then, Faber has given up balls and rackets in favor of discs and baskets. And when she isn't using her knowledge gained while earning a PhD in atmospheric sciences to work on projects related to—among others—public works and environmental matters, she's training to become a better player.
Talking with Faber, I learned more about her almost instantaneous rise to the top of Germany's Open Women's field, her thoughts on Germany's current tournament structure, and her goals for 2019—including a dream to reach this year's PDGA Professional Disc Golf World Championship.
Athletic Training + Competition Experience = A Winning Combination
After Faber learned to throw while at that farm in Austria, she was eager to test herself in formal competition. She passed with flying colors.
"In 2014 I started playing tournaments," she said. "I won, I think, the first three or four tournaments I played that year."
She also took home wins from a EuroTour event, the Westphalia Open, and the PDGA B-tier Berlin Open. In that year's Deutsche Discgolf Meisterschaft (German Disc Golf Championship), she placed third in a field of thirteen.
Faber believes part of her quick success came from how her experience in competitive sports had made her somewhat impervious to the tournament jitters common for newer players.
"I've had a competitive mindset from really early on," Faber, who started playing tennis at age three, explained. "I know a lot of people who go in, and it's a totally different game when they compete versus when they practice. And for me, it's never been such a big difference."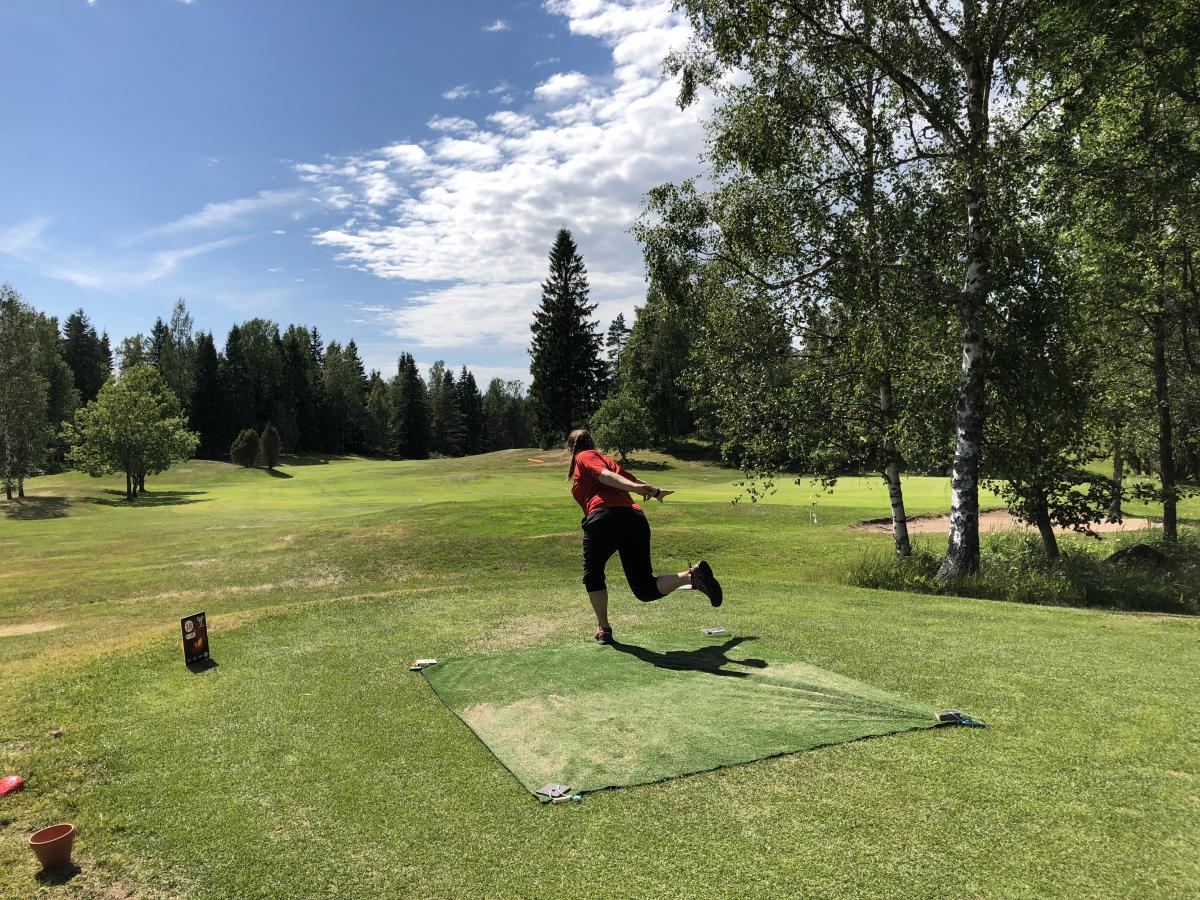 She also thinks tennis honed the fine motor movements she needed to be a good disc golfer.
"Throwing discs and hitting tennis balls is kind of similar," she said. "You have to have really good control over small changes in your arm in both. In tennis, the spin changes with any little difference in how you hold your racket, just like the smallest difference in angle changes how your disc will fly."
Once Faber gave up tennis in favor of disc golf, she also discovered that tennis had been helping her in other ways, as well.
"In 2014, beginning of 2015, I could throw around 120 meters [394 feet] but then I stopped playing tennis because I didn't have time for both," Faber said. "But when I stopped practicing tennis, I lost my distance. It went down to 80-90 meters [260-295 feet]. My core muscles just weren't getting worked out as much anymore, and I'm trying out new training techniques to get some of it back."
Despite this loss in distance, Faber has stayed near the top of the field in Germany, capturing back-to-back German Championship titles in 2017 and 2018. She also picked up a sponsorship from the Finland-based disc golf organization Natural Born Disc Golfer for the 2019 season.
Thoughts on Current Tournament Norms in Germany
Germany has a unique system for competitive disc golf, and in recent years it has become the norm that extremely few tournaments offer payouts—and usually very little in the way of players' packs—for any division. With Faber being one of the most successful Open Women's players in Germany over the last five years, I wanted to know how this affected her views of playing in her home country.
"I would like to see some changes," Faber asserted. "There are a lot of two-day tournaments that are still C-Tiers, so they don't have to pay anything. And that's one of the reasons that no one is coming from other countries to play our tournaments."
But Faber isn't idly asking for change. She helped to actualize it at last year's German Championship — which was hosted in her hometown of Potsdam — hoping to provide a model to others.
"We had, I think, over €7,000 [$7,850] prize money, which was totally different from anything else before," she said. "We really put a lot of work into it, got money from sponsors, the city, and the state. You can actually do a lot by applying for these things when you have big tournaments."
She used a personal example to show how that effort can make a huge difference in the motivation of top players to participate in tournaments.
"In 2017, I won the German Championship," she said. "I paid a €75 start fee and I won €120 or €130 and I had to drive there and pay for somewhere to stay. This time I paid €50 and I won €400. I would at least like to know that if I win a tournament, I can get my travel money back again."
Dreams of Worlds and a European Championship
Of Faber's primary disc golf goals, one can't be achieved for another four years, and the other is more immediate.
In the longer term, Faber, who turns 36 in September, thinks that she has a great shot at becoming the European Champion in the Pro Masters Women's division when she becomes eligible. She's likely correct: At last year's European Championships, she found herself on the lead card after round one before finishing seventh in a field of mostly younger players.
As for this year, along with improving her rating, Faber's central desire is clear.
"My main goal is to go to Worlds…just to go and see how I measure up to the best players in the world," she said.
Whether Worlds is in the cards for Faber or not depends on funds, and those who want to help her achieve her Peoria dreams can do so here.