Round 2 Recap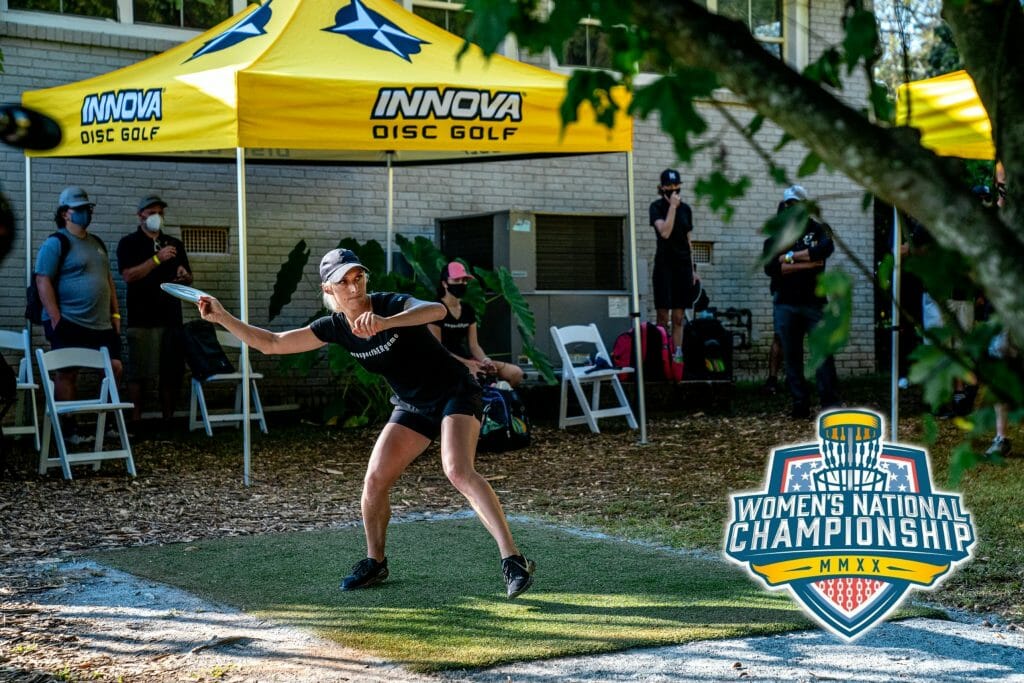 Thursday at Winthrop was the scoring affair we were expecting to see at the Women's National Championship, with three times as many players going under par compared to round 1. It was still the leader, however, that provided the day's biggest moments, good and bad.
Paige Pierce added to her lead by tying for the hot round 5-under par, pushing her total to 15-under par total and a six stroke advantage. She was 6-under par through the first 10 holes, but played the final eight holes 1-over par. She is either first or second in every major UDisc Live statistical categories with the exception of Circle 2 putting, yet her one major mistake on hole 18 makes tomorrow's second moving day more interesting. Two OB shots and needing two putts to finish her round (including an obstructed putt she made from the woods) gave Pierce a double-bogey and her competitors an opening that had failed to present itself for much of the prior 35 holes.
Taking advantage of Pierce's mistake and remaining in second place in the process is Catrina Allen. She eagled hole 18 for a four stroke swing in her favor. The most impressive part of Allen's 3-under round was shaking off a snowman 8 on hole 5 where she put two discs in the drink. She'd immediately park hole 6 for a tap-in birdie, and birdie four of the next five holes after that. Along with Pierce, Allen is also either first or second in every major driving statistic. She is at 9-under par total.
Also staying put in her podium position is Heather Young at 5-under par total. The southpaw hs been uncharacteristically nervy on the greens and is currently ninth in the division in C1X putting.
A threeway tie for fourth includes two big jumps up the leaderboard from Ohn Scoggins and Ellen Widboom, who both tied Pierce for the hot round. Scoggins didn't miss inside 33 feet and got revenge on hole 10 which cost her 10 strokes Wednesday; she birdied it in round 2. Sarah Hokom is the third player at 2-under par total, and her best throw of the morning came with a 100+ foot throw-in eagle on hole 13.
Heard
"Today I was thinking I just need to go for it. I cannot be scared because I had three or four OB strokes yesterday." – Ohn Scoggins on facing her hole 10 demons.
"I yelled at myself right after and just said, 'You were supposed to stick to the game plan.' I didn't even practice that shot so I can't be more upset with myself for even attempting that. I got a little greedy and Winthrop gives you bogeys when you get a little greedy." – Paige Pierce, on her missed upshot on hole 18.
Statline
The field averaged 3.37-over par during round two, more than three and a half strokes lower than in round 1. With conditions the same day-over-day, it's obvious the division is settling in at Winthrop. Fairways hits, greens in regulation, and scramble percentage all improved on Thursday.
---
The lead card of Pierce, Allen, Young, and Scoggins tees off at 9:45 am EST.
Coverage
heather young hole 3 round 2 wnc
catrina allen hole 6 round 2 drive
paige pierce hole 6 round 2 putt
paige pierce hole 10 round 2 drive