Could a first-time champ be crowned?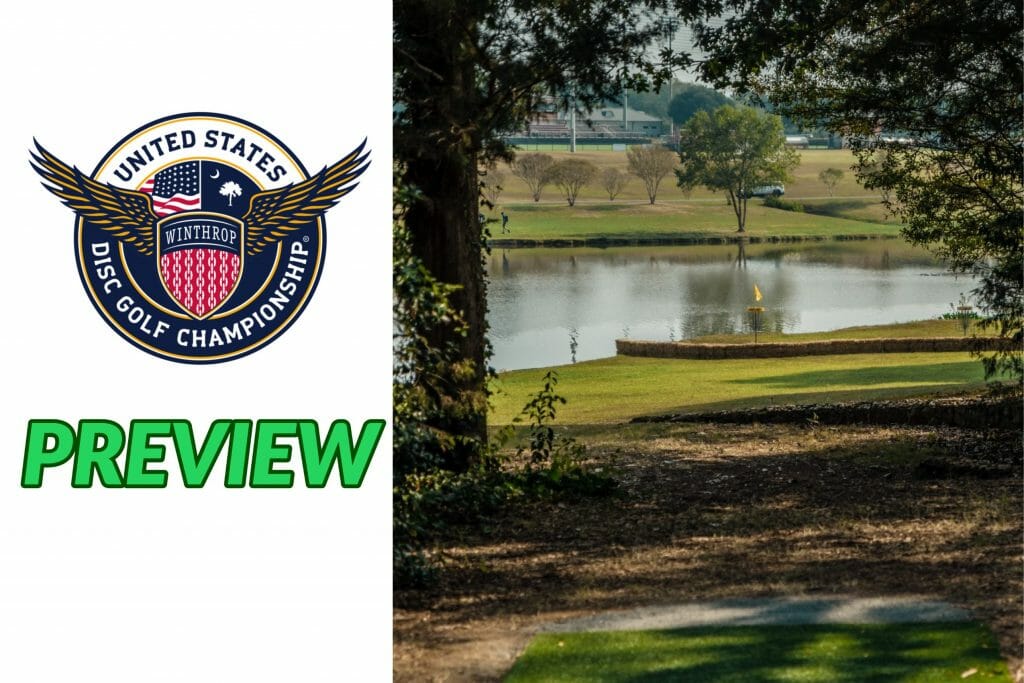 The United States Disc Golf Championship tees off in Winthrop in a few short hours. This edition of the USDGC will be the lone major of the 2020 season, and so carries with it even more importance, prestige, and pressure for the players who earned their spots. As has been the case throughout all of 2020, things will look a little different at the Winthrop Arena this year due to Covid, but we can almost guarantee a high level of exciting play out of our sport's best.
Unlike other Elite Series events such as the National Tour and Disc Golf Pro Tour, competitors have to earn an invite to participate in the USDGC by playing and placing well in certain qualifying events, including DGPT and NT events, as well as larger A-tiers. Former champions, and players who placed in the top 10 in the prior year USDGC are also extended automatic invites to play. What this means is that every player on every card has a real punchers chance to win. There are no slouches in this field.
Speaking of the field, there are a couple names we will NOT be seeing. Nate Sexton announced that he is withdrawing from the event due to an injury. This would have been Sexton's first Elite Series of the season since February's Memorial Championship. Philo Brathwaite, who has played well in Winthrop, declined his invitation in favor of taking on the role of commentary partner with Central Coast Disc Golf's Ian Anderson on the livestream broadcast. Brian Earhart failed to qualify, as did Jerry and Jonathan Gomez of JomezPro, which means that we will be 100% Jomez-free at Winthrop. Also, Paige Pierce who participated in last year's USDGC will be in attendance, but as a competitor at the Women's National Championship, which will also be held at Winthrop this week.
The eventual winner of this event may very well be the same person who takes home Player of the Year honors for 2020, partly because USDGC is the only major on the calendar this year, as well as because of the party of play we have seen this season. Up until Jonesboro, only Paul McBeth and Eagle McMahon had won multiples Elite Series in 2020, but with his win at Jonesboro, Calvin Heimburg pulls even with two wins to his name in 2020.
What We'll Be Watching
As always: How many big numbers will hole 17 draw?

In 2019, the event made some changes to a few holes and how they set up. There was naturally some controversy around the changes, gripes, and approval from players and fans alike. One year later, some holes are gone entirely, and others have reverted back to past layouts. So, will the criticism slow down this season?
Is this the event that will put Pay-Per-View and livestreaming over the top of post-produced coverage? As noted on The Upshot, Innova is bringing in a lot of cameras to roam the course, and if you want to watch, you've got to pay. With DGN's successful 2020, companies like Jomez Pro, Par Save Productions, GK Pro, Gatekeeper Media, CCDG, and others may look back at the 2020 season as the beginning of the end.
Past Winners
| | Winner | Runner Up |
| --- | --- | --- |
| 2019 | James Conrad | Jeremy Koling & Nikko Locastro |
| 2018 | Paul McBeth | James Conrad |
| 2017 | Nate Sexton | Ricky Wysocki |
| 2016 | Jeremy Koling | Nikko Locastro |
| 2015 | Paul McBeth | Ricky Wysocki |
| 2014 | Will Schusterick | Paul McBeth & JohnE McCray |
| 2013 | Steve Brinster | Barry Schultz & Steve Rico |
| 2012 | Will Schusterick | Ricky Wysocki |
| 2011 | N/A | |
| 2010 | Will Schusterick | Nikko Locastro |
| 2009 | Nikko Locastro | Dave Feldberg |
| 2008 | Nate Doss | Avery Jenkins |
| 2007 | Ken Climo | Avery Jenkins |
| 2006 | Barry Schultz | Brian Schweberger |
| 2005 | Dave Feldberg | Scott Martin |
| 2004 | Ken Climo | Darrell Nodland |
| 2003 | Barry Schultz | Ken Climo |
| 2002 | Ken Climo | Barry Schultz |
| 2001 | Barry Schultz | Ken Climo |
| 2000 | Ken Climo | Al 'Sugar' Schack |
| 1999 | Ken Climo | Al 'Sugar' Schack |
The Course
Winthrop Gold: Rounds 1 & 4 – 10,091 feet, par 67; Rounds 2 & 3 – 9,993 feet, par 67
If you like watching the disc fly, you'll like Winthrop. If you like watching players hit narrow targets and landing zones, you'll like Winthrop. If you prefer woods golf and hate "artificial" OB, then maybe you don't love Winthrop so much. Sometimes called the US Sidearm championships, the course does play very well for a lefty backhand or righty forehand player, but, of course, James Conrad might have a word on the subject — the reigning champ got it done with his world class backhand turnover game.
The unpopular holes 3 and 4 from last year's event have been removed, as has the triple island fairway on hole 9.
How To Watch
To watch live, you'll have to pay. Passes are available here at three different price points with different perks associated with each package. Central Coast Disc Golf will be putting out post-produced coverage a couple weeks after the event.