Round 2 Recap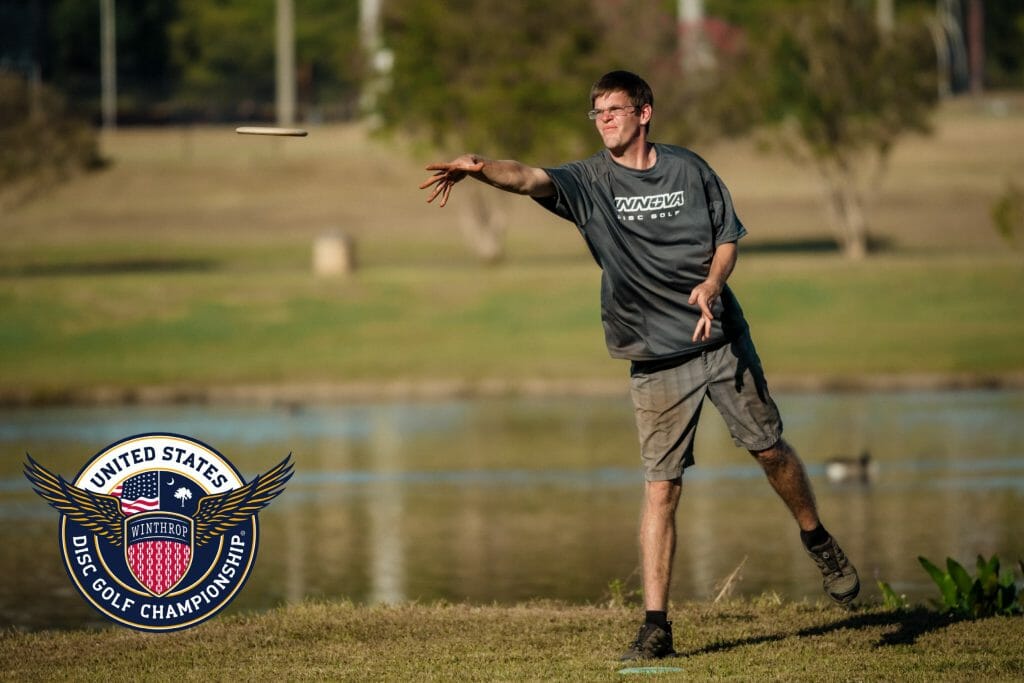 It was the second day in a row of birdie or die proportions at the United States Disc Golf Championship, and many of the day one frontrunners got left behind.
Chris Dickerson had a lead card worthy score after round 1, a 10-under, but not a PDGA number low enough to win a tiebreaker. He made sure he'd get cameras on him for at least one more round by posting a 14-under par during round 2 to move into the lead by two strokes at 24-under par total. He started the day with eight straight birdies until his lone bogey on hole 9 stopped the streak. Dickerson is first or second in fairway hits, both greens in regulation, parked percentage, Circle 2 putting, and has only missed one putt inside 33 feet.
The big story of the day was Alex Russell tying the under-par course record at 15-under par. His 52 was all birdies, and he did it on a card with Ricky Wysocki, James Conrad, and Nikko Locastro. Russell jumped 30 spots into third at 17-under par total, overshadowing an impressive round from Wysocki, a 12-under that moved him 24 spots into a tied for ninth. Russell only missed one putt on the day, a C2 chance on hole 16, although he made three others from a similar distance for good measure, including one staring down the hay bales on hole 17.
Second place Eagle McMahon will be the only player to remain on lead card, as he watched his fellow card mates implode around him Thursday. His 10-under par round moved him to 22-under par total, but due to a bogey on 18 and a couple of two-putts it didn't feel close to being as good of a round as it was.
For the number of big moves up the leaderboard we also had some big drops. Round 1 leader Anthony Barela couldn't get any part of his game going and fell 33 spots with a 8-over par round. Isaac Robinson fell 16 spots, mostly due to an 8 on hole 17. Even Paul McBeth dropped four places with a 3-under par effort. At least we get a McBeth and Wysocki chase card. together.
Drew Gibson aced hole 14. Wish it had been captured on camera.
Heard
"It feels good to come out here and actually start with two good rounds, rather than have to fight your way back at the end." – Chris Dickerson, who has made a habit of moving up the leaderboard on the final day of events.
"I never could have imagined shooting a 15 out on this track. It was weird having a tap-in on [hole] 18 for 15. I was thinking about it while other people were putting. Too many thoughts were going through my head it's just.. it's amazing." – Alex Russell on his monumental round.
"Going to keep my foot on the gas but be ready to hit the brakes." – Eagle McMahon, on managing Winthrop's many hazards.
---
The lead card of Dickerson, McMahon, Russell, and Garrett Gurthie tees off at 2:30 pm EST.
Coverage
chris dickerson hole 7 round 2 GIF
isaac robinson hole 13 approach GIF