Final Round Recap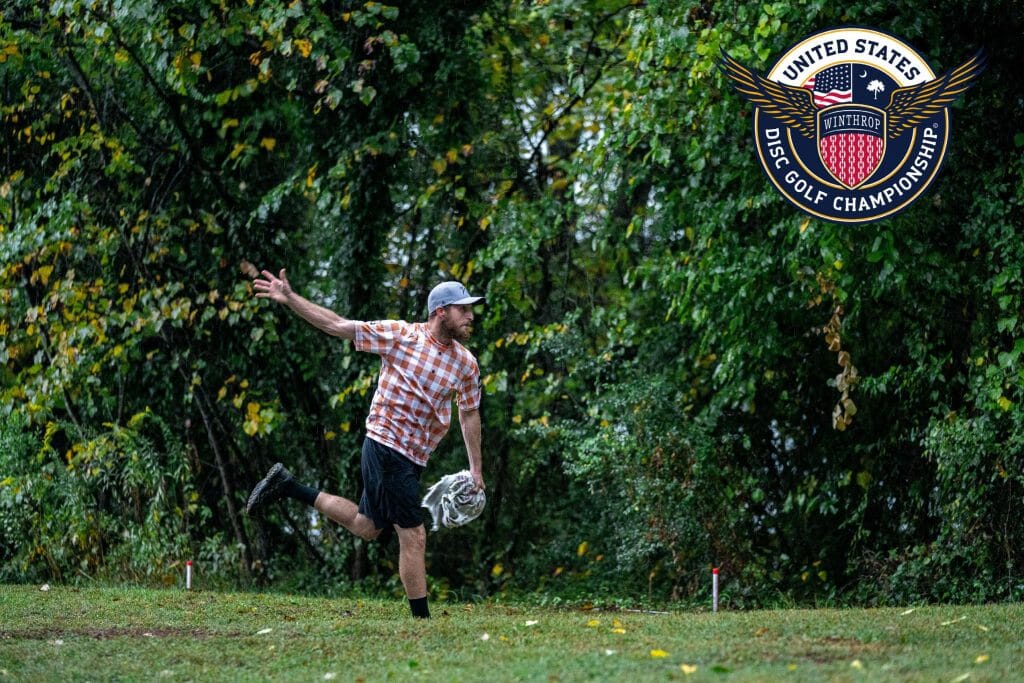 "It started to creep in, you know. Maybe this isn't your year," said Chris Dickerson. "Even though you worked hard to get here, maybe it's just not your year."
That's not the best feeling to have halfway into the final round of the United States Disc Golf Championship as you try your best to fight off torrential rain and a surging player off the chase card. For Dickerson, who first took the lead in round 2 and held on tight, he felt like he was watching the win wash away with much of the fairways at Winthrop.
After weathering much of the storm, two OB strokes and a triple-bogey on hole 10 almost led to a lost weekend for Dickerson. Calvin Heimburg, a couple holes ahead, was on a heater and had taken the lead from Dickerson.
"Maybe on hole 9 or 10 I checked UDisc and I saw what Calvin was shooting. I think he was at 10-under at the time," said Dickerson. "Honestly, that changed my game plan a lot. I knew I needed to get some birdies instead of just playing for pars.
"Whenever the rain let up and I was able to get a grip on the disc, getting inbounds on hole 11 and throwing a good shot to take a birdie, that really turned things around for me."
Using a game plan he basically made up on the fly due to the conditions and Heimburg's hot round, Dickerson only went even par to finish his round after hole 10, but it was enough to hold off the challenger. Heimburg recovered from bogeys on holes 13 and 14 with two consecutive birdies, but hole 17 did what hole 17 does.
With the score tied at 32-under par and Heimburg three holes ahead of Dickerson, the Floridian missed his first tee shot on the island green before sticking his second. Putting for a long bogey, Heimburg's attempt hit cage, stood up upon hitting the very wet ground, and rolled into the pond. He would miss his re-putt and tap-in for a quadruple-bogey 7. He kept his chances alive by birdieing hole 18 to finish at 29-under par total after a 7-under par round.
Dickerson would bogey hole 15 and hole 18, but the second was just for safety, as his 2-over par round was enough to win the event by one stroke over Heimburg at 30-under par total for his first career Major victory. It's the second consecutive year the USDGC winner has finished the event with a 2-over par round.
"There's been a few tournaments I've been right there at the top, but I just wasn't able to come out ahead," said Dickerson. "Calvin shot, great today. I'm just glad I was able to hold it all together coming down the stretch.
"I think this is the biggest tournament of the year. Because it's always at the same place, I think this is the most prestigious tournament… I haven't gotten to play with [Ken] Climo, but I've played with Barry [Schultz], Will [Schusterick], Paul [McBeth], Nate [Sexton], Steve Brinster, Big Jerm [Koling] — they are all phenomenal players. It really means a lot to me to have my name up there with theirs."
Dickerson was top six at the USDGC in birdies, Circle 1 in regulation, Circle 2 in regulation, parked percentage, C1X putting, and C2 putting. He averaged 1051-rated golf over four rounds, six points above his player rating. It's his 13th win of the year and biggest of his career. He is the two-time defending Disc Golf Pro Tour Championship victor. The 2020 DGPT Championship starts Thursday, 30 miles north in Charlotte, NC.
usdgc final round score change
Ricky Wysocki has still not gotten his US championship but moved up two spots into solo third place at 26-under par total.
Dickerson's lead cardmates did not fair as well as him. Eagle McMahon fell into eighth, Alex Russell into 13th, and Kyle Klein a tie for fifth with Paul McBeth. Garrett Gurthie jumped back up five spots after falling off the lead card to finish fourth, his best career finish at the USDGC.