Round 1 Recap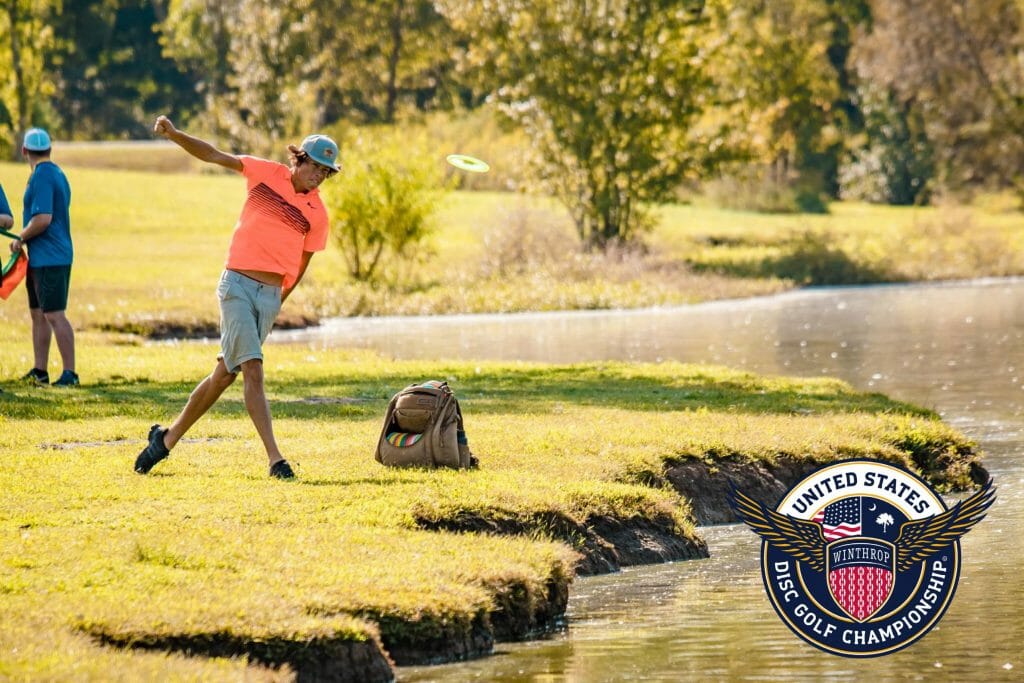 It was the optimal day for disc golf at Winthrop for the opening round of the 2020 United States Disc Golf Championship, and the scores reflected just that, with five players double-digits under par.
The feature card on the USDGC livestream was chasing Anthony Barela for much of its round. The Arizona sharpshooter was stacking birdies with zero blemishes on his way to a 1083-rated, 13-under par. He leads the field in finding Circle 1 in regulation, 72%, and only missed one putt inside the circle, coming on hole 17.
Playing on the feature card and turning in matching 12-under par rounds, good for a tie for second place, were Paul McBeth and Eagle McMahon. McMahon joins Barela in going bogey-free, and both players were 100% from Circle 1X. McBeth's lone bogey on the round allowed McMahon to tie him on hole 16, but McBeth shook off the mistake by pinning hole 17 for a birdie. Hitting 95% of his fairways only left McMahon in a tie for second best overall in that statistical category, as Matt Bell did not miss any.
Four players in all were bogey-free on day one. Ezra Aderhold, tied for sixth at 9-under par, and Andrew Presnell, tied for 15th at 5-under par, were the other two players.
Chris Dickerson was the early clubhouse leader at 10-under par but will not be on the lead card Thursday despite being tied for fourth place. Georgia boy Isaac Robinson, whose brother Ezra has had more consistently high finishes at Elite Series events when touring, tied up Dickerson and gets the lead card nod due to the lower PDGA number. Robinson tied his brother for 21st at the 2019 USDGC.
Ricky Wysocki was in a great position through 12 holes to challenge for the lead card, but went 4-over par with zero birdies to finish his round, including a brutal spit-out on hole 17 which he eventually triple-bogeyed. Wysocki is tied with James Conrad and Nikko Locastro among others in 33rd at 2-under par. Below them is Calvin Heimburg tied in 41st at 1-under par. Finishing with three straight birdies was not enough to overcome his 5-over par stretch between holes 5 and 8.
While the overhead drone was providing some nice shots during the livestream, several players, including McMahon, seemed a bit distracted by the flying machine at times.
Heard
"On hole 2 I had a 30-footer and I had to throw around one of those sticks in the way. Seeing that go in just gave me all the confidence int he world." – Anthony Barela talks his impressive putting day on The Upshot
"I think that's the tournament mindset of "this putt matters week in and week out." It's something that kind of slips my mind here and there. I need to get into that groove and that was a big reason to go to Jonesboro was to get that confidence back and getting that groove again. I'm going to work that out as the week goes along." – Paul McBeth on his putting.
Statline
Garrett Gurthie was the only player to eagle hole 13 on Wednesday in its long pin position. Last year only two players, Adam Hammes and Antti Kotilainen, were able to eagle the 999-foot configuration of hole 13. In 2018, only two players eagled hole 13 in the long position – Gurthie and Hammes.
---
The lead card of Barela, McBeth, McMahon, and Robinson tees off at 2:30 pm EST.
Coverage
ricky wysocki par save hole 13 usdgc round 1 GIF
paul mcbeth metal hit on hole 13 GIF
ricky wysocki hole 17 spit out GIF