The busy summer months shook up the rankings as we head into Pro Worlds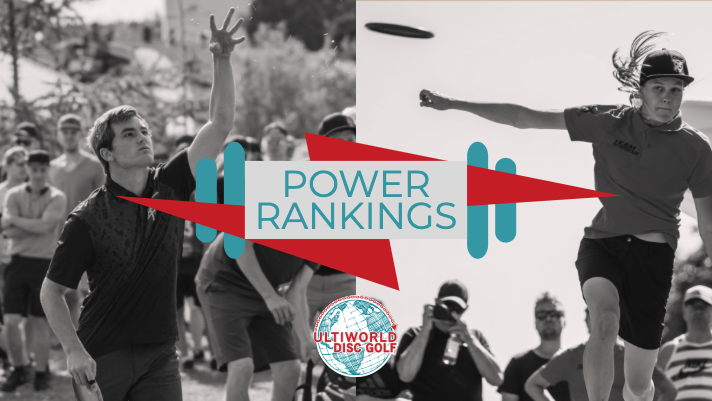 The 2019 Professional Disc Golf World Championship begins tomorrow in Peoria, Illinois. Need some help with your podium picks? Look no further. Time for v. 6 of the 2019 Power Rankings. First some quick hits:
It should come as no surprise that Paige Pierce reclaimed the no. 1 ranking. Like DJ Khaled, all she do is win, win, win (win, win, win, win, win) no matter what. Yeah, that's eight consecutive Ws for Pierce (including the Presidents Cup) dating back to the Portland Open.
Catrina Allen (2) leads Pierce in three of the five throwing categories this season (fairway hits, parked percentage, and Circle 2 in regulation), but the margins are razor-thin. In fact, the two women are separated by three points or fewer in all UDisc Live statistical categories except putting percentage. For the season, Allen trails Pierce by 5% from Circle 1X and 7% from C2. She's got to clean up her short game in Peoria because Pierce is killing it on the green of late, canning 80% of her C1X putts (78/98) and 30% of her C2 putts (14/33) over the past three stroke-play tournaments. Over the same span, Allen has averaged 58% C1X (53/92) and 7% C2 (5/75).
The Finnish phenoms and top 2 from Europe, Henna Blomroos (3) and Eveliina Salonen (8), should pose a considerable challenge at Worlds. Blomroos has limited UDisc stats this season but has logged enough holes to qualify for the statistical rankings. She's first in fairway hits, C1 in regulation, and C2 in regulation and third in birdie percentage. Salonen's stats aren't as strong — she's only top 10 in two categories — but she already has a four-round, two-course victory over the American frontrunners this year.
Paige Bjerkaas (16) is on the outside looking in. She's had a quiet season since winning in Vegas, but the Worlds courses in Peoria are remarkably similar to Fox Run and Brewster Ridge in Vermont. It's worth noting that her rating is the highest it's ever been at 952 and she averaged 979-rated golf at the Rocky Mountain Women's Disc Golf Championship earlier this month.
Had Paul McBeth won the CCR Open instead of finishing in second behind Garrett Gurthie (7), he would boast a winning streak to match Paige Pierce, dating back to May 27. Alas, he'll have to settle for second best win total during that span.
Kevin Jones (2) actually topped McBeth in our objective metric, but the writers brought him down a peg. Since finishing 11th at the Beaver State Fling he hasn't missed the top 10. Jones has won 4 of his last 7 stroke-play competitions — all A-tiers — including his first Disc Golf Pro Tour victory at Idlewild.
The objective metric featured nine Europeans in the top 25 but only four remained after the addition of the subjective scores: Simon Lizotte (9), Albert Tamm (10), Jesse Nieminen (15), and Väinö Mäkelä (18). On the one hand, the voters got it right, nearly pegging all four on the money per the objective list. On the other hand, we gave Jalle Stoor, the only one of the five players overlooked by the voters who is playing Worlds, some good bulletin board material.
Gregg Barsby (25) probably found his way into the top 25 based on 1x pedigree. Totally against the voting parameters, but wouldn't his name be missed from a Pre-Worlds Power Rankings as the defending World Champion? He'll need to dig deep this weekend to have a chance to repeat because his average finish at Majors, NTs, and DGPT events this year is 46th and his best finish in six tries is 13th at the Waco Annual Charity Open.
Women's Overall Power Rankings:
Rank
Player
Change
Prior
Dropped from rankings:

Zoe Andyke

(14),

Erika Stinchcomb

(19),

Lauren Butler

(23),

Camille Skweir

(25)
1

Paige Pierce

+1
2
2

Catrina Allen

-1
1
3

Henna Blomroos

+9
12
4

Madison Walker

–
4
5

Sarah Hokom

–
5
6

Lisa Fajkus

+5
11
7

Eveliina Salonen

+1
8
8

Jessica Weese

-1
7
9

Holly Finley

+9
18
10

Kristin Tattar

-4
6
11

Rebecca Cox

-2
9
12

Hailey King

+5
17
13

Jennifer Allen

-3
10
14

Elaine King

-1
13
15

Paige Bjerkaas

-12
3
16

Christine Jennings

–
17

Heather Young

–
18

Vanessa Van Dyken

-3
15
19

Ellen Widboom

+2
21
20

Missy Gannon

+2
22
21

Maris Perendi

+3
24
22

Hannah McBeth

-2
20
23

Christina Linthicum

–
24

Anneli Tõugjas

–
25

Kona Panis

-9
16
Men's Overall Power Rankings:
Rank
Player
Change
Prior
Dropped from rankings:

Drew Gibson

(6),

Seppo Paju

(10),

Adam Hammes

(12),

Andrew Presnell

(16),

Anthony Barela

(17),

Josh Anthon

(18),

Michael Johansen

(21),

Cale Leiviska

(22),

Chris Dickerson

(23),

Dustin Keegan

(25)
1

Paul McBeth

+2
3
2

Kevin Jones

+5
7
3

Eagle McMahon

-1
2
4

Ricky Wysocki

-3
1
5

James Conrad

+4
9
6

Garrett Gurthie

-1
5
7

Calvin Heimburg

+1
8
8

Simon Lizotte

-4
4
9

Albert Tamm

–
10

Jeremy Koling

+9
19
11

Austin Hannum

+3
14
12

Nate Sexton

-1
11
13

Emerson Keith

–
14

Jesse Nieminen

–
15

Nate Perkins

+5
20
16

Eric Oakley

–
17

Väinö Mäkelä

–
18

Joel Freeman

+6
24
19

Chris Clemons

–
20

Matt Orum

-5
15
21

Tim Barham

–
22

Colten Montgomery

–
23

Alex Russell

-10
13
24

Zackeriath Johnson

–
25

Gregg Barsby

–
Want to see how the voting shook out? See the complete objective and subjective voter tallies for MPO and FPO.