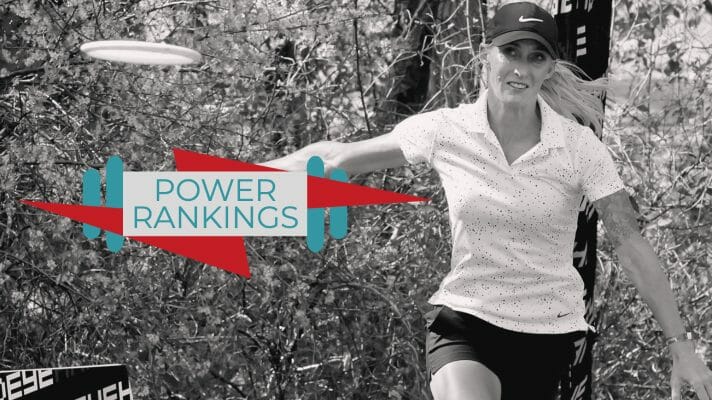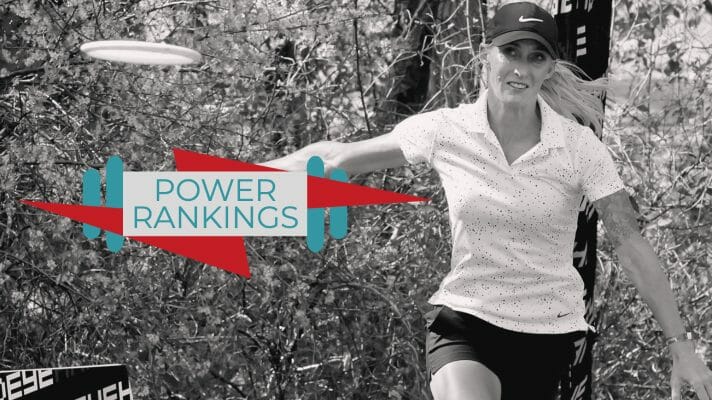 Catrina Allen remains atop the Power Rankings heading into the United States Women's Disc Golf Championship. The 2012 USWDGC champion has four podium finishes and a win in her last four events and looks to keep rolling this weekend in Northern California. Of all the women in FPO, she is probably least perturbed with the three course format. However, the margins for error are thin, and Paige Pierce and Hailey King are hot on her heels. Each has won two Elite Series tournaments this year, one more than Allen, and both enter the first major of the year having won their last event. Pierce is the most decorated returning champion ('14, '17, '18), and a win would be King's first major title.
Though Allen, Pierce, and King are options 1a, b, and c this weekend, the field is deep, and contenders abound. Two-time USWDGC champion Sarah Hokom is back after withdrawing from the Dynamic Discs Open. If the elbow is fully mended she competes for the win. Jessica Weese learned to play on the trio of courses featured this weekend and plans to take advantage of her insider's knowledge. And Ohn Scoggins won the St. Patrick's Classic in Orangevale back in March.
Who else is in our top 25? Here's how they stack up heading into the USWDGC.
Note: while COVID travel restrictions remain in place, this list considers players based in America. We will break out an international top 10 once the season gets underway across the pond.
Methodology: We combine an algorithmic objective ranking with subjective ballots submitted by UWDG staff. The algorithm uses a standardized scoring model to compare elite events, awards competition and cash bonuses, and features a decay function that gradually phases out past results. For the second regular season ranking, staff considered the following criteria: 1. results from the 2021 Elite and Silver Series events, 2. UDisc and PDGA statistical measures, 3. the previous UWDG Power Rankings, and 4. their super subjective vibes, gut feelings, and premonitions heading into the USWDGC.
FPO Power Rankings
FPO Power Rankings:
Rank
Player
Change
Prior
Dropped from rankings:

Vanessa Van Dyken

(16),

Ellen Widboom

(20),

Callie McMoran

(22),

Nicole Bradley

(24),

Sami Keddington

(25)
1

Catrina Allen

–
1
2

Hailey King

+2
4
3

Paige Pierce

–
3
4

Missy Gannon

+2
6
5

Macie Walker

+10
15
6

Kona Panis

-1
5
7

Heather Young

–
7
8

Ohn Scoggins

–
8
9

Lisa Fajkus

+3
12
10

Jessica Weese

-1
9
11

Sarah Hokom

-9
2
12

Erika Stinchcomb

+5
17
13

Valerie Mandujano

-2
11
14

Juliana Korver

–
15

Zoe Andyke

–
16

Rebecca Cox

-2
14
17

Holly Finley

-4
13
18

Madison Walker

+1
19
19

Ella Hansen

–
20

Alexis Mandujano

-10
10
21

Stephanie Vincent

-3
18
22

Holyn Handley

–
23

Casey Pennington

-2
21
24

Camille Skweir

–
25

Maria Oliva

-2
23
Full breakdowns for each player continue below.
Bonus Content for Ultiworld Disc Golf FPO Power Rankings (US Edition): May 20, 2021 is only available to Ultiworld Subscribers
Already have a subscription? Log in
Whether you visit Ultiworld for our reporting, our podcasts, or our video coverage, you can help us continue to provide high quality content with a subscription. By becoming a subscriber, not only do you receive benefits like bonus content and full article RSS feeds, you also help fund all of Ultiworld's coverage in general. We appreciate your support!