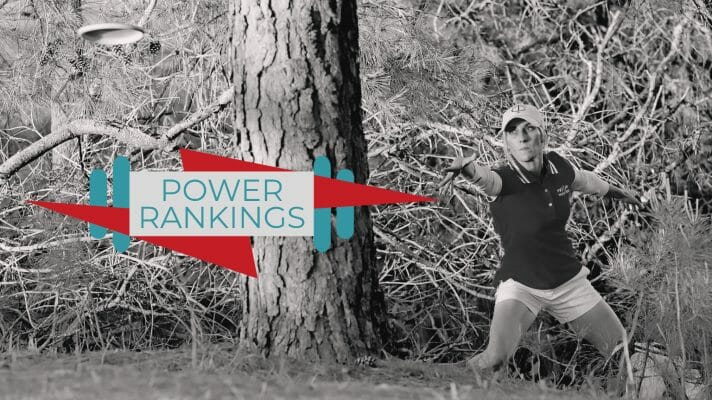 It's great to be back at W.R. Jackson. It's even better to be here in the spring with a full field. And the best bit? We've got a major title on the line.
Paige Pierce has won here in the past and is coming off her first DGPT victory of the year. Catrina Allen has won here in the past and already has an Elite Series and Silver Series trophy on the wall. Valerie Mandujano hasn't won here but got the taste for winning on tour in Waco and wants more. 2019 USWDGC champ Kristin Tattar has been oh so close at every event this year. Will this be the weekend she gets her first W of 2022? Hailey King is back in action after a longer-than-planned hiaitus. Will the extra time training in the Charlotte woods pay dividends this weekend? The excitement is palpable.
We've tallied up our ballots and got 'em ranked. Who's your pick to win?
Methodology: We combine an algorithmic objective ranking with subjective ballots submitted by UWDG staff. The algorithm uses a standardized scoring model to compare elite events, awards competition, and cash bonuses, and features a decay function that gradually phases out past results.
FPO Power Rankings:
Read notes and stats on the top 10 and others in the field with an Ultiworld Disc Golf subscription.
Bonus Content for Ultiworld Disc Golf FPO Power Rankings: Champions Cup Edition [April 14, 2022] is only available to Ultiworld Subscribers
Already have a subscription? Log in
Whether you visit Ultiworld for our reporting, our podcasts, or our video coverage, you can help us continue to provide high quality content with a subscription. By becoming a subscriber, not only do you receive benefits like bonus content and full article RSS feeds, you also help fund all of Ultiworld's coverage in general. We appreciate your support!