Whatever shot you choose, go for it.

In disc golf, course management requires commitment. There will be times where you can call an audible and change the plan if you see a chance to win a tournament or if conditions change, but you need to commit to making good decisions. After a bad kick, it is tempting to abandon your plan and just hope that maybe you can get a thumber through that two-foot gap and not have to pitch out. When you find yourself in a tough spot, you need to make a good decision.
But once you make a smart plan, you have to follow it up with a committed shot. Deciding need to play smart but then losing focus is often worse than throwing risky shots. Sometimes, a full-on commitment to a ridiculous high-risk hero shot can work out, but only going halfway on playing smart can end up with the worst of both worlds – screwing up the safe play and taking a sloppy double bogey without giving yourself the hero shot's 2% chance at birdie.
You need to commit to your plan, your disc choice, and your line. Playing smart requires just as much courage and commitment as playing high-risk golf. And without commitment, it is easy to "safe-play" yourself into a lot of bogeys.
Take Your Medicine
If you are in trouble and decide you need to punch out, give that shot just as much attention as the riskier shot you were considering. Don't lose focus because you are still kicking yourself for having to throw the "easy" pitch out. You see this all the time – a player reluctantly decides to pitch out, takes no time, and pitches it right into a tree. They somehow missed a 40-foot wide opening 15 feet to their left because they treated the shot as a gimme. Every shot needs focus, even if you should make it 99 out of 100 times.
Almost as bad is the half pitch out. You are stuck in the trees, you have an easy pitch out to the fairway next to you, or you have a gap through some branches that could get you about 25 feet closer to the basket. Many players will take this much harder shot rather than the easy pitch out because it feels less like a concession – "sure, I am pitching out, but I am still advancing it as far as I can" – but this is usually a mistake. Don't take risk without a clear reward.
If you are taking your medicine, take it, and make sure you get the benefit from it.
Situational Awareness (and Hard Truths)
Sometimes the situation matters. There are absolutely times when the competitive context means you must try a shot no matter the calculation of risk and reward. If you are down a stroke with two holes to play, when the win is what you need, you may have to roll the dice.
But there are other situations when you need to ignore the context. Sometimes players will take bigger chances because they desperately don't want to make a bogey. Then they end up making a triple. You can't change your calculations just because you are already two or three strokes into a hole — sunk cost fallacy. This can be the toughest situation — driving into the rough, deciding to try a hero shot that doesn't work, and then sitting there, still in the rough, lying two instead of one and facing that same choice whether to punch out or go for it.
Players who decide to throw a risky shot after a bad drive sometimes feel like they are locked in to going for it for the rest of the hole. If the first risky shot doesn't work out, they act like they missed the only exit to "course management" and now are just stuck with whatever hacking through the trees will get them. Standing in the woods, fuming, and feeling that punching out now and setting for double is unacceptable is how eights and nines are often made.
The hard truth is that a punch out may have been the right play after the drive. And it may still be the right shot when you are laying three. Never try to make up for a bad decision by making a worse one.
The truth is that really not wanting to make a bogey doesn't magically add 80 feet of distance or make your forehand better. There are points where, after your drive, par is gone and salvaging bogey by punching out is the optimal play. There are times you just have to stop the bleeding. Taking a double bogey when you could be looking at a quad does just as much for your score as getting an eagle instead of a par. Every shot counts the same, so the right shot is the right shot whether it will allow you to make a birdie or "save" a double.
Commit to the Safe Line
When you decide on a line, make sure you commit to it.
Here is a simple example from hole 5 at Sherwood Disc Golf Course, a short course here in Bloomington.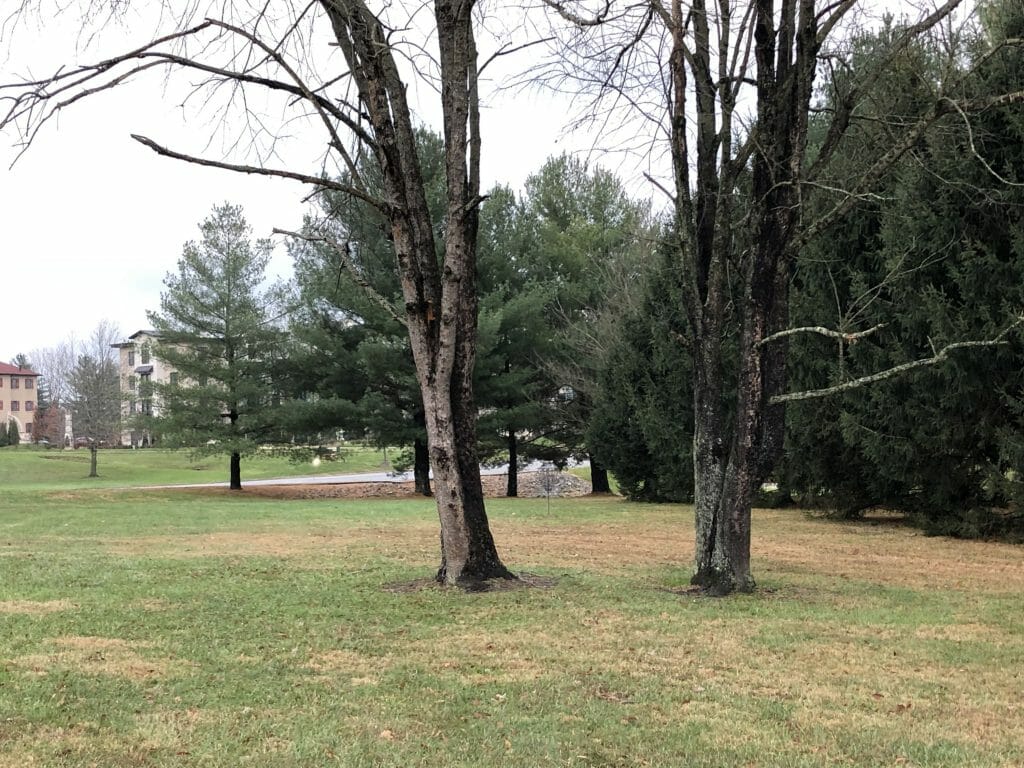 Facing this 150-foot approach shot, there are at least three ways to get it close and get the birdie. The most obvious line is straight at it, splitting the 15-foot gap between the guardian trees. But those trees are 70 feet from the basket: hitting either one means a very tough putt. The hyzer line on the right side is probably the most dependable shot shape for a right-handed player, but the pine trees on the right are the only place where you can take a big number. That shape is easier to throw, but the cost of missing is the highest. If you go too wide, you are in the pines looking at bogey or worse. If you don't commit to going wide enough, you hit the right guardian tree.
The good miss is to the left — for a right-handed golfer, a turnover or high forehand to the basket. If it works out, you are parked. More importantly, if you miss it, you in are the wide-open area left of the basket. Even a mediocre shot will be in the circle. So, it's an easy shot you can make in your sleep. No problem. Unless you clip the left tree.
This is the mistake I see most often. A player makes a good decision, then doesn't commit to the line. If you are going out left, then take a line where you can't hit the tree or the branches. Getting it ten inches, rather than ten feet, to the left of the tree isn't going to get you that much closer to the basket, but cutting it that close makes hitting that tree and leaving yourself a 65-foot putt much more likely. If one side is wide open, use it.
Safe Line or Safe Disc, Not Both
Sometimes you can fully commit to one side of the hole. If you are two strokes up on the last hole and all the trouble is on the right, you can throw a Firebird on a hyzer and know it isn't going right. But on many holes you are forced to balance the safe line and the safe disc.
Let's look at hole 18 at Edgewood DGC, a tough track in Ellettsville, Indiana. The finishing hole is about 400 feet with an OB treeline along the left side and an OB amphitheater about 15 feet in front of the basket. There is room on the right side of the hole, but it slopes sharply away at the edge of the fairway. However, there is plenty of space if you want to play short and right of the OB.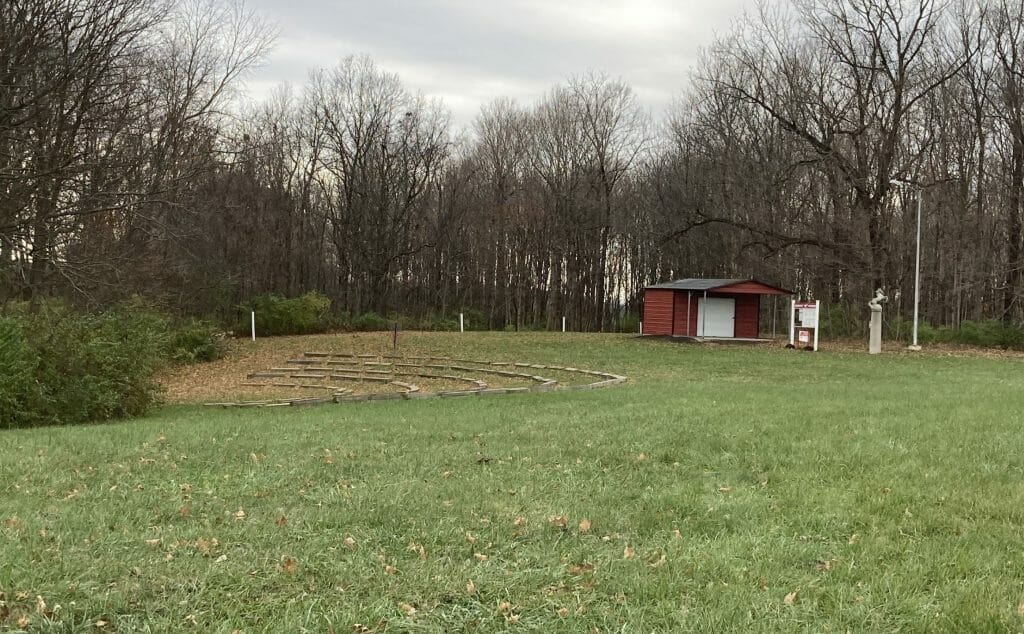 You decide the basket is at the far edge of your RHBH driver distance so you can't risk trying to throw a straight line over the amphitheater. Especially since a hyzer at the basket could also find the left OB. Smart. So, what are your options? You could throw a midrange into the fairway short of the OB to give yourself a 150-foot approach. But since that basically eliminates the chance for a birdie, you look for a more aggressive shot that you can still execute. While you don't trust driver straight over the OB, your 350-foot distance might get a jump putt that locks in a par and offers birdie upside if you can land it safely in the fairway. But how to get there?
You have two discs in your hand, an overstable Destroyer and a Tern that flies with some turn to right and almost no late fade. Matching your disc and your line will be crucial. The Destroyer could fade into the OB, so the line for the Destroyer is out to the right side, maybe out at the light pole, trusting the disc's stability to bring it back to the left. The Tern line is at the middle of the fairway, maybe at the white door on the utility shed, trusting it to fly straight and settle softly at the end of its flight past the edge of the OB and just right of the basket. Either disc could put you at the edge of the circle.
So, you have two discs, a Destroyer and a safer Tern; and two lines, a safe line out to the right and an aggressive line down the middle of the fairway. You need to match the safe line with the more aggressive disc or the aggressive line with the safer disc to get a good chance at birdie. If you throw the more aggressive line down the middle with the more overstable Destroyer, you are likely going OB; if you throw the safe line further out to the right, with the safer Tern, you could sail way right, leaving a much tougher approach shot with OB just left and long of the basket.
The question is — which line can you fully commit to throwing? Can you trust yourself to throw the Tern down the middle even though it is closer to the OB? If you think you may pull your drive further right at the last moment because you are scared to miss left, then you need to throw a different shot.
If you can't commit to throw the right mix of shot and disc, you are not giving yourself a chance at birdie, which is the whole reason you passed on the layup that would guarantee a par. Making the smart decision is useless if you can't commit to the line. If you can't commit to trying to get it close, then throw short and cash your easy par.
Conclusion
The key to course management is bending the curve of birdie chances in your favor by throwing discs you trust on lines you know you can hit. But deciding to make the smart shot is just the first step. You must follow that decision with a commitment to focus on executing your plan. That means approaching every shot, even an easy layup, the way you would a risky throw over water. A loose pitchout that skips all the way through the fairway into deep rough undoes the advantages of playing smart. Make a plan that reduces risk and then commit to holding onto all the upside you can grab.