How to get the most out of every round.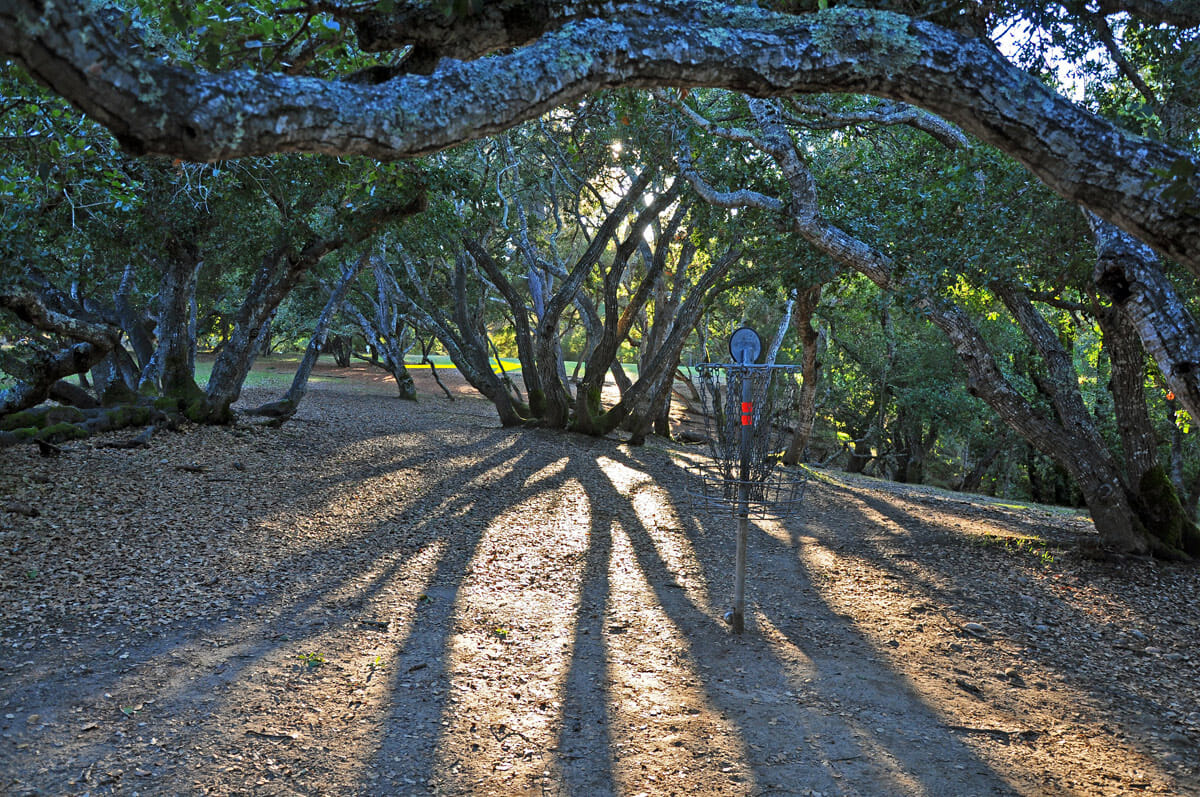 Since the pandemic, our club has seen a rush of new players. That means I get to play with a lot of folks who are just beginning to build a game. In casual rounds, I like to ask my cardmates what they were trying to do with a particular throw. Many of them are surprised by the question. Their usual answer, especially after a shot goes badly, is almost always, "I don't know."
It's not that they have no idea what they are hoping for – they want to throw it far or at the basket – but there is not a clear connection between a plan for the hole and the disc and line they picked for their shot. There's no real sense that they have thought about the best way to work their way around the course to their best score. They throw their fastest disc because the hole is long, or they throw forehand because the hole turns to the right. They do this even if their driver is hard to control or they don't trust their forehand and hate throwing it. They are just doing what they think they "should" do, rather than what they do best.
The key to getting the most out of your game is course management. It is about throwing the shots you throw best as often as possible. It is about avoiding sloppy penalties, nailing your makeable putts, and playing within your game. The most important thing is knowing when you should press to grab birdies and when to lay back and protect your par.
The best way to do this is to develop an arsenal of shots you know you can trust and then figure out how to use those weapons to meet the challenges of each course and shoot the best score. You need to understand what you do best and then break the course down into holes you can press and holes you need to play safe.
Shots Over Swing
Having a pretty swing does not mean you score well. Sometimes they are related, but you can score well without having perfect – or even good – form. Don't be so caught up in working on your mechanics or chasing distance that you neglect learning how to score.
Yes, you should do field work to improve your form, but you play golf with the swing you have, not the swing you want.
The key to building a floor under your scoring is having a few shots you can count on. These 6 Building Block shots are the bedrock of a game that can shoot under par on many courses, and around par on most:
20-foot putt
Approach Putt from 60 feet
Short Forehand Approach
Upshot from 90-100 feet
The 150-foot placement shot
Drive to 250+
These distances will change depending on your fitness and experience. As a true beginner, your reliable drive might only be 100 feet and your putt might be shaky at 15 feet. That's fine, accept your game as it is, work to make it better, and plan your round according to the shots you can trust.
You need to find the longest shot you can always control. What disc and shot will go the longest but always go where you want? Find that disc and shot, even if it is a midrange or a fairway. If it is about 250 feet, you can play very well, if it stretches past 300 feet, you can really go low on many courses.
I discussed building your game around these simple shots in an earlier Ultiworld Disc Golf article. Use your off-season to make sure you have these six shots ready to go.
Be open to using unusual discs for these shots. For example, your most reliable 150 shot might be with a flat shot with a putter like a Tomb, a flex shot with a Roc, or a standstill Teebird. It doesn't matter what it looks like, but you need to know exactly the most reliable disc and shot shape for each of these slots. These might change if conditions change, but you have shots you can count on without having to think too much.
Break Your Round
Once you have some shots you can trust, you need to match them up with the course you are going to play. When looking at a course, break every hole into one of three categories:
Play Safe Holes
Your "Play Safe" holes are holes that you cannot birdie without a miracle shot (a 125 foot throw in, for example.) If you throw your drive a maximum of 300 feet, then a 380-foot par 3 is nearly ungettable. Accept that and make sure to minimize risk off the tee. Your goal on this hole is to take your par and move on. If you can't get a makeable putt with even your best drive, then throw a disc you can trust to land safe and give you an approach shot you can get close to the basket.
That may mean throwing your safe 150-foot shot if there is serious trouble or the fairway is narrow or throwing your straight fairway rather than pulling out your longer and more inconsistent driver when the potential extra distance doesn't really matter.
Holes to Play Safe on are also those with OB, tricky doglegs, or mandos. You want to avoid being in spots that immediately start costing you strokes. A 320-foot hole with lurking OB might call for two reliable 150-foot shots rather than taking the risk with your longest driver. Length isn't always the most important factor – a short hole with danger can turn a fairly easy 3 into a 5 or 6.
A short hole that you "should" be able to play aggressively can be a Play Safe hole if it requires a shot that you don't have. For example, imagine a thickly wooded hole with a tight turn that calls for a 200-foot low forehand. This is an easy shot for many players, but if your forehand is so bad it is liable to go in any direction, then you need to play it safe until you can build a better forehand. Even a small miss can be catastrophic in deep woods, so if you have a sick feeling thinking about the forehand you "should" throw, then don't. Throw a short straight shot to the corner and try to make a longer putt rather than throwing your weak forehand into a spot that will cost you a double bogey.
The place to learn a new shot or work on one that needs improvement is on the practice field. Unless you don't care about score or the situation calls for you to be hyper-aggressive, don't feel pressured to throw shots you don't trust.
It's counter-intuitive but playing safe can be the best way to be aggressive about shooting your lowest score.
Bonus Holes
Bonus holes are ones that are at the edge of your distance but have some birdie upside. An open 360′ hole is a Bonus hole if you can throw it 310 or so. Go with your longest disc even if it is inconsistent since the cost of a miss is small.
A Bonus hole is also one that calls for a shot you are bad at, but the punishment is not severe. For example, if a hole calls for a forehand (which is a weak shot for you) but there aren't thick woods, OB, or other dangers, go ahead and throw it. It's a Bonus hole for you because you may get a great result, but a bad shot won't cost you.
Go Holes
Go holes are holes that are the basis of your scoring. You can reach them, you can throw the shot they require, and you can get a birdie putt. These are green lights. They might not be guaranteed birdies but the risk is low and the upside is high.
Breaking the Course to Score
The real key to course management is separating your Bonus holes from your Play Safe holes. Seeing Play Safe as Bonus holes leads to excessive risk and high scores, treating Bonus holes as Play Safe holes leads to overly cautious play that holds back your scoring. Discovering which is which is the real purpose of a practice round.
As you break the course, recognize these tweener holes – some holes may generally be Play Safe holes, but there may be reasons to play aggressive and play them like a Bonus hole. For example, imagine a 350-foot hole with two lines to the basket, an open forehand shot or a straight narrow gap through thick woods that shortens the hole to 300 feet. If you have a 280-foot forehand, then that outside route is safer but is a Play Safe shot. It probably locks in par but puts birdie nearly out of reach. The narrow wooded line is a Bonus play, but it risks a big number.
Well, what do you need? If you are up by 3, then Play Safe. If you are chasing and absolutely need birdie, treat it like a Bonus hole that offers the upside of a parked shot for a drop-in birdie. The important thing is to plan your riskier options as you break down the course, so if you decide it's time to take a risk, you already know the shot you are going to throw. In your practice round you should throw that narrow, more aggressive line and know that the best way to hit that line is a hyzerflip Leopard. In high-risk situations, resist the temptation to just wing it with a shot or line you have never thrown.
When throwing a practice round or breaking a course before you play, focus on the Bonus holes and the Go holes. This is where you need to have your shot dialed. The most important holes are the Go holes – you need to know the shot and disc you are going to throw and how that may change in various conditions.
Many players get this backwards, they focus on hard holes that they may never get (and probably shouldn't try for) and ignore the "easy" holes that seem simple and obvious. Remember the Go holes are the key to your scoring upside. Yes, it may just be a 210-foot hyzer, but which disc and shot is best – forehand or backhand, how about if there's a headwind, a tailwind? This is a hole you can easily get, so you need to make sure you do.
Putting it Together
Imagine you are a 860-rated player whose longest drive is 270 feet and you are playing a long but fairly open parkland course. It has seven holes that are over 350 feet. Those are Play Safe holes, where your main job is making sure the disc lands in a good spot to throw your next shot. Consistency, reliability, and safety are the keywords. Throw the longest shot you know you can trust off the tee, throw a trusty approach shot, and make your short putts.
Imagine this course also has six holes that are right around 300 feet. These might be Bonus holes – depending on the amount of danger on them. Three of these holes have mandos, OB, tight gaps, or they call for shots you don't have: they are probably Play Safe holes. You want to approach them with caution. However, on each one see if there is a line or a shot that gives you a look at a putt. You may find, for example, that if you can throw a forehand roller on a tight hole with OB and get it just right, you can get close. But you miss it most of the time and your misses go OB. File that away. In most cases, the best drive is the safest shot. If you need to press, however, you know the shot you'll try.
The other three of Bonus holes are too long to be likely birdies, but the risk is not severe. These are true Bonus holes, so chase them.
The last five are 270′ or less. If these have severe danger, they might be Play Safe or Bonus holes, but most of them are straight Go.
As you are thinking about this course, focus on those eleven Bonus and Go holes. If you take care of your business on the Play Safe holes and press a little on the Bonus holes, then you could shoot 8-under even if your game is built around short drives, simple approaches, and basic putts. That is without any miracles. Even if you don't convert all those chances, you have built a strong floor under your score. What will decide your round is making sure you Play Safe when there is no advantage to taking risk and have the Go holes dialed in. Then it's all about upside, depending how the Bonus holes go.
You should break every course you play, because doing so stops you from making the biggest, most basic course management errors. Know what is possible on each hole, maximize your safety when risk gives no advantage, go for it when you face a true Bonus hole, and nail down your Go holes.
This is just the basics of course management – accepting your game as it is and matching it against the course to give you an advantage.
There is lots of great information on Ultiworld about course management. For more, check out this article about picking safe lines and this one about choosing smart shots.