Early Spring means the waters of Clarks Hill Lake, which sits just off the International Disc Golf Center's "Steady" Ed Headrick Memorial course, haven't yet relinquished their winter chill. That didn't stop two new National Collegiate Disc Golf Championship teams from a celebratory swim on Saturday afternoon, cringes and all.
Ferris State University emerged with their third NCDGC Championship Flight title in five years, logging a final round 9-under par 59 at the W.R. Jackson Course to bring their weeklong total to a 21-under par 522. Southern Arkansas University's 2-under par 65 at Headrick gave the upstart Muleriders squad the Women's Flight title with a four-day tally of 424.
After that, there was nothing left to do but gather trophies and take a dip.
"It was freezing cold," Southern Arkansas junior Madi Chitwood said. "It was awful."
For Ferris State fifth-year student Sam Mrdeza, though, the ceremonial plunge wasn't about a physical sensation as much as it was an emotional release. He became the first player to participate on three Championship Flight title teams, a historic feat he had on his mind since the opening round on Wednesday.
"This one was the seemed impossible because it had never been done before and somehow the stars lined up and it happened again," Mrdeza said. "It's pretty crazy."
Mrdeza's Bulldogs took a two-shot lead over North Carolina State into the final round, and quickly added to it. Sixth-year student Ryan Brophy put the team in position off the tee on hole 1, then Mrdeza helped the squad get to 40 feet. That left Championship Flight rookie Patrick Nemmer to connect for the birdie with authority, while NC State played for par.
"We were being aggressive, definitely being aggressive because we just wanted to put the pressure on them," Mrdeza said. "Honestly that's most of our playing styles is just aggressive play. It was really good to get that first birdie, and it really boosted Carl [Bouman] and Patrick's confidence."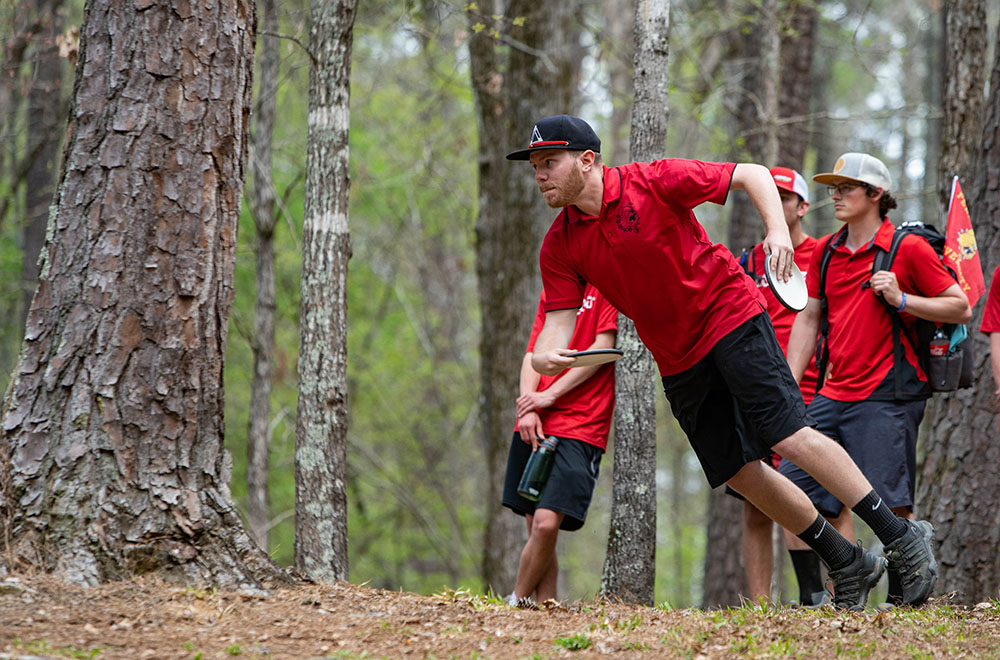 As the two teams lobbed shots back and forth on the 10,485-foot track, Mrdeza recalled two late-round sequences that helped the Bulldogs seal the deal.
"Hole 14 you have to commit to the gap in order to get into the perfect spot or else you're gonna get a par at best," Mrdeza said. "They went first because they had just birdied the prior hole and got a stroke…They didn't make the gap and we did, so that was a huge turning point. We got our stroke back right away.
"I think that was absolutely a huge momentum shift," Mrdeza continued. "Then hole 16 they made a 50 footer for birdie and we were about 35 feet out, and we also hit the birdie, as well."
Ferris State joins Augusta University in the pantheon of three-time Championship Flight winners. Brophy has also now also collected three NCDGC titles, with two coming from the Championship Flight and one in First Flight play. Mrdeza said their coach, Leonard Johnson, was contemplating commemorating the feat with special rings.
"I think I'm still kinda processing it, I guess," Mrdeza said. "After we won the second time I kinda thought about that: 'Well, that's a possibility that I could be three-time.' Last year that really got my hopes down because we lost by 25. So coming back this year and after just the first round being down by one, we thought that we could maybe pull it off."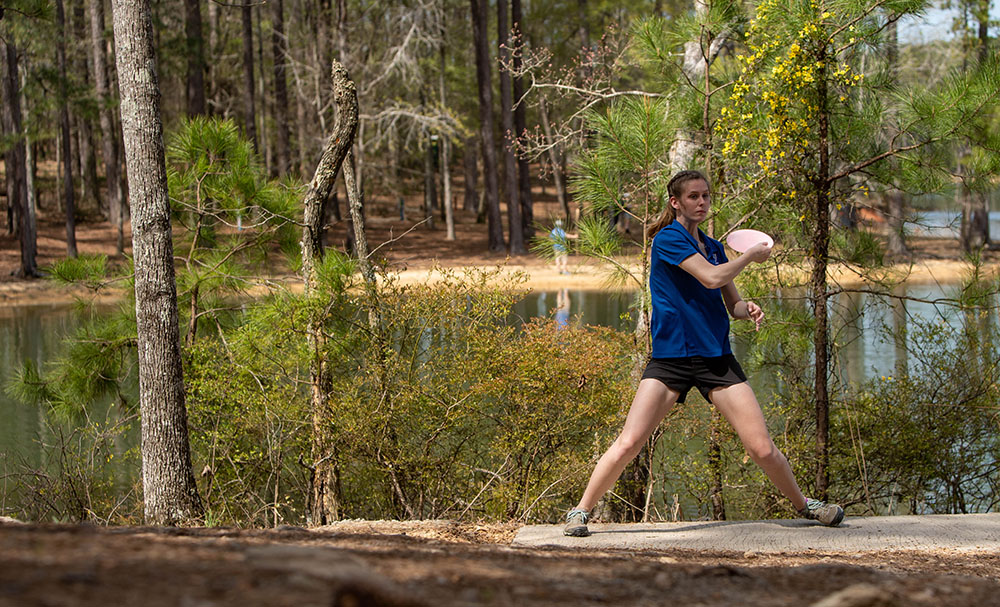 Chitwood shared a similar sentiment about she and Whitney Brown, the Southern Arkansas duo who had not played against any other women's teams this season prior to the NCDGC. They pulled away early in the competition, but to do so registered as a relative surprise considering the strength of programs like Liberty, Oregon, and Clemson.
"Me and Whitney were actually talking about that after the round — I don't think it's hit us yet that we won Nationals," Chitwood said. "Maybe tonight, maybe tomorrow. We're definitely excited, but I think we're still in the disbelief stage."
Chitwood also took down the women's individual title, a much closer affair than the team tilt. She entered the final 9 at the Jim Warner Memorial course with only two shots over Oregon's Reily Warren, and started off with a bogey that could have proved to be her undoing. But with all of her other close competitors starting out over par, she was able to quickly right the ship.
"I knew that [hole 1] was gonna be rough just because my nerves were so bad," Chitwood said. "Everyone except Whitney took a bogey on it. I just tried to tell myself it's not a big deal, I didn't lose any strokes to the card."
Chitwood did not card another bogey all round, then finished with a clean birdie to take the title back to Magnolia, Arkansas, where she said she and Brown are hoping to put their championship status to productive use. They plan to hold a clinic to raise awareness of the sport and the school's disc golf program, with the hopes of bringing a larger team to next year's NCDGC.
"I think, really, the goal is obviously to get more women involved in disc golf," Chitwood said. "One thing that was really big to us was having other women to practice with. We both started out playing with our boyfriends that were on the team and we would play with them. But whenever you play with a bunch of guys you get down on yourself …You compare yourself to them. It's really important to have other women around to practice with."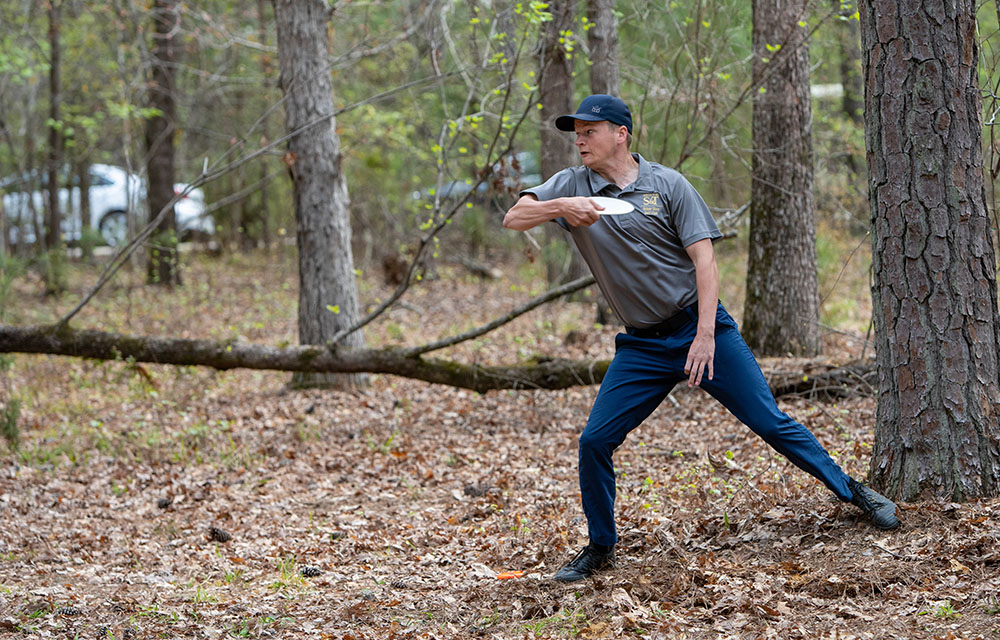 In Championship Flight individual play, NCDGC rookie Mark Anderson, a senior from Missouri S&T, used a hot final 9 to leapfrog Mrdeza and a handful of other competitors to take home the victory. Anderson's 4-under par 27 at Jackson brought his singles total to a 4-under par 95, while Mrdeza took the runner-up slot with a 1-under par finish.
"It was just beyond expectation," the 944-rated Anderson said.
It wasn't, though, beyond preparation. After Anderson came out in a six-way logjam for fifth place, just one off the leading pace after the first round of singles, he and a teammate went out to Jackson and sized up a strategy for the final 9.
"We went through a couple of those holes and we actually drew up a game plan of the holes I wanted to birdie and what I thought it would take to win tomorrow," Anderson said. "I think we said it would take a neg- four to win."
He was able to get hot right off the bat, canning consecutive birdies alongside Mrdeza. But it was hole 4 where he pulled away, hitting a tight gap to park his drive for a tap-in deuce. Mrdeza, meanwhile, missed off the tee and carded a bogey, giving Anderson the window he needed for the win. He added some insurance with a par on 5 to Mrdeza's bogey, then kept a clean sheet the rest of the round.
Anderson attributed much of his success to his 11 teammates who cheered him on at every turn, as well as his cardmates, who he said made the weekend relaxing and fun. Harkening back to his expectations for the week, did he ever think he had a shot at the win?
"No, not even close," he said with a laugh. "I wanted to be top 28 for that singles round, but I didn't even think, with all the competition there, I would come close to placing top 10."
After tearing down camp, Anderson and his Missouri S&T teammates — who ended up in fourth place in the Championship Flight team competition — kept the celebration fairly modest, but delicious.
"We did go that fried chicken place, Maryland Fried Chicken, right outside the IDGC," Anderson said. "We got like two pints of peach cobbler. That was the perfect celebration."
In First Flight team play, Liberty held on for the title with a final round 58 at Warner, ousting Ferris State by two strokes.