Natural Born Disc Golfer introduces new perspective on tournament coverage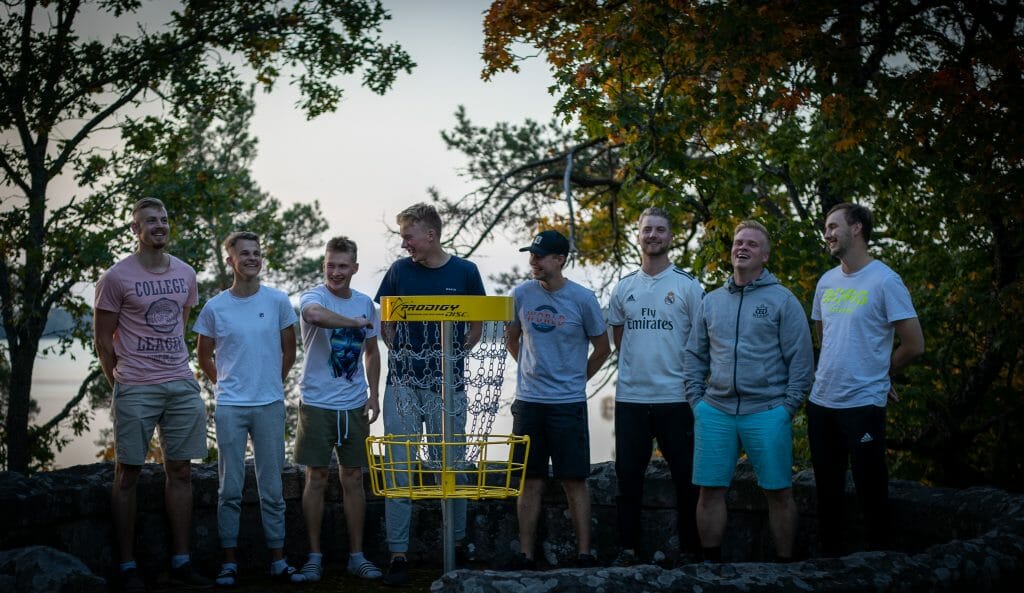 This season has been one of the most unusual on record. One trying element of the Covid-19 pandemic has been the difficulty in putting out entertaining disc golf content for people to enjoy. With many major events cancelled or postponed, videographers have had to look elsewhere for inspiration.
Finnish company Natural Born Disc Golfer (NBDG) has taken the time to push disc golf entertainment to a new and exciting direction: reality TV. We spoke with one of the founders of NBDG, Juha Kytö, to find out more about producing videos and their new series, Lead Card.
Who: Juha Kytö, age 38, NBDG Founder and disc golf promoter
PDGA Number: 52480
Motto: "There are three types of people in this world: those who make things happen, those who watch things happen, and those who wonder what happened."
---
Ultiworld Disc Golf: When did you first start getting involved with disc golf?
Juha Kytö: I went to try once, in 2011 when I lived in Nummela. I'm still on the same path after that "experiment."
UWDG: Did you have any prior experience on video productions before you started to make disc golf videos?
JK: Video editing, filming and media production in general, I've done since I was a little boy. As a schoolboy, I spent summers with my grandparents in a village called Eno in Joensuu, and when I was 8 years old I visited a civic college to borrow a video camera to film sketches and nature. I hope that these VHS-cassettes can still be found in some archives by the way, it would be cool to watch them now. Later, I've mostly played with Photoshop and I've done some other stuff with videos. Once I even did some videos for a computer game for fun. I've heard that they still think that the videos I made for the game are the best videos of all time.
Now that I have an opportunity to make my dreams come true through video productions, I've taken things to a new level and try to make my living out of it. The best part, of course, is that I get to make videos about a sport that I love, which is disc golf obviously.
UWDG: How did NBDG get started in the first place?
JK: NBDG has a long history and dates back to 2013 when we bought a disc dyeing business with two guys from another acquaintance and entered the "industry" with a company called Anabolic Asteroid. Originally, NBDG has been the main idea that we set out to pursue from the start. To make a long story short, there have been many ups and downs on our way, but we have been determined and worked very hard to get to the point that we are now. A huge thanks goes to my fiancee, Terhi, who is a part-owner of the company. She deserves a lot of credit from what she has done to benefit NBDG. She is my greatest supporter.
Another household name, and a familiar face to a lot of competitors in Finland, is Mike Wikman, who has helped us tremendously through the years. We feel that we share the same passion for the sport, which gives us the drive to move forward. Sometimes the long hours and days don't benefit us at all, but passion and love for the sport gets us through them anyway.
UWDG: Was producing videos of disc golf events a goal for NBDG from the start?
JK: Yes, this has been one of the ideas from the start. It was one of our dreams. NBDG's vision is "to make dreams come true." Prior to NBDG I knew people who were interested in the same ideas as I, so it was easy to start making our "dream come true" by producing disc golf videos. I think that in the future NBDG's image will mold and transform mostly through media production. We have such a big audience and following on our channel that it gives us opportunities to develop our business model.
We hope to make other dreams come true too on the media side of our production. We hope that we can offer full time jobs in the future where people work only on disc golf-related media platforms. NBDG coordinates masses of competitions annually, including the biggest disc golf event in Europe, Tyyni. We feel that our video productions offers us an advantage, a way to make more income, which we can use to develop our organization and production.
Our idea is to make good content for those who are interested in the sport while not forgetting those who are completely new to disc golf. They might get interested after watching one of our videos from YouTube. Other than just filming competitions we try to put our equipment to good use, which "Lead card" is a good example of.
UWDG: Is there room for growth in Finland in your opinion? Is it possible to make a decent income by just filming and producing disc golf videos?
JK: No, by only producing videos from Finnish competitions there isn't enough money to go around, especially when the production crew is as big as it is. However, if we are able to spread our production to other parts in Europe the story is quite different. At the moment it seems that we are able to hire two full time employees for six to seven months at a time, if all of the competitions on our production schedule will be confirmed and the competitions are held in time.
Our vision is that we are able to hire a full time crew who are paid by the consumer and advertising on YouTube. So far we have had to pay our crew per event. Before someone mentions sponsors, I must say that in the end, the consumer pays their advertising too through the price of the product. The amount it costs to advertise on YouTube, for example, is included in the price of the product usually.
UWDG: How many subscribers do you have at the moment?
JK: We currently have 19,100 subs. In five years it would be great to add a zero to that number.
UWDG: Some bigger events have been shown on national TV in Finland, but not m any. Do you have any ideas on how to increase the coverage?
JK: We should produce content from a perspective of a "common" consumer who hasn't yet been introduced to the sport. Sometimes we also make that mistake that we instantly start commentating the events in disc golf terms on our videos.
We are seeking a professional commentator duo to do the commentating in the future. They could then do their background work before the events and use their information when commentating. Explaining the difficulty of the shots is a hard job to do if your trying to "explain it to a 6-year-old," as the saying goes. With more expertise and dedicated commentating, we could pass on a more professional feel, rather than showing a piece of plastic thrown through the woods while commentating "nice hyzer." Many of the top players are pros with personal coaches and such, so we try to keep up with the professionalism.
UWDG: Have you been working together with any of the stations in Finland?
JK: Not with our most recent production, Lead Card. We have had some tips though from producers, editors, actors, etc. We have also done a lot of background work by watching YouTube vids…a lot, too much even.
UWDG: What is your role in the NBDG productions?
JK: I do pretty much everything. I'm an all-rounder. Usually all of the members of our crew do pretty much everything, but with an idea that they can focus only on a few things. We have a lot of experience on competition production. When filming Lead Card we found out that there should be a director to keep the big picture in mind and to keep an eye on all the moving parts of our production to make things more clear to everyone.
UWDG: This season was sadly quite short. Tell us more about the decision to make Lead Card.
JK: The time it took from the idea to start filming Lead Card was short. Only a couple of months I think. The original idea for Lead Card came from Prodigy Europe actually. Together with them we traded ideas back and forth and the end result of that brainstorming is what you will see in the final product.
UWDG: What will we see in Lead Card? Is it just top players competing and having fun, or can we take a peek a little deeper behind the curtains?
JK: We have Europe's best players are playing five rounds all together, so we can see a lot of superb disc golf. We were lucky to have some really interesting personalities take part, so we will get to enjoy some cool conversations as well as excellent game play. The players were mic'd up on every round so we get to hear a lot of funny conversations between the players and their caddies as well. We also did interviews with the players. So yes, I'd say that we get to take a peek behind the curtains.
[embedded content]
UWDG: If Lead Card is "only a competition" then what did the players play for?
JK: We had a guaranteed purse of a few thousand euros. We are also adding most of the income from the videos to the purse. If we get a lot of viewers, Lead Card could be the biggest tournament money wise in Europe. So, it was definitely interesting for the players.
UWDG: Who are the players?
JK: Väinö Mäkelä, Niklas Anttila, Seppo Paju, Albert Tamm, Janne Hirsimäki, Niko Rättyä, Severi Saviniemi, and Samuel Hänninen.
UWDG: How did you decide who should join the party?
JK: Well, of course we were looking for the best players in Europe, but besides that, we wanted to get some players with good following on social media. Personality had to be taken into account as well. There are players who deserved an invite as well, but this format allowed only eight players to take part.
UWDG: We heard you were filming in Turku, where else?
JK: We can't disclose all of the filming locations. We had our competition rounds on the Turku, Aninkainen course, which is familiar from the Finnish Pro tour. We made some changes for the course though to make it even tougher.
UWDG: Did you get a lot of material from filming to edit?
JK: Yes! Two terabytes. Guess who is editing? We filmed every day for 14 to 16 hours.
UWDG: So eight players and yourself. How many people total were there in your crew producing Lead Card?
JK: Marika Salmi, Gabriel Särkelä, and I were filming. I tried to be a director also. We had some help from Lock Media too, Pietari Alava and Tomi Lehtonen took care of live commentating and some of the sound engineering and recording as well. Tomi is a local motor mouth so we were happy to have him aboard. Other members of the crew included people from Prodigy Europe, they took care for most of the catering and maintenance. We can't thank them enough. The food was excellent and there was plenty of it. Thanks Prodigy.
UWDG: So, how many episodes will we see of the Lead Card and on which platforms?
JK: We hope to publish nine episodes this season. Two of the episodes will be introductions to what will come in the future episodes. They will consist some interviews as well. Five episodes will be disc golf game play mostly, with some interviews and players mic'd up. One episode will be a "behind the scenes," and one episode mostly likely an outtake reel – like combination of things. An episode is set to be be one hour long, maybe little longer.
UWDG: Do you have a cool story to tell us as a teaser from Lead Card.
JK: Sorry, no spoilers at this time. There is some cool stuff I promise.
We will put Lead Card out via Vimeo in the early winter 2020. We are trying out a pay wall service at first. The cost of the season for customer will be around €10-15, which is a prize of one disc, wink wink. With that prize you will get a full video series of top players competing for great prizes and you will get to know them better beyond the course as well. Most of the revenue will go to the prize pool and for the players, but some of it will cover our end too. We hope that this model encourages bigger events like this. Kinda like Pay-Per-View in boxing. Later in the winter we will upload Lead Card to our YouTube channel. The players speak in Finnish and in English. We will have subtitles in both, Finnish and English so that everyone can enjoy the conversations. In the spring of 2021 Lead Card will be available for free on one of the platforms.
UWDG: Is there going to be a new episode per week, or…
JK: We will publish a new episode per week on both of our channels, Vimeo and YouTube, excluding the first two introductory episodes which will be uploaded on back-to-back days.
UWDG: Lead Card must have been quite costly to produce. Did you have a main sponsor?
JK: Yes, Prodigy Disc Europe. We can't thank them enough. Together with them we made this whole thing possible from scratching a script together to all the way to setting up accommodations and schedules. They took part in covering the cost which would have been too massive for us to carry alone.
UWDG: Thank you Juha Kytö for giving us this time. Is there something else you would like to tell us about Lead Card or anything else?
JK: For a price of one disc you can purchase great and hours of entertaining disc golf production with a new perspective. You can find out more about your favorite European players while watching them play. If in doubt, check Lead Card out in the Spring at the latest.