From the desk of Owl P. Jackson, Esq.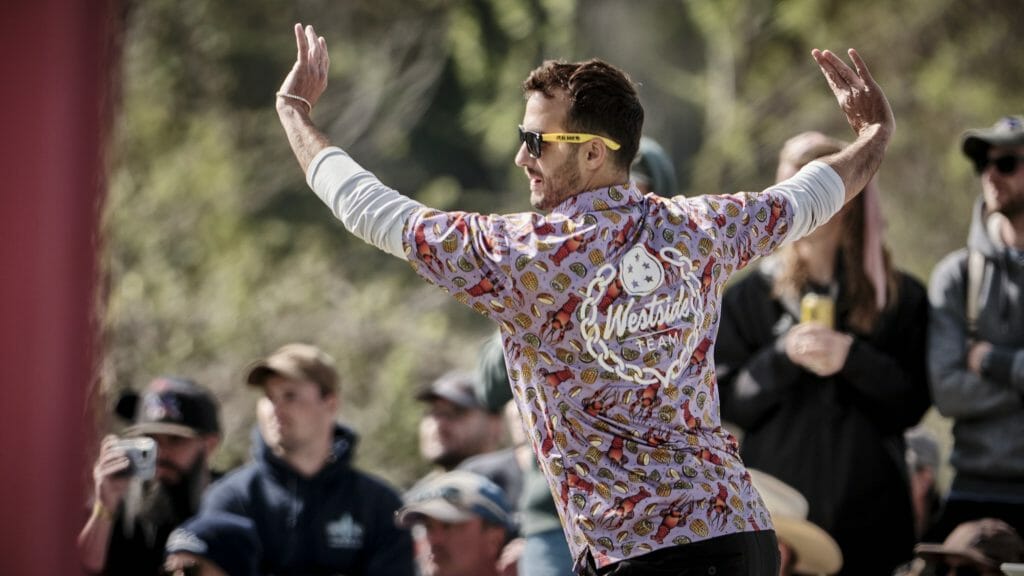 Ah, WACO. The cleverest acronym on the Pro Tour. Now that I think of it, I'm not even sure what the "charity" in Waco Annual Charity Open is. Regardless, it is an annual tournament held in Waco, Texas, for the open divisions. It also faithfully provides exciting finishes year after year. This year was no exception. In my opinion, these are the top 10 storylines of the 2023 Waco Annual Charity Open.
1. The return of Kristin Tattar
Quiet! Are you trying to wake it up? It just went to bed.
The world's most dominant disc golfer returned to the Pro Tour on an absolute tear. In her first competitive round since offseason surgery, she set a course record (-9). I think the arm will be fine. But after that, things were a little bit lackluster for Kristin. Her second round was an absolute dud, shooting even par. Her final round (-5) wasn't very inspiring either. Even as Ella Hansen began to falter down the stretch, Kristin was missing circle 1 putts that we are so used to her cashing in. She mentioned in her post round interview that she didn't even know she had a chance of winning until she had already teed off on hole 18. In the end, she drained the winning birdie putt into a crosswind with complete confidence and took home the W. Here is the big takeaway that should be frightening the rest of the FPO field: Kristin didn't play that well this weekend and she still won. It could be a long year.
2. Ella Hansen comes up short
Game's over, man. We'll just get another ball tomorrow.
Did Kristin Tattar win or did Ella Hansen lose? Kristin did hit the big putt, but I think this one is on Ella. She started the final round red hot, extending her lead to five strokes after just four holes. Kristin charged back, but a double bogey on 13 seemed likely to end her tournament. Ella had a four-stroke lead with three holes to play. Shockingly, Ella went out of bounds on 16, which didn't really seem possible. If you want to win, you can't have a two-stroke swing on a hole like 16. On 17, she lost another stroke. It was almost two, but Kristin missed the birdie opportunity. On 18, Ella went for it and threw long to fall short. Three holes. Three O.B.s. Three bogeys. 2nd place.
3. Heartbreak
Most people never take the chance, either because they're too scared, or they don't recognize it when it spits on their shoes.
Heartbreaking losses tend to give us enduring images. Think of Gannon Buhr hanging his head at the bottom of the sand trap as Drew hit the winning putt in the background. Think of Corey Ellis dejected in the Maple Hill clubhouse. The image I'll remember from WACO 2023 is a teary-eyed Ella Hansen being embraced by a group of friends as Kristin received the trophy. Through her tears, she said, "I'm proud of the way I played." It'll be great to flash back to those moments when Ella wins her first Elite event later this year.
4. Kyle Klein from the chase card
What he'd done was sneaky, rotten, and low…and cool.
I'm sorry if you weren't watching live this weekend. This is one of those instances where post-produced just can't give an accurate portrayal of the way the tournament felt in real time. We don't get to see it often, but it is always a treat to see someone win from the chase card. Really, the tournament didn't even feel like Klein's tournament until the last few holes. But he was always there, lingering in the background. His final round was a blistering -13, leaving Adam Hammes with an ace run as his only hope to force a playoff.
5. Loaded leaderboard
They never kept score. They never chose sides. They never even really stopped playing the game. It just went on forever.
6-way playoff? Yes, please! This tournament was so close to being an all-time great. Although it ended up being a fairly casual finish for Klein, you wouldn't have predicted that at any other point on the final day. The leaderboard was an absolute disaster—in the best way possible. It felt like 20 people had a realistic shot at the MPO crown. Let's give a few shoutouts. Adam Hammes and Kevin Jones look to be starting the season strong after disappointing 2022 seasons. It was great to see some of the more veteran players on tour in the mix late—James Conrad, Cale Leiviska, Matty O, and Nate Sexton. This continues to look like Calvin Heimburg's year. But I was most impressed by the young Cole Redalen, nabbing a podium finish! This type of leaderboard needs to be the norm.
6. The BEast
The legend of the beast goes back a long time.
Plans are in place to extend WACO to a 4-day tournament, splitting time between the BEast and a new golf-style course. That's unfortunate. Now, don't get me wrong—I love 4-day tournaments. I also understand the desire to have two courses to test a wider variety of skill sets. However, that doesn't need to happen in every single tournament. Let's have some tournaments that exclusively reward the big arms. And let's keep some tournaments (like WACO) where I could conceivably birdie a few of the holes. 17 and 18 remain one of the best finishing combos in disc golf. Plus, look at the results. They speak for themselves.
7. The rusty return of Paige Pierce
Remember kid, there's heroes, and there's legends. Heroes get remembered, but legends never die.
This week wasn't just the return of Tattar. The FPO G.O.A.T. was also making her return to tour. Paige's play was rough, though. It had the look of someone who had not been playing disc golf for a couple of months. She missed her first putt of the tournament, turned to the camera, and said, "Nervous." She finished with an even par after three rounds. Overall, she just looked rusty. For the sake of FPO excitement, let's hope that Paige gets back in the swing of things quickly and finds that competitive desire again. Disc golf is better when Paige is in the mix.
8. The putting woes of Eveliina Salonen
Just stand out there and stick your glove out in the air. I'll take care of it.
Wow. Just wow. It is hard to write about Eveliina's putting performance without feeling mean. It is truly bizarre. She is arguably the best female thrower of the disc on the planet, and yet there are times where she putts worse than someone who has never played before. During round one, the cameras lingered as she missed putt after putt (after putt, after putt…) on hole 17. She airballed twice from within 10 feet. It was actually uncomfortable to watch someone struggle like that. Eveliina needs to scrap whatever she is doing and start from absolute zero. Someone get her a coach!
9. Ricky's wrist
When one guy would move away, we never replaced him on the team with anyone else. We just kept the game going like he was still there.
For the second straight Elite Series event, Ricky was sidelined with a Lyme disease flareup around his wrist area. He is optimistic about returning soon, but even if he does, will he be able to perform like the Ricky we know and love? It's tough to have the reigning Pro Tour champion and Player of the Year unable to compete. He has had these flareups before and will have them again. It'll hit differently when there is a flareup during Major week.
10. DGPT standings
If you were thinking, you wouldn't have thought that. You can't go back there.
Two events and we're looking at the standings? Yup…and making some predictions based on them! The thing I like about the Las Vegas Challenge and WACO as starting events is that they tend to showcase different types of players. So, let's take a look at which players have finished in the top 10 at both LVC and WACO.
Sarah Hokom sits at the top of the FPO standings thanks to two wraparound events, but I don't expect that to last much longer. The consecutive top-10 standouts are Ella Hansen (T-4th, 2nd), Catrina Allen (1st, 10th), Ohn Scoggins (8th, 3rd) and Hailey King (6th, T5th). Prediction: those four, along with Kristin, will make up your top 5 by the end of the season.
In MPO, Calvin currently sits at the top (1st, 3rd). The other consecutive top-10 standouts are Kyle Klein (T-4th, 1st), Kevin Jones (T-2nd, 5th), and Matt Orum (T-8th, T-7th). I'll double down on this theory with another prediction: those four, along with Ricky, will make up your top 5 by the end of the season.
Thanks for reading, everyone! Let me know the storylines you think I missed. See you in Austin!