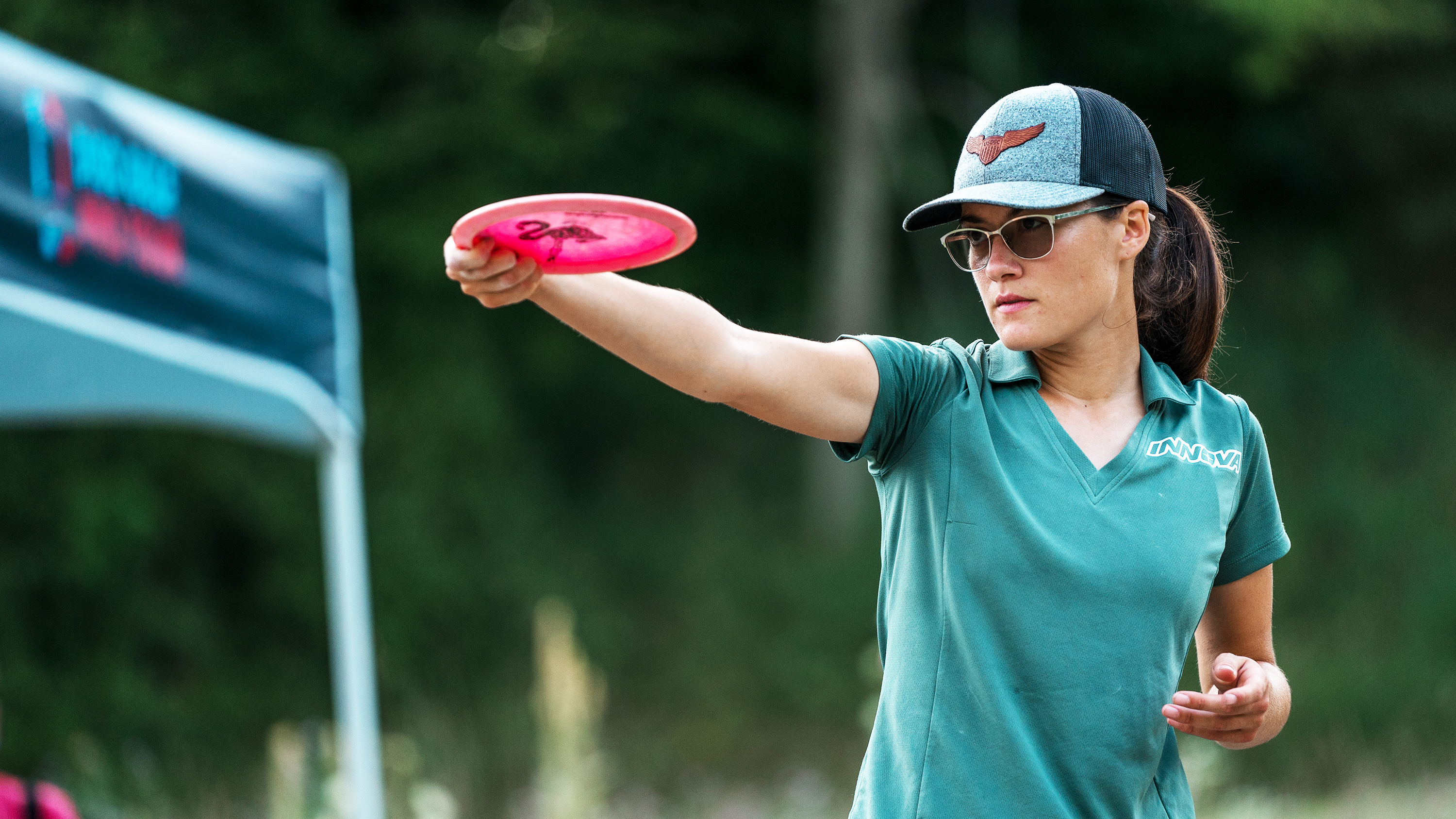 The rich got richer Saturday at Discraft's Great Lakes Open as four of the top six MPO players matched the hot round at 11-under and produced what Nate Doss called, "The greatest putting round from a group of men that I've ever seen." That says a lot coming from the three-time PDGA World Champion, who is no slouch himself around the putting green.
Leading the charge from beyond the arc was Kevin Jones who cashed-in on a jaw-dropping SEVEN circle-2 putts, bringing his tournament average to 71% from C2 and leaving him in a tie with Eagle McMahon for the lead heading into Sunday's final round.
McMahon came out of the gate guns blazing, birdieing the first five holes and posting a 7-under on the front nine, but cooled off a bit down the stretch to finish 11-under.
"I actually felt like I played a lot better today, probably up until about hole 13," he told Disc Golf Network's Terry Miller. "I was thinking I could put in a 13 or a 14-under but then things kind of went stale for a few holes. Kind of running out of energy on these big hills but on the last hole I was able to slop together a birdie. All in all, I'm really happy to be in this position – I haven't been in this position in a while."
Ricky Wysocki has to feel the wind in his sails as well as he put up a very solid performance to keep himself two back of the lead. The two-time PDGA World Champion was more than happy to take part in the lead card's circle 2 birdie binge, bagging four long ones including a 110-foot monster from around the bushes on hole 13. Udisc has this shot classified as a throw-in, but Wysocki's prodigious power with the putting stroke along with the fact that he started raptor-legging toward the basket shortly after release may suggest otherwise.
Rounding out the lead card on Sunday will be James Conrad, who contributed four circle 2 putts of his own on his way to bogey-free 11-under.
"It's exciting," he told Miller in his post-round interview. "Final round lead card action is some of the most fun you can have in disc golf, I think. It looks like it's pretty tight – a couple of 22's and a couple of 20's – coming into the final round so it should be a good battle tomorrow. I can't wait."
In FPO, Paige Pierce struggled on the front nine with two bogeys, but turned it on down the stretch to improve on Friday's 5-under and stretch her lead to five heading into Sunday's final.
"There were some holes that I cleaned up, for sure," she told DGN's Miller. "But there were a couple other errors that I didn't clean up. Hole 9, I took the bogey again and I took another bogey early in the round, and I missed a couple of circle 1 putts that felt uncharacteristic. So it was improvement score-wise but I'm still feeling like it's not what I wanted out there. Tomorrow I'm definitely shooting for higher."
The woman with the best chance to catch her – that is, if she can get the putter going – is Catrina Allen, who managed to post a 3-under round despite a head-scratching 14% C1x putting performance.
Joining Pierce and Allen on the Sunday lead card will be talented newcomers Heather Young and Ellen Widboom. Widboom got the better of a rollercoaster round on Saturday in which she carded three bogeys but matched Pierce with an FPO-leading eight birdies.
You can Sunday's MPO and FPO final round lead cards live beginning at 2pm ET. Check our event page for more info on how to follow.