Could 2023 be the year of Catrina Allen?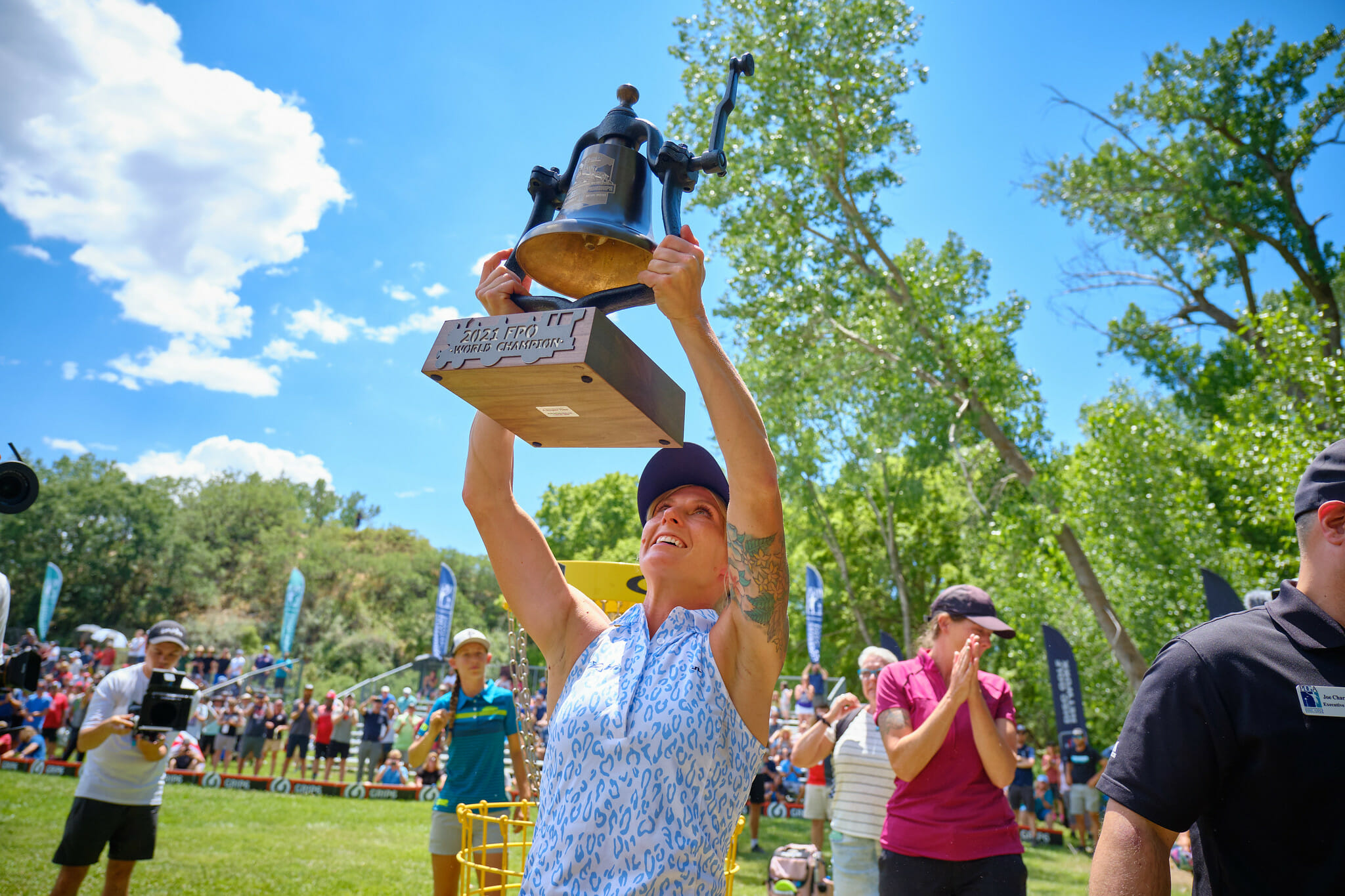 2022 was the year of Kristin Tattar. She was dominant on the course, with an average finish (1.58) that belies the fact that she was playing against the strongest FPO field ever. She even ranked as the most popular player in Ultiworld Disc Golf's fan survey. If there was a disc golf competition to be won, there was no safer bet in 2022. For most of the season, particularly the first half, the story of the FPO season was Paige v. Kristin. This was bolstered by Pierce tying the all time major victory number of Valarie Jenkins-Doss with her victory at Champions Cup, and claiming the record outright at the European Open. Pierce won two majors to Tattar's one, but failed to win in her final eight tournaments, finishing the season with an average finish of 5.32. Head to head, with the notable exception of the final hole of Champions Cup, Tattar looked like the more complete player in 2022, going 8-3-1 against Pierce, taking a total of 93 less strokes over the course of those events. With her trademark openness, Pierce herself admitted in the latter half of the season she was not playing like a top player.
Going into the 2023 season, the Pierce and Tattar rivalry will probably be once again a prominent storyline. But I have an alternative matchup to offer. There is another player who, the same as Pierce, won three events Tattar played in, and gave up 36 strokes in their overall head to head matchup, considerably fewer than Pierce. They went down to the wire at the Dynamic Discs Open, with Tattar taking it down by one stroke, and at Throw Pink Tattar fell by three strokes. Tattar's other unspoken rival is Catrina Allen. Allen's average finish for 2022 was 5.2 and she had a much shorter-lived rough patch during her tour than Pierce, putting together an altogether consistent effort for the season, and finished strong with the win at Throw Pink.
There are a number of reasons Allen flies under the radar, with the most obvious simply being longevity. She's been playing at a high level for a long time and she's one of the older players on tour, having picked up the game as an adult. She won her first World Championship in the famed Portland Worlds of 2014, and did not win her second World Championship until 2021, where she threw one of the best shots of all time only to be upstaged hours later by James Conrad's holy yellow Envy. The final day of 2021 Worlds is a microcosm of Allen's career: lowkey, sustained excellence. Television prefers excellence in a higher key, which is probably why, before the rise of Kristin Tattar, fans long tried to make the Allen-Pierce rivalry into a blood feud when the evidence for it was scarce. In 2022, who was talking about the Allen-Pierce rivalry much less the Allen-Tattar rivalry?
On the course, Allen has important characteristics for going up against Tattar that Pierce does not. For starters: a serviceable forehand. Allen is not bombing forehands or throwing many off the tee the way Tattar does, but when she's in a spot that calls for a forehand, she can throw it with accuracy. Pierce's inability to throw forehands effectively when pinched off in difficult places was a trend in 2022 during her struggles.
The second characteristic Allen has is a steadiness on the course. This was not always the case, and she has famously struggled with putting, but over the last couple of years the putt has dialed in from range, and she has been as unflappable as ever on the course. It's a stark contrast to the rollercoaster that Pierce can often offer. Pierce is so talented that when she goes scorched earth her lack of forehand and rollercoaster tendencies often don't matter in the slightest, but Tattar is the first opponent in Pierce's career that has pushed Pierce to her limit even when the five time world champion is playing near her best. It's Tattar's greatest strength over Pierce, pushing her. Paige is at her best when she's dominating and, as her fascinating biopic Fierce shows, potential cracks in that "Greatest of All Time" label (which she steadfastly does not give herself) make her push even harder, which can lead to on the course mistakes. Allen does not have that kind of label hanging over her head all the time – which is not to slight her status as a surefire hall of famer – but it's clear that her head to head battles with Tattar don't have the same kind of existential feeling as Pierce's. It allows her to do what she's always done: play disc golf at a high level.
It will be difficult for Kristin Tattar to maintain her blistering pace in 2023, which will inevitably lead to speculation about the new generation of young talent, a Paige Pierce return to dominance, or a renewal of the early 2022 Pierce-Tattar rivalry. But there is one thing more certain than any of those, and it's Catrina Allen continuing to be at the top of leaderboards. As a result, she could very well be the biggest threat to Tattar's hold at the top of the game.