It seemed liked the final nine for the Open Women at the first EuroTour event of the year, the Dutch Open, would be little more than a formality. Estonia's Kristin Tattar had built a 12 stroke lead over second place, which was held by fellow Estonian Maris Perendi. Perendi had five strokes on Germany's highest-rated female player, Antonia Faber, and Faber had the same cushion between herself and Tabea Wallus of Switzerland.
However, the temporary course erected in Elsenburgerbos Park in Rijswijk, Holland that hosted each round of the tournament was filled with out-of-bounds (OB), tight fairways, and unforgiving rough. That meant that even in the perfect conditions of little wind and lots of sun that persisted throughout the weekend, a comeback wasn't impossible. Two of the competitors found that out firsthand—one to her delight, and the other to her bemusement.
The top two going into the final only saw their leads grow over the nine holes. Tattar averaged nearly 50 points over her current 938 rating for the weekend, and she dominated the field with her final score of 2-over par 212. Perendi finished with a 20-over par 230. The unexpected swing came in the battle for third, with Wallus catching Faber. They shared the last spots on the podium with twin scores of 26-over par 236.
The Fight for Third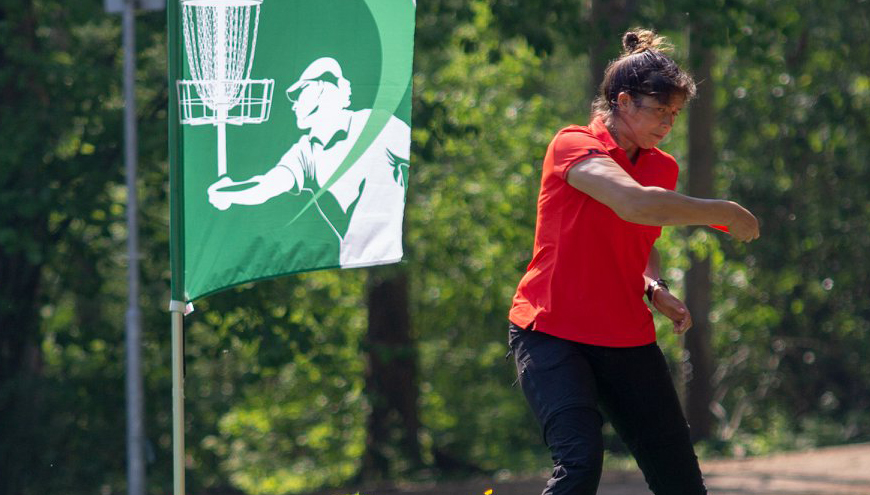 It only took one hole for the deficit between Faber and Wallus to shrink.
The group started their final nine on hole 6, a downhill shot where a circle of trees—the middle of which was OB—blocked a straight shot to the basket. The most obvious line for a birdie was going left of the trees with a shot that faded right at the end, a line that seemed to favor the left-handed Faber. But it was Wallus who found herself taking a birdie after her shot managed to snake its way through the OB circle of trees while Faber settled for par.
Wallus proceeded to play consistently, getting back another stroke two holes later and matching Faber's scores through the next three. The big turn came on the group's seventh hole (tournament hole 3). On that right-to-left downhill par 3, Faber took a four while Wallus birdied, making Faber's lead only stroke. And that disappeared on the next hole, a par 5 where OB lurked everywhere. Wallus took a seven, but errant shots led to Faber carding an eight.
Though Wallus' perfect drive on the final hole—a tight, wooded par 4—seemed sure to give her third outright given that Faber's first effort had landed well off the fairway, it wasn't to be. Wallus' upshot errors and Faber's scrambling gave them both bogey fives on the hole, leaving the two women tied.
Wallus credited her comeback to a change of mindset going into the final round
"Yesterday and today in the full round, I was thinking too much and trying too hard, and it didn't really work out," Wallus said. "I knew I wanted to attack. I would give everything I had to catch her, and I did. I was aiming for third after the first two rounds, and I'm quite happy I got it and got back to my game."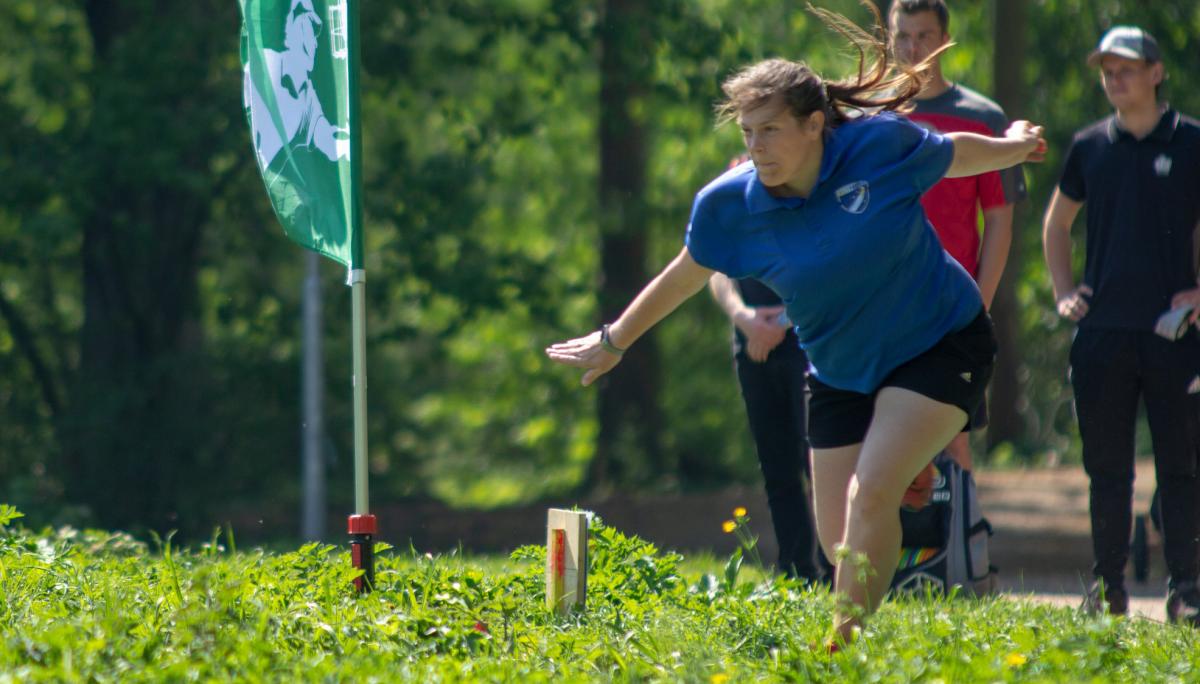 Despite losing her lead, Faber was "really happy about ending up third place," and congratulated Wallus on an "awesome final." Still, the experience has already made her rethink her training routines.
"Going into the final, I was really tired," Faber said. "With practice rounds on Friday, I had played five rounds [in three days] on a course that's much harder than my home course…What I take from the weekend is that I need to work out even more. I need to be able to focus until the end, and for that, I need to be more fit."
Estonians Start Seasons Off Strong
While the true drama in the final round was between Wallus and Faber, the accomplishments of Tattar and Perendi can't be overlooked. While Tattar's over-rating play has already been mentioned, Perendi also averaged 46 points above her own current 908 rating. Both players expressed satisfaction with their results.
"I feel great," Perendi said about finishing second. "I think my game was pretty average—I can't say I was really good at driving or putting or anything else—but it was enough. My main goal was to play over my rating, and I accomplished that."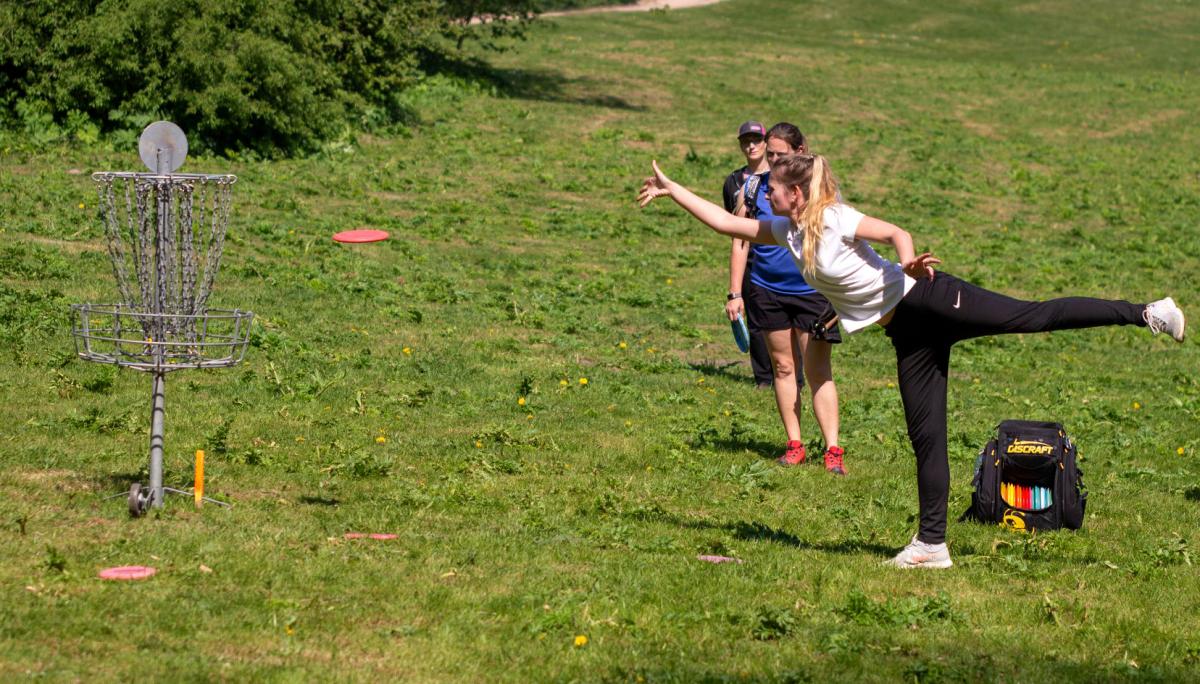 Tattar also felt "great" about her win and saw positives and negatives to take away from the weekend.
"Here, I didn't play my best rounds, but it was very good," said Tattar. "I didn't make huge mistakes, and I usually try to avoid huge mistakes rather than risking everything to try and take birdies everywhere."
Tattar also spoke to how coming into this tournament as the clear favorite in Open Women didn't affect her mindset.
"It's always the same for me," she said. "I always want to do my best. I know what I'm capable of, and I want to do that. It doesn't matter who I'm playing against; I'm always my own biggest competitor."
While Tattar's win in Holland may be lower-profile than the performances of Europe's other top female players Eveliina Salonen and Henna Blomroos in widely-watched U.S. events, its consistency and scale sends a message. She's come into this season focused and on-point. And whenever her play meets her own lofty expectations, any competitor will have a hard time keeping up.