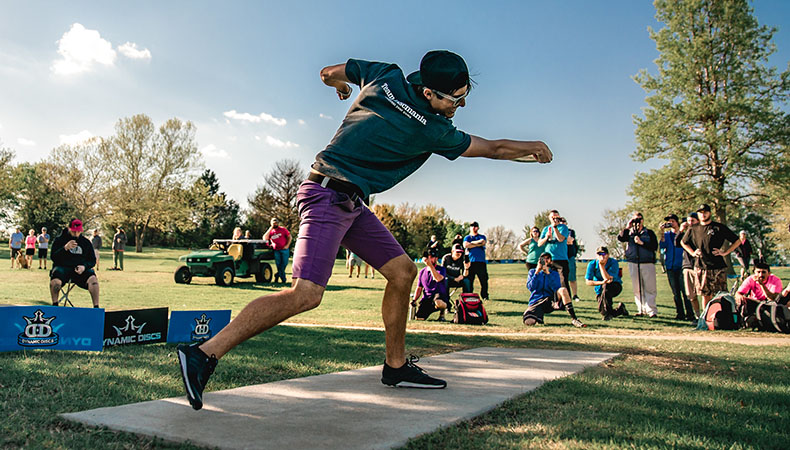 EMPORIA, Kansas — The Open lead card combined to go 20 shots over par Thursday at the Emporia Country Club, amassing a whopping 26 out-of-bounds strokes as the wind whipped up havoc on the leaderboard.
That left a window open for the defending Glass Blown Open champion to soar through.
Eagle McMahon rode the wind with an 8-under par 57 during round two of the GBO, a 1077-rated showing that was the best on the course by four strokes. The 20-year-old now leads this PDGA National Tour event at the halfway mark with a 15-under par 115, while Paul McBeth — who was second best Thursday with a 4-under par performance — moved into second place at 12-down. James Conrad jumped up 10 spots and into third place with a 3-under par 62 that took his two-day total to a 9-under par 121, a score he shares with two-time PDGA World Champion Ricky Wysocki.
McMahon sported a wide smile after the round, knowing he had logged an unforgettable performance at a time when few others could capitalize.
"I'm really pumped on how I played out there," McMahon said. "To have it be so windy and to just stick to my game plan — or really adjust to my game plan due to the extreme conditions [was great]. I feel like I was very tactful, I picked my battles well out there."
McMahon particularly shouted out his most overstable disc, a metal flake Max, and at various points in the round putted with an MD5 midrange. He also played the wind masterfully on the 399-foot 11th, lofting his putter high and letting a ripping tailwind push it down into the chains for a 50-foot connection for birdie.
More important, though, was McMahon's ability to make sure he didn't have long looks. He landed in circle 1 in regulation on 56% of his attempts and parked six shots during the round.
"It's really not about making the putts — it's about getting close enough to get your pars," McMahon said. "Luckily I was getting close enough off my drives, so those pars turned into birdies."
McBeth, on the other hand, struggled from close range. After straying OB on the 990-foot, par-5 8th he missed a par-saving bid off the top band, and down the stretch missed a handful more off the front of the cage as his circle 1 putting percentage dipped to 64. He failed to card a single birdie on the back half, instead opting for a clean sheet with nine consecutive pars.
"Very poor putting," McBeth said. "Just missing every putt I had for birdie, so that's something I need to clean up. But with this wind those pars are fine."
[embedded content]
Conrad, not normally known for his prowess on golf course-style layouts, was nearly matching McMahon's hot pace until hole 15. He went out-of-bounds off the tee, then left his approach from the drop zone short on the 438-foot par 3 before missing from 45 to card a double bogey. On 18, a gust picked up his putter and carried it over the top band and down the hill, and he again failed to make the connection on the way back up. Remove his three double bogeys and he's likely in second place.
Round one leader Joel Freeman's 4-over par performance dropped to fifth place, a spot he shares with Chris Dickerson and Anthony Barela, the latter of whom climbed 20 places in the standings with his own 4-under par. Canadian pro Thomas Gilbert rocketed into the top 10 and sits in eighth, while Nate Sexton is in ninth. JohnE McCray, who entered the day in second place, fell to 10th with a 5-over par finish that included a two-stroke misplay penalty; when his lay up went OB on 16, he played from the last spot it crossed in bounds as opposed to going to the drop zone.
You Should Have Been Here For…
Simon Lizotte's roller on 14. He played the tailwind to perfection and ended up deep of the pin on the 751-foot par 4. "It was unbelievable," cardmate Cale Leiviska said.
Stat of the Day
Hole 16 claimed 26 more victims than on day one, with 109 discs hitting water during round two.
Cut Line Watch
The Glass Blown Open field gets cut to 40% after Friday's round, and here are a few notable names who need to make a moving day push to make it to Saturday's final:
Eric Oakley (T58, +10)
Grady Shue (T76, +14)
Gregg Barsby (T76, +14)
Jordan Castro (T89, +17)
What's Next
The Open division lead card tees off at 3 p.m. Central. Tune in live on SmashboxxTV.
[embedded content]