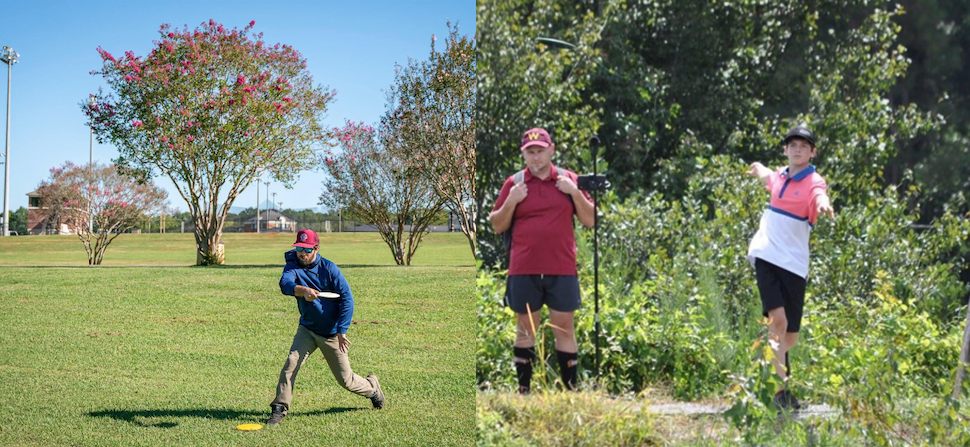 Only five players qualify for the USDGC each year by showing up on the Monday before the event and playing one round for a shot at a ticket to the show.
This year, two of those five came from the same small disc golf club in South Carolina.
Andrew Turner — nicknamed Cowboy because he rode professional rodeo for eight years — and 15-year-old Evan Scott finished second and third, respectively, to earn their spots into the USDGC. Scott becomes one of the youngest players to compete at the USDGC, but David Wiggins Jr. holds the record for youngest ever when he played in 2008 at age 13.
The two are both members of the Hub City Disc Golf Club, representing Spartanburg County and surroundings.
"We're a great little club, a little hidden gem we think," said club President Daniel Camp. The club is five years old and has around 110 members. Hub City has continued to grow and run more leagues and tournaments: the upcoming Hub City Halloween Open, the club's first A-tier event, will welcome in some big names like Chris Dickerson, Ricky Wysocki, and Ellen Widboom.
It's also not the first time the club sent someone to USDGC: Justin Peeler got in through Monday qualifying in 2018. But for two players to get in this year was a point of pride.
"My first response to being in on Monday was it was pretty cool just being able to be there, because I didn't really think going into it that I had a whole lot of chance to do it," said Turner.
Turner's had a bit of a rough go of it: he was in last place after round one — "had a hard time off the teebox," he said — and is currently sitting in second to last partway through the final round. Scott is a few spots higher, sitting currently in a tie for 63rd. The fact that a 15 year old shot an under par round one, though, is impressive but, for those that know him, unsurprising.
"I've watched Evan now for about three years," said Turner. "I remember the first time seeing him and thinking, 'Man, this kid is unreal.' And watching him this year just running over people in local tournaments. It really didn't surprise me to see him live up to the billing and do what he's been doing all year."
The 988-rated Scott has won multiple C-tiers this year and also took home the Hub City summer league trophy.
In round one, he played with Austin Hannum, Casey White, and Andrew Marwede, who he said complimented him on his strong play. "It's really cool to be out there playing with some of the pros I watch on YouTube," he said.
Could we be seeing more of him? "I'd like to become a full time on the tour kind of player," he said.
"Let's graduate high school first though," interjected his mom Casey.
We might also be seeing more from the Hub City club, as it continues to grow and create more playing opportunities for members in its community.
"All that playing on great courses is really developing some strong disc golf talent around here," said Camp.