Is a polished product with dramatic on-course action enough to open the doors to future cable specials?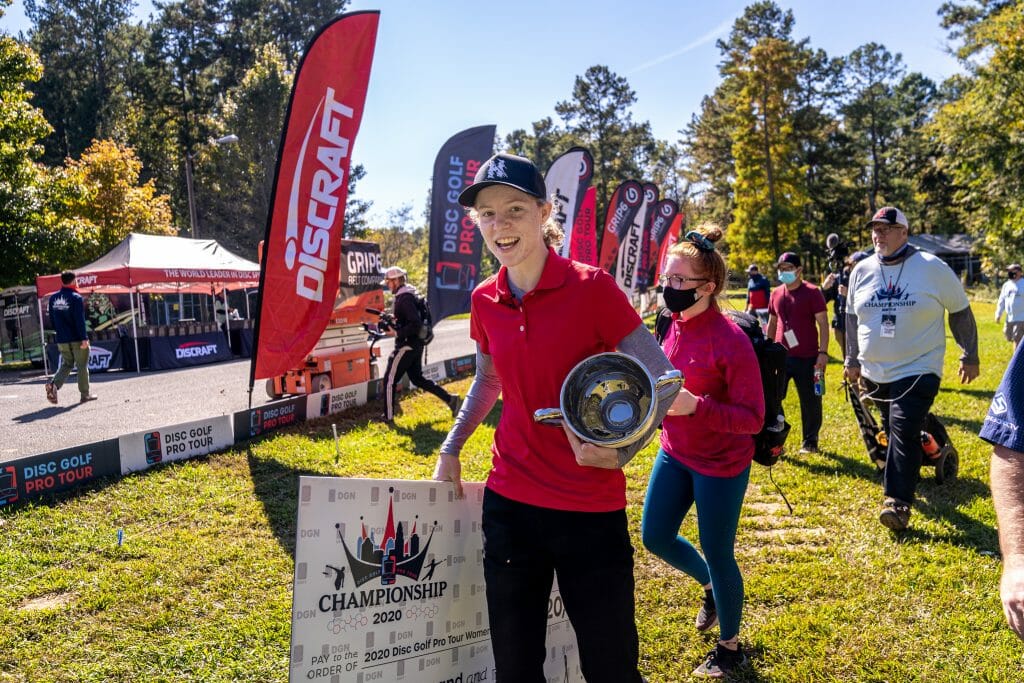 The disc golf community counted the days, then hours, then minutes until the ESPN2 broadcast of the Disc Golf Pro Tour Championship aired.
Everyone seemed focused on the potential viewer ratings, as they will likely provide yet another good or great data point in support of disc golf's inexorable rise. As the ratings are, as of this writing, yet to be released, I offer up some analysis that is more anecdotal in nature. A handful of observations, opinions, and obsessions.
We already knew the payout and first place prize were the same for male and female competitors, but it was refreshing to see the coverage was fairly equitable as well. The action started with the women's group and stayed with them for several holes and included some in-depth player intros. Overall it seemed close to a 50-50 time split between Open and Open Women's coverage.
That being said, the women's final came down to sudden death holes between the GOAT and a teenage underdog – after the player who seemed in control crashed and burned. Dramatic stuff, and it should have been the final action.
On the player profiles, a great job all around. Credit to the production crew for a polished product, and also to the players, for opening up. Chris Dickerson and Hailey King especially. The profiles are intended to help viewers get invested in the players and more deeply engaged in the show, but in this case they provide another benefit. Ball golfers, other athletes, and viewers can relate to most of what the players said about the drive to compete and absolute love of the game. They see that disc golf can scratch that itch.
The announcers, Jeremy Koling and Nate Sexton, sounded much more comfortable than they did during the CBS Sports Network broadcast. If they haven't been coached, they definitely took notes for the ESPN2 production and audience as the CBS commentary felt starkly different than the goofy duo who help make Jomez Pro videos so entertaining, and the result had a disturbing 'Stepford Wives' feel to it. This time around, while they didn't drop it all the way back to their Big Sexy comfort zone of familiarity with, and amazement at, the feats of fellow players, Sexton and Koling sounded natural and professional. I still could have used a bit more emotion from them during the roller coaster ending.
My biggest regret is that viewers didn't get to see the final round of the DGPT Championship. We saw select holes and shots, and there is a big difference between that and watching an entire sporting event from beginning to end. My wife watched most of it with me, and was baffled when leads would ebb and flow. When she asked what happened and I told her they didn't show every hole she said, "What?! Why wouldn't they show it?" Even if it's not live, I'd like to see a presentation of broadcast disc golf like a typical game or match for any other legitimate sport. I watch every bit of Disc Golf Network live event coverage I can because for me that's the ideal: Live, and complete.
Both the ESPN2 and CBS broadcasts missed one opportunity. The quality of disc-in-flight footage is high enough now to clearly show drives bending one way when being turned over on a flex line then turning the other way as the disc slows and succumbs to its natural fade. Why not explain the technical prowess and fine touch required to execute such a shot? In the CBS broadcast a drone follow-shot on a Nikko Locastro drive over the water provided the perfect opportunity, and during the ESPN2 show it was Kevin Jones' drive on hole 14.
If I were given the chance to personally select the venue for a televised showcase of disc golf, it would be a course with a good mix of holes, nice amenities, and most importantly, it would be a dedicated disc golf course. I don't want to reinforce the stereotype that disc golf is a laid back game played only in public parks alongside playgrounds. This is me being a snob, I suppose, but I don't like the image of disc golf borrowing ball golf courses for its events either. Give me a dialed in disc golf-only venue like Milo McIver in Oregon or the threatened Jarva in Sweden. I want viewers thinking they've stumbled into an alternate universe where dead serious golf is played with flying discs.
The overall production value just keeps getting better and better. I especially appreciated the slick slow motion replays, the dual Follow Flight shot tracking, and stronger, clearer on-course microphones. Also, the hole preview flyovers with synched graphics on the left looked great.
Is all of that plus some good, dramatic action enough to score high ratings to open more doors to future productions? We'll see. Personally, I like to imagine the person who stumbled across the show, found it interesting, watched the whole thing, and is now shopping for discs online at 2 AM.