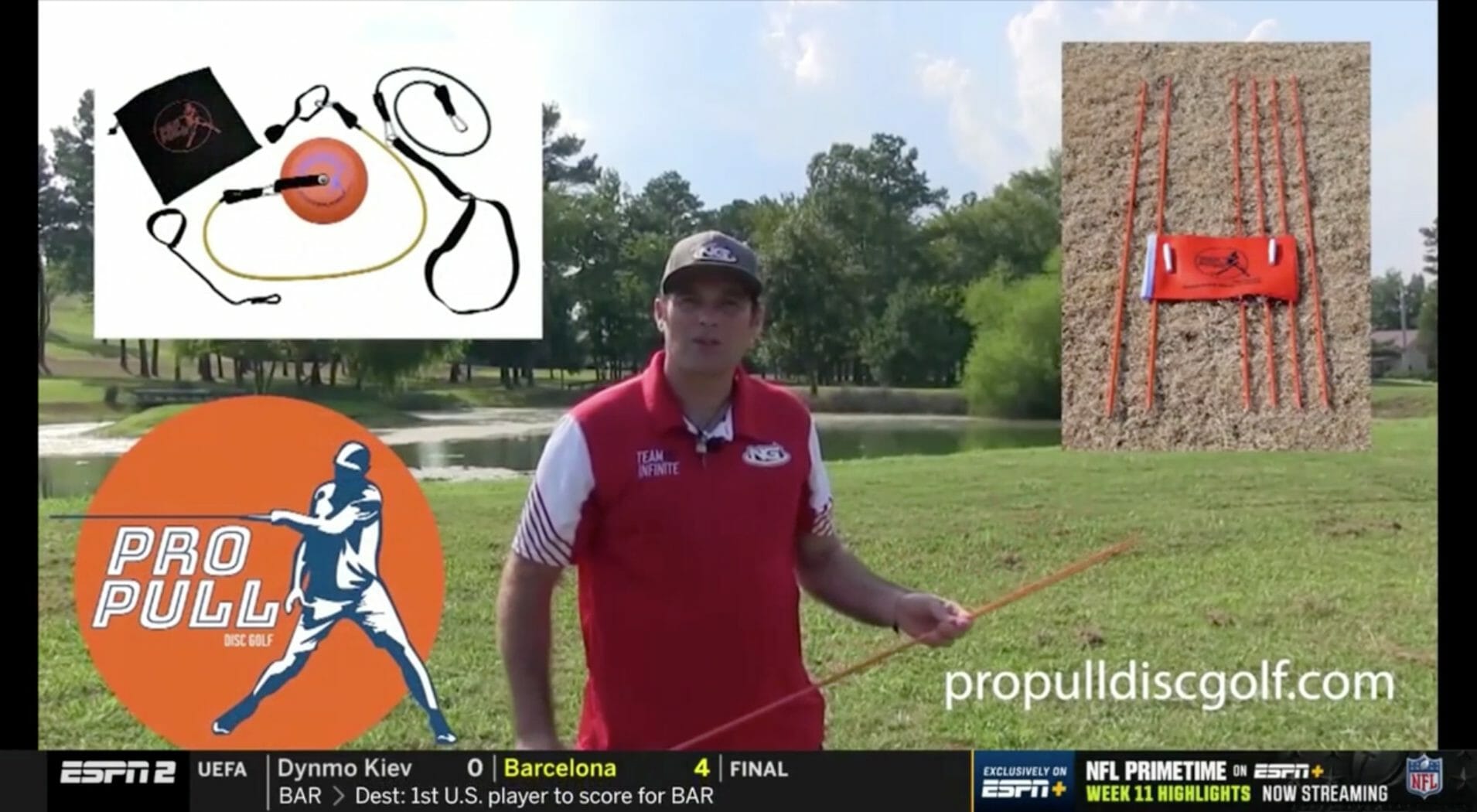 Who won the night in the ad breaks?
One of the unexpected delights of watching the Disc Golf Pro Tour Championship finals on ESPN2 was getting a big slate of disc golf commercials. In a way, it felt like a mini disc golf Super Bowl: you had to watch the ad breaks as well as the on-course action.
I have now had time to fully rewatch all of the ads, and I've ranked them from worst to best below. It's worth noting that none of the ads were truly bad. Almost all of them were slickly produced, but some did a better job of establishing their brand or telling a story. Let's dive right in.
#17 – Pro Pull
From a production standpoint, it's pretty obvious that the Pro Pull ad is just not on the same level from the rest that aired last Tuesday. It looks like it's advertising Pistol Pete Maravich's VHS basketball tapes from the '90s (I had those, they were awesome!). But I will say this: advertising is about getting your brand noticed. And this ad got disproportionate discussion because of how silly and out of place it felt on ESPN. I had a good laugh watching it in real-time. People have been clowning on it on social media, but…there's no such thing as bad publicity! Better this than something bland and forgettable.
#16 – Zuca
This is a deeply weird commercial. Heavy rock soundtrack, all these odd shots of the Zuca like it's a runway model, not enough clarity around its utility as a disc golf bag and cart. Highlight the great features of the bag! Like some other ads on this list, this was a 15 second ad concept stretched out to 30 seconds. It does get points for making very clear what the brand name is.
#15 – OTB Discs
The forbidden ad! This commercial never actually aired during the ESPN2 broadcast due to a scheduling mistake by the network, which automatically gives it extra hype. OTB played it up on Twitter with #FreeTheOTBCommercial. As for the ad itself, it's not my favorite. I do like that the voiceover discusses the joy of watching a disc fly, and the shots of OTB-sponsored pros throwing is perfectly fine, but the big batch of text up on the screen at the end is too much, too fast. There's no time to process what it says before it goes away. The music track is a bit too loud as well.
#14 – Infinite Discs
Did Infinite pay off ESPN to cut the OTB Discs promo short? (I'm kidding). This ad is fine, but even more than the Zuca ad, it's a 15 second spot that's been stretched out to 30 seconds for no particular reason. Good vibes, though: Zoe AnDyke is a good spokesperson.
#13 – PDGA [Passion]
The footage is good, the concept is good, but the script and the voiceover…heavy-handed. I liked this ad less than the other PDGA one, which has a more welcoming feel. I did laugh at this tweet:
#12 – MVP Disc Sports
This ad gets the point across: we make discs and baskets. I like the slogan "The Leading Edge," even if viewers have no idea what that's referring to. But there's just not a lot of pizazz, nothing memorable about this one. Like a number of these commercials, it's more appropriate for an audience that is already aware of your brand.
#11 – Grip6 [Production]
Beautifully produced ad, part of the "cool machines" trend we saw throughout these commercials. But this was the weakest of the three Grip6 spots, mostly because it felt like it was assuming that people have been watching the whole broadcast and will have already seen the belts.
#10 – Disc Golf Network
15 second ad stretched to 30 seconds! Literally, all of the text information is on the screen in the first 15 seconds, then it just shows the logo and web address for the last 15 seconds.
I'd love to see DGN use their footage to make a more dynamic advertisement for the next go-round — they've got great highlights and produced plenty of cool spots for the broadcast over the course of the year. The motion photographs are cool, but show us why we should sign up — don't just tell us.
#9 – Dynamic Discs [Voiceover]
This had a chance to be a top 5 ad: that's how cool that drone shot is at the end. Getting that kind of video of a disc in the air is an excellent touch. And it did a great job of showing and describing DD's array of products. But I had to knock it down a couple pegs because I felt like I was watching the ad from the top of a spinning disc! Way too much motion going on. This is a good ad concept though. Remake with steady shots until the surprise ending and it's great.
#8 – Dynamic Discs [Text]
This ad is a great indication of why Dynamic Discs has been smart to invest in their own media capture. They have some of the best on-course footage of any of these ads, and they really spotlight their professional players effectively. I don't think it's a super memorable ad, but it's well executed and attractively produced.
#7 – PDGA [Mike Downes]
I like the sincerity of this ad, which is a better fit for the PDGA than the hyper-intense "passion" one.
"Don't just be a witness to disc golf's explosive growth: be a part of it" is a great line, and this ad has a very clear message on why you should join the PDGA. Simple but effective.
#6 – Latitude 64
Another cool machines ad. And they are cool! I think it's pretty sweet to get a little glimpse inside the factory. Fun ending with the throw-in straight to the Lat64 logo.
#5 – Grip6 [No Pinch]
Simply a highly effective ad targeted to the male demographic that watches ESPN (and disc golf). It identifies a potential weakness with typical belts and makes clear why you should try theirs, including the "Guarandamntee" with full refund and free return shipping. Makes it easy to buy, right? This is strong advertising that looks and feels like it was made by a professional marketing agency (perhaps it was).
#4 – Charlotte Disc Golf Club / Mecklenburg County
Objectively, this is not as slickly produced an advertisement as most on this list. But it hits the sweet spot of being clear and very likeable. Not only does it highlight Charlotte as a disc golf destination, but it also encourages people to find their local club and get involved, even if you aren't in Charlotte. This is just a great PSA! This might be the most feel-good ad of the bunch.
#3 – Grip6 [Wallet]
Again, another Grip6 ad doing an excellent job of highlighting its product. Sure, the cashier making googly eyes is a bit cheesy, but they're playing to the demo! This ad effectively uses its airtime to hit the key elements of why you should buy their stuff with a subtext that comes through clearly. Notice the story arc compared to most of the disc golf ads, which just show a bunch of golf shots and then put their logo on the screen.
#2 – Discraft
This ad combines a lot of great elements: cool machines, quality footage, clear shots of pro players, professional production, and a story arc. I like the little website reference as well. And it very much stays with the ethos of Discraft: we've been doing this a long time, we care about our craft, and we make consistent discs. Of the disc golf manufacturers, this was easily the best ad and I gave it a great deal of consideration for #1 overall.
#1 – Bushnell
OK, Paul Ulibarri, I see you. Out here getting that Bushnell money! Very strong ad from Bushnell as they continue to up the ante on marketing to disc golfers. Great story arc here: visualizing all the elements of the shot, and then obviously lingering on figuring out the distance. "I feel like it's going to revolutionize how good people get." That carries a lot more weight when it comes out of the mouth of a pro disc golfer, not just random voiceover in the ad. The best of the bunch on ESPN2 with its tie into disc golf (Grip6 didn't do that at all), use of a pro testimonial, and showing the value of the product (and how to keep it right there in your bag).
Final thought: WHY DID AUSTIN HANNUM HAVE TO DO HIM LIKE THIS:
Which commercial was your favorite? Your least favorite? Let us know in the comments below.