Prodigy seeks to block Buhr from leaving endorsement contract early, wants monetary damages

In a stunning development in professional disc golf, Prodigy Disc (PDI) has filed a lawsuit in US District Court against Gannon Buhr for attempting an early termination of his endorsement contract with Prodigy. The Georgia-based manufacturer's lawsuit seeks to bar Buhr from working with or promoting a competitor, require Buhr to fulfill his Prodigy contract through the end of 2023, and also asks for Buhr to pay monetary damages to Prodigy.
The dispute appears to have developed in the past few months and swiftly accelerated into legal maneuvering earlier this year. Buhr and his mother, Michelle Nesheim (who co-signed his endorsement contract), reached out to Prodigy in November 2022 requesting that Buhr be released from his endorsement contract.
According to PDI's own filings, PDI responded to Buhr by expressing a willingness to restructure and renegotiate Buhr's deal. Then, on January 13th, Buhr delivered an email notice to PDI that he was invoking a 30 day clock to terminate the endorsement contract on the basis of multiple material breaches. PDI's attorneys denied these breaches, but Buhr's lawyers followed-up with a February 13th letter claiming that all cure attempts had failed and termination was effective immediately.
Ultiworld Disc Golf has reviewed the court filings made from PDI, which include purported copies of email communications from Buhr and his mother; at the time of publication, no substantive filings from Buhr were available for our review on the court's website. Buhr and Nesheim declined to comment on this story; Prodigy did not respond to a request for comment.
The Alleged Contract Breaches
The dispute appears to have escalated after a January 13th email from Buhr to Prodigy management. In that email, Buhr alleged five items that he said constituted a material breach of the endorsement contract:
1. Buhr didn't receive a PDGA Rookie of the Year commemorative disc, despite promises that he would get one.
2. Buhr did not receive regular sales reports to verify royalty payments on disc sales. "My Mom and I were told that we could see those at any time, but they had never been sent to us, even though Prodigy knew that was very important for us to have," he wrote.
3. Buhr did not get to select which signature disc he would receive, and that he was promised two but only received one, which has negatively impacted his potential earnings.
4. Prodigy's disc quality is poor and the molds are inconsistent and that he made such complaints known as far back as June 2021, with "flashing" being a particular quality control concern.1
5. That he was owed $500 in unpaid bonuses.
In response, Prodigy sought to resolve — or "cure" — the alleged breaches and rely on the endorsement agreement's language providing for a 30 day cure period before contract termination. PDI paid Buhr the $500 owed and sent him a sales report. In their court filings, they said that the signature disc and ROTY commemorative disc complaints raised are not breaches, as they were not specified in the contract as requirements.
In response to the claims of poor disc quality, Prodigy wrote in a letter to Buhr, "PDI stands by its products and takes pride in the care devoted to creating discs of the utmost quality for your top performance. We are troubled and confused by your sudden issue with the quality of these products that have brought you such great success thus far in your career and hope this concern was not fabricated merely as an excuse to avoid your duties under the Agreement." PDI made similar defenses in their court filings, writing "from 2016 through the end of 2022, G.B. never once complained to PDI about the quality of PDI's products", and claiming the quality issues are "a mere cover story for terminating the Endorsement Agreement."
"Further," wrote Prodigy, "while PDI stands by the quality of its products, the Endorsement Agreement does not grant G.B. the right to terminate it based on fictitious product-quality concerns."
The court filings also include attestations from Prodigy CEO Mark Anderson as to efforts to renegotiate Buhr's contract to increase his compensation heading into the 2023 season. "I asked G.B. what he was seeking in terms of renewed compensation," he said in a court declaration. "After these discussions, we made a proposal to G.B. that included a compensation package that would approximately quadruple the compensation package of his current deal."
Anderson said that he never heard a response, so Prodigy sent a response to Buhr's claims of contract breach. On February 13th, however, Buhr's lawyers sent an email that said Prodigy had not cured any of the alleged breaches besides the $500 in bonuses and that the contract was therefore terminated. That same day, Buhr posted on his Instagram that he was leaving Team Prodigy.
Two days later on February 15th, Prodigy filed its lawsuit against Buhr. The first hearing, considering the temporary restraining order and preliminary injunction, was held on February 16th. The court has taken it under advisement and a follow-up hearing is scheduled for March 3rd.
Buhr's Contract Future Now in Limbo
This weekend, Gannon Buhr is competing at the Disc Golf Pro Tour All-Star Weekend but playing without an announced sponsor. He is still throwing Prodigy discs.
With the legal timeframe expected to stretch beyond the start of the season at the Las Vegas Challenge this week, and possible risks to Buhr if he endorses another company, Buhr may be effectively left without a sponsor for the foreseeable future.
Despite the souring relationship between the two parties, Prodigy is asking the court to require Buhr to remain in his contract through its termination date at the end of 2023. In his court declaration, Anderson said, "In terms of sales figures alone, I estimate that PDI would lose up to $1.5 million in sales without G.B. under contract through the end of 2023." Anderson went on to say that "the impact of losing G.B. to one of our competitors would go far beyond sales figures. Already, PDI's brand is suffering in the marketplace. Many consumers suspect that something is 'wrong' with PDI because G.B. has announced that he will no longer be affiliated with the brand after we proudly announced last month that he would be part of our Core Team for 2023."
Prodigy's court filings include copies of social media posts, including those from Reddit and memes from Instagram; Anderson wrote in his declaration that one post particularly "troubling and worrisome to me is a 'meme' of PDI's logo on a tombstone with G.B.'s smiling face photoshopped on a body standing over the gravesite, indicating G.B.'s departure would essentially destroy PDI's business."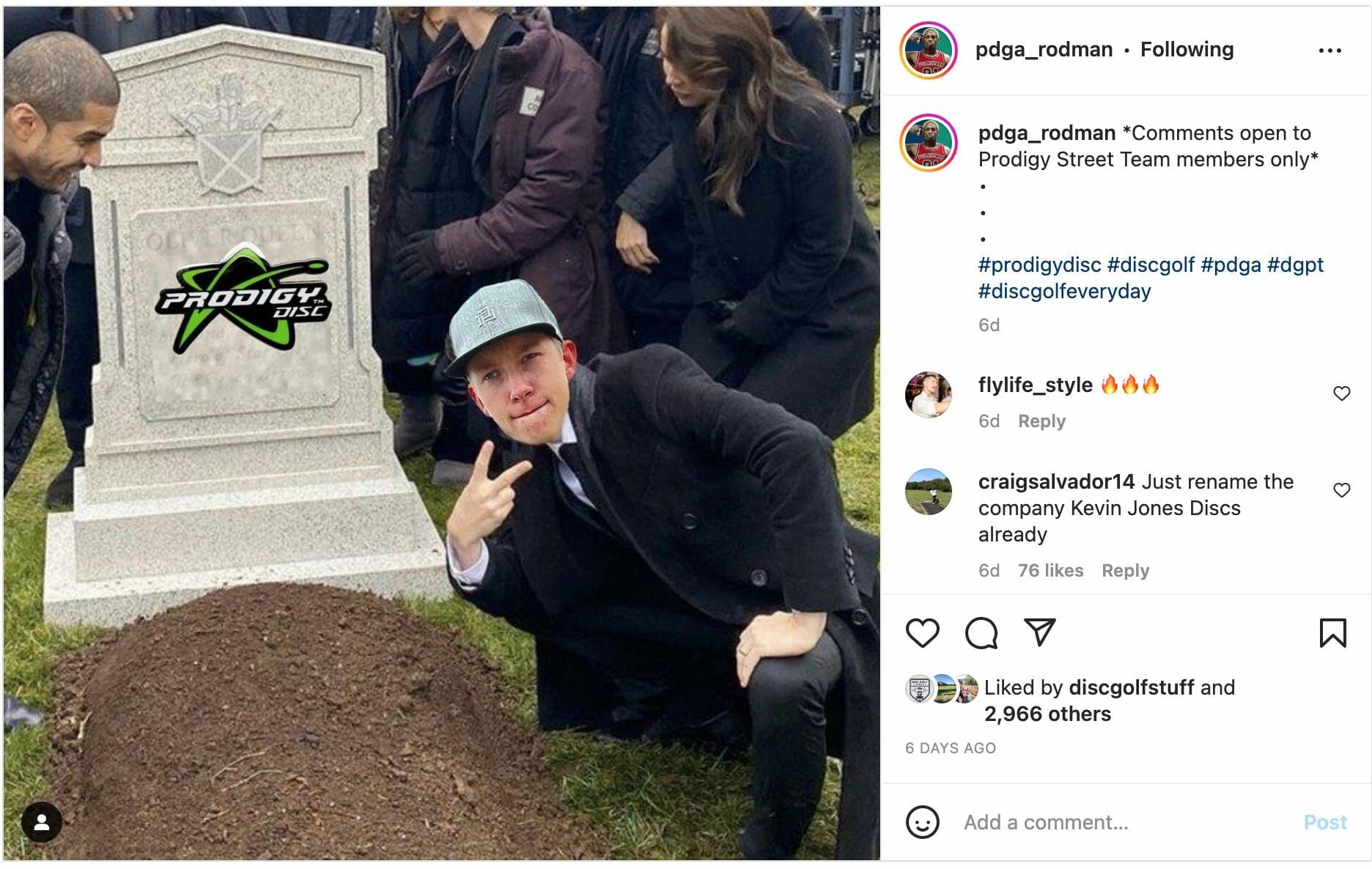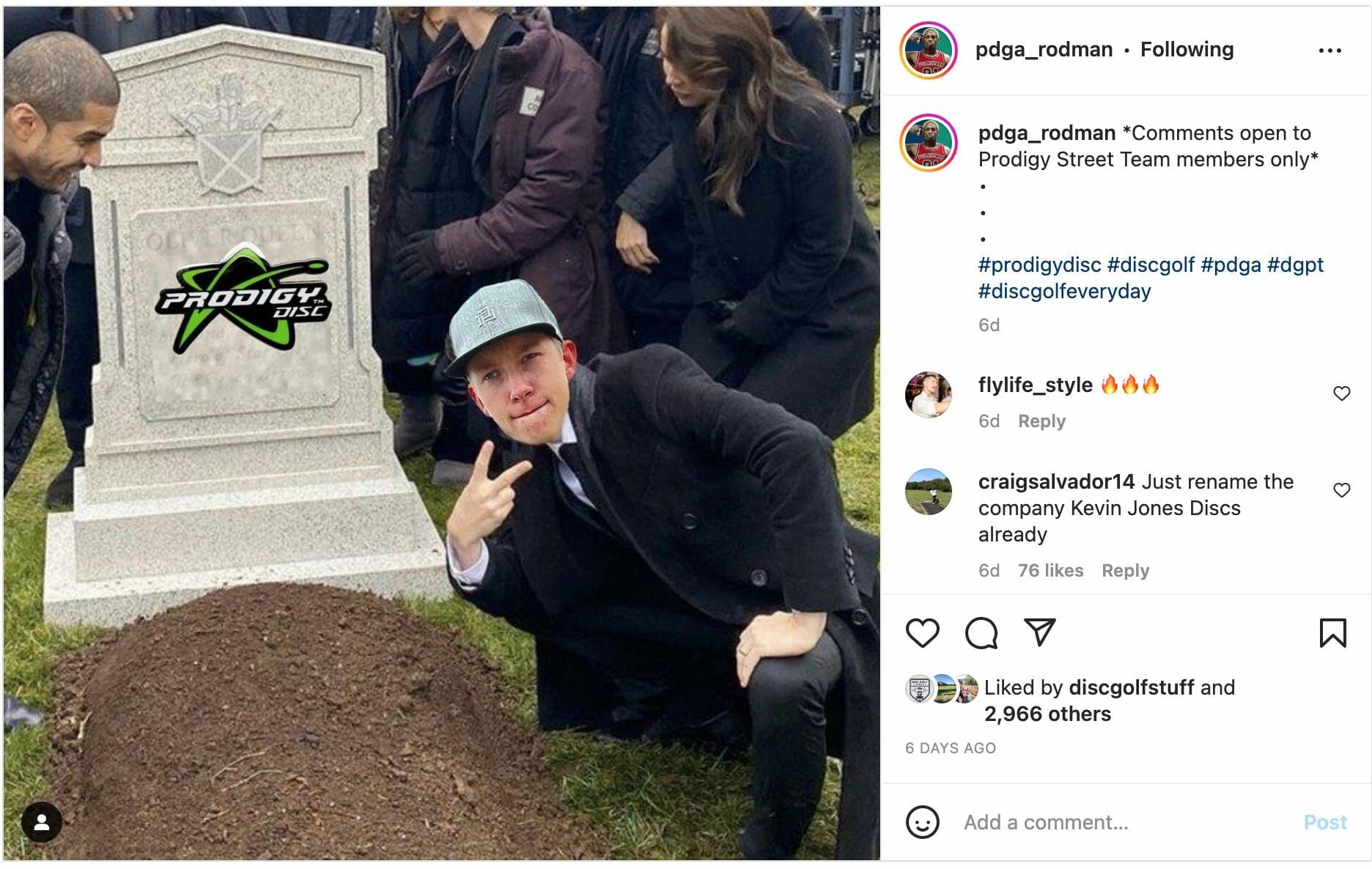 "[T]he Court should not sit idly by and allow G.B. to publicly humiliate PDI and decimate its business in the manner that he seeks to do now," Prodigy wrote. In addition to the injunctive relief, Prodigy's filings seek monetary compensation from Buhr.
"Put simply," wrote Anderson, "losing G.B. to one of our competitors, especially when we passed up other sponsorship opportunities under the assumption that G.B. would remain with PDI for the 2023 season, would be a setback that PDI may never recover from."
What's Next
The District Court judge assigned to the case, Steve C. Jones, declined to issue an immediate ruling on the request for a temporary restraining order. Instead, there will be a follow-up hearing in two weeks. Legal experts told Ultiworld Disc Golf that not getting an immediate ruling is typically is a sign that a request for a temporary restraining order won't be granted, but a preliminary injunction, which would also bar Buhr from signing an endorsement contract with another manufacturer until the outcome of the trial is decided, is still possible.
Legal experts told Ultiworld Disc Golf that not getting an immediate ruling is typically is a sign that a request for a temporary restraining order won't be granted, but a preliminary injunction, which would also bar Buhr from signing an endorsement contract with another manufacturer, is still possible.
Buhr could, in theory, announce a new contract before the courts rule, but he could face further liability if Prodigy prevails in court. With the filings now public, the pending legal and reputational issues would also likely become a topic of discussion with any competitor looking to work with Buhr.
Further complicating matters is that Buhr executed his contract with Prodigy as a minor and that Buhr remains a minor; Buhr's mother co-signed the agreement. The enforceability of a contract with a minor may become a legal issue in the proceedings.
Prodigy's decision to sue one of its athletes is unprecedented in the disc golf industry — although a number of players have left endorsement contracts early in recent years, including Ricky Wysocki departing Innova for Dynamic Discs in 2021 and Simon Lizotte leaving Discmania for MVP this offseason, any contractual disputes have been handled internally. Prodigy and Buhr could still agree to a settlement outside of court.
Buhr will start his 2023 professional disc golf season at the Las Vegas Challenge on Thursday, February 23rd.