Final Round Recap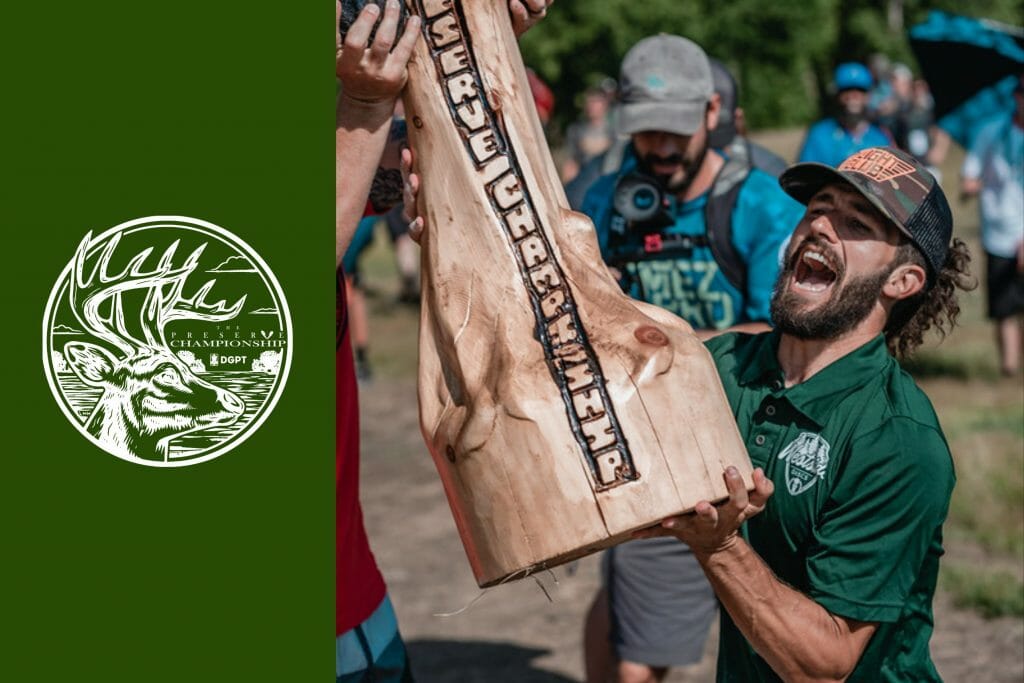 Hard to believe it's been the better part of a decade since Nikko Locastro lifted a trophy higher than an A-tier, but the drought ended in Minnesota at the Preserve Championship. Locastro held at least a share of the lead at the end of every day on the way to his first Disc Golf Pro Tour win.
There have been a handful of victories outside the continent, and some early Ledgestone Insurance Open Ws, but the Preserve is Locastro's first Elite Series win since 2011.
While he did have the share of the lead after rounds 1 and 2, Locastro was trailing for much of the front 9 during the final round. He used an eagle on hole 18 to edge Simon Lizotte and Calvin Heimburg by one stroke with a final score of 41-under par.
Notorious for his on-course outbursts, a missed 20-footer for birdie by Locastro on hole 1 momentarily appeared like it might derail a promising tournament. While language persisted, Locastro was able to keep most of his emotions in check until finishing out the win.
Locastro was top five in every major driving category on UDisc Live, as well as fifth and ninth in Circle 1X and C2 putting, respectively.
Lizotte push pressure on the leaders with his bogey-free round and was momentarily tied for first after recording the only birdie of the lead card on hole 17. Unfortunate footing on his second shot of hole 18 is probably all that kept him from an eagle and forcing a playoff with Locastro. For the second day in a row he had a major throw-in, this time a 90-footer on hole 12.
Heimburg finished first in parked shots, second in C1X putting and finding C2 in regulation, and third in C1 in regulation. A bogey on hole 5 after turning over his drive OB, however, was the decider.
Emerson Keith's hot round 16-under moved him up five spots into solo second. He was 100% from C1X and had four C2 putts connect for under-par scores.
An uncharacteristically sloppy day off the tee dropped Eagle McMahon into a tie for sixth place after starting the day in third. He finished the 2019 season third overall in fairway hits, but was 38th at the Preserve after only landing 65% of the short grass on a very forgiving layout. McMahon was putting down a lot of rollers in Clearwater, though.
Colten Montgomery, Jordan Castro, Thomas Earhart, Collin Bailey, and Kyle Klein earned USDGC spots with their finishes.
Heard
Statline
With a field of more than 100 players, the open field averaged 5.68-under par each round. No tournament tracked in 2019 even approached average scores under par per round close to that, not even the Memorial Championship (2.98-under par over two courses). The Beaver State Fling was a little more than 3-under par per round over two courses.
Preserve Championship Final Round Front 9
Preserve Championship Final Round Back 9