Catrina Allen right behind with her own 1004-rated round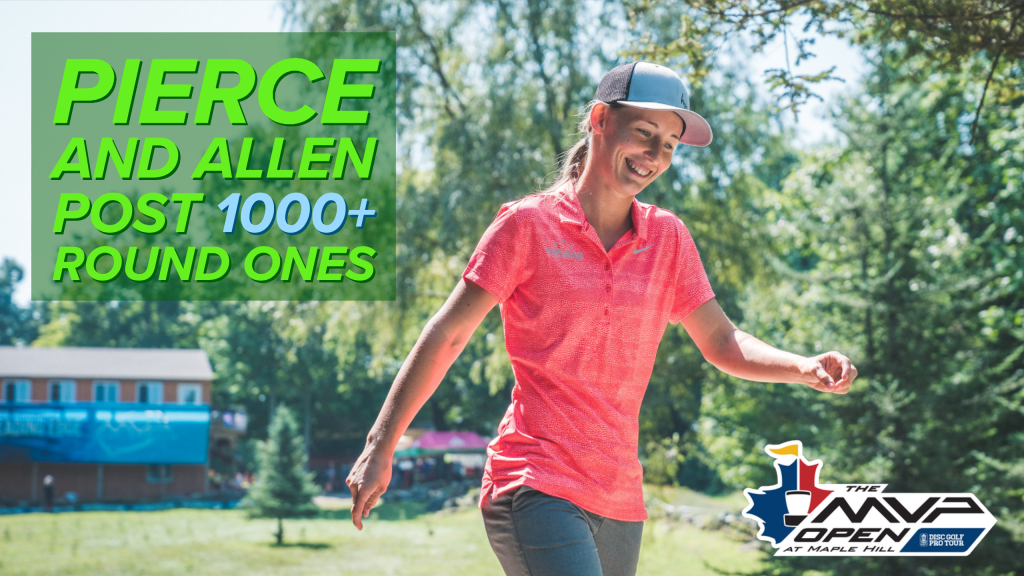 Some days you're just dialed in.
Taking a week off after capturing a fifth world title seemed to treat Paige Pierce well. A rested Pierce started the MVP Open at Maple Hill with big putts galore and continued to pick up birdies at a torrid pace during round one.
Playing on the feature card, Pierce hit three Circle 2 putts over the first four holes to get out to a 2-under par pace. She wouldn't have to rely much more on long putts to keep scoring as she'd navigate the tricky fairways of Mapel Hill with skill. According to UDisc Live, Pierce hit 15 of 18 fairways, an 83% rate that led Open Women, and was first in both C1 and C2 in regulation at 50% and 78%, respectively.
Had it not been for a double-bogey on hole 18 we may have been talking about Pierce's round as one of the best ever turned in by an FPO player on the course. She finished with a 1021-rated, 6-under par 55 with 10 birdies.
Catrina Allen was playing ahead of Pierce and was setting a high standard. Despite an early bogey on hole 2, Allen went blemish-free the rest of the Friday while collecting five birdies to sit in second place at 4-under par 57 and within easy striking distance of the lead. She only missed one scramble opportunity on the round and is currently third in C1X putting at 83%.
Tied in third and rounding out the lead card for round two are Sarah Hokom and Kristin Tattar at 1-under par 60. Hokom had the chance to finish the round in solo third but missed a sitter off the basket band on hole 18 to drop the late stroke.
Even with a couple course changes, the Open Women's field played the course almost exactly the same as round one in 2018, with the average score dropping by a tenth of a stroke from 7.2-over par to 7.1-over par. Hole 9, which has a more precarious elevated basket placement near water's edge, actually played 0.17 strokes lower this season.