Round 1 Recap

STOCKTON, Cal. — On a blustery day in the Central Valley, only one golfer managed to shoot under par: defending OTB Open champion Paige Pierce. Her 1000-rated, 1-under-par 67 bested Natalie Ryan by one stroke, and the trio of Valerie Mandujano, Alexis Mandujano, and Holyn Handley by two.
Pierce led the field in strokes gained tee to green, nearly four strokes clear of next best Valerie Mandujano, but a handful of small miscues kept the five-time world champion from opening up a bigger lead. On the 667-foot par 4 10th, she found the drink on her approach into the green, taking a skip off the pond but coming up just short of dry land. Her second attempt to clear the water leaked left of the pin to the edge of the circle, and Pierce missed the tester back toward the hazard just short off the cage.
Pierce bounced back with textbook birdies on holes 11, 14, and 15 to erase the double-bogey 6 on hole 10 but hit another speed bump with three to play: she went from a birdie look to a bogey on 16, three-putting the elevated basket, and an errant drive OB on hole 17 led to another bogey.
Pierce found herself at even par and tied for the lead with Ryan when she stepped up to the tee of hole 18. After lacing her drive center cut, she pinned a touchy approach to secure the walk-off birdie and solo possession of first. Her floaty anhyzer into the final green was beautifully controlled, drifting gently from left to right, landing softly about 15 feet from the basket.
Ryan and the Mandujano sisters will round out the lead card on moving day. Ryan matched Pierce's five-birdie tally on a day where the field collectively managed only 49. She briefly held the lead late in her round, but double-bogeyed the 17th, finding OB and then two-putting from inside the circle.
Valerie Mandujano got off to a slow start and was 3-over par through eight holes, but she turned things around after a birdie on hole 9 and went three down over the final ten holes to earn a spot on the lead card. Her sister Alexis also carded three birdies on the day, leaning heavily on her putter. She canned 11/13 C1X putts despite the wind.
Holyn Handley looked poised to enter Saturday tied with Ryan for second but found herself out of position after her tee shot on hole 18. She scrambled to circle's edge but left her long C1 putt to save par just short on the elevated basket. Though Holyn Handley finished her round tied with Mandujanos, she missed out on the lead card owing to her six-digit PDGA number.
It's been an up-and-down season for the tour newcomer, but in her post-round interview, Handley said she feels poised for a breakthrough. "I think I have the skills," she said. "The biggest thing is trusting my swing, staying fluid, and making good decisions."
Pre-tournament favorites Catrina Allen and Hailey King find themselves seven strokes off the pace. For Allen, it was a pair of bad triple bogeys that sunk an otherwise excellent round. King, on the other hand, ranked third best in strokes gained tee to green but dead last in putting.
Statline
This seems pretty good: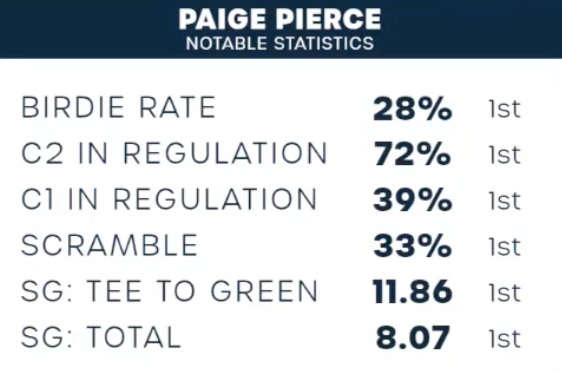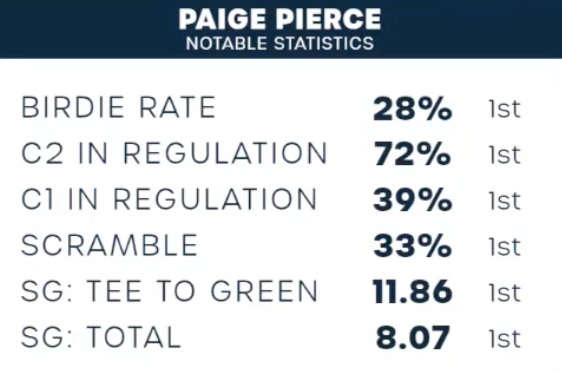 Heard
"It was really windy out here today. There was a lot of swirling wind today, so it was kind of like your competitor might have a different wind than you on the same teepad. So it was kind of like adapting and improvising on the teepads and every shot basically. It was a fun challenge." – Paige Pierce
Round One Highlights
OTB Open Round One FPO Highlights