Disc golf could keep growing its ultimate player population.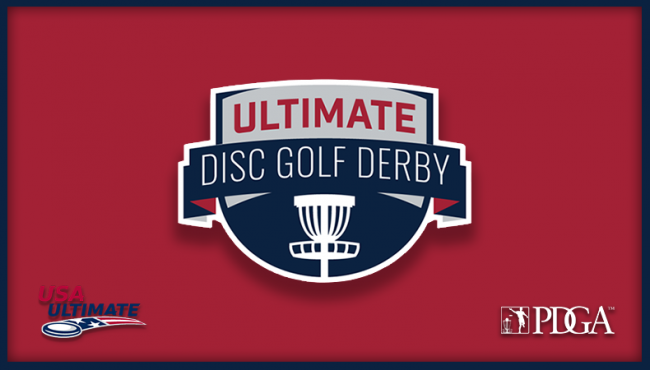 The Ultimate Disc Golf Derby — a new collaboration between the Professional Disc Golf Association (PDGA) and USA Ultimate (USAU), the national governing body of ultimate frisbee — is set to offer disc golf tournaments in which all competitors play with a single USAU-approved 175 gram ultimate disc.
"While there has been crossover in the past, disc golf and ultimate have remained largely independent of one another even as both made major strides over the last decade," said PDGA Executive Director Joe Chargualaf in a statement. "We are excited to have an opportunity to bring these two great sports together in a way that will showcase the collective strength of the flying disc community while at the same time tightening the bonds between our players and organizations."
Events in the competition will run around the country between October 31 and December 6, with dates already set for tournaments in Nashville, Denver, and Raleigh. Participants can register with either a PDGA or USAU membership, or non-members can pay a one-time $5 fee to register. Separate event fees are expected to be $20-40, varying by location.
Competition will be offered individually in one of six divisions — Open Men's/Women's (MA1/FA1), Under-19 Men's/Women's (MJ18/FJ18), and 40+ Men's/Women's (MA40/FA40) — or in four-person team formats with the same division options plus 2/2 Mixed. Team competition can be done virtually, with individual round ratings getting averaged together into a team score, even on different courses.
Top finishers in each division will receive "Ultimate Disc Golf" award discs and additional entries into a prize raffle for all participants that will include gift certificates for USAU memberships.
All competition will be governed by PDGA rules, and participants will all receive PDGA round ratings, which enable a performance comparison across different courses and conditions. Tournament directors are being encouraged to organize events on par-3 courses that are suitable for playing with slower ultimate discs. "We are going after courses that were more in the par 54 range, less than 5,000 feet, more open," said PDGA Events Manager Shawn Sinclair.
How a New PDGA & USAU Partnership Came Together
Despite serving as the national governing bodies for the two biggest disc sports, the PDGA and USA Ultimate have had relatively little connection in the recent past.
In August, USA Ultimate Managing Director of Competition Will Deaver reached out to Dan "Stork" Roddick, a long-time disc sports organizer and enthusiast that he'd met 10 years prior at a disc sports summit, to inquire into the possibility of setting up disc golf events suitable for ultimate players.
"We wanted to have this be a way for ultimate players to tap into a new sport that's more friendly right now but also have the opportunity to throw a disc in a way that they might not be able to right now," said Deaver.
After connecting with Roddick, Deaver spoke with PDGA Board President Justin Menickelli and eventually Chargualaf. The two groups continued conversations and began to work out the details of a new set of disc golf events — organized as XC Tiers — in which participants play with ultimate discs.
The PDGA began reaching out to disc golf organizers to help put on events. "We put out feelers to as many people as possible," said Sinclair.
This first Ultimate Disc Golf Derby is something of a pilot event series that could lead to similar ventures in the future. "I think if we get a good response it's going to set the table for us to do something sooner rather than later," said Deaver.
Alongside the opportunity to get ultimate players outside throwing ultimate discs, this Derby also gives the PDGA a chance to reach deeper into a growing disc golf audience from a sister sport. The PDGA hopes to get a mini into every new player's hands, so they can learn to mark their discs.
"What we're bringing on the USAU side is the people and the marketing to this new group to get involved in [disc golf]," said Deaver.
"This is a win-win for both organizations," said Sinclair.
All are welcome to compete in the Derby, including professional disc golfers who are normally unable to compete in Amateur divisions. They'll just have to join the level playing field of using only an ultimate disc!
For more information on events and the Derby, see USA Ultimate's website.