The school just won an ultimate frisbee championship after recruiting players with scholarship offerings.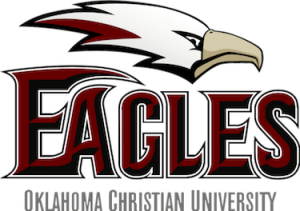 Oklahoma Christian, a private university north of Oklahoma City, announced in January that they are starting a disc golf team in the fall semester and offering athletic scholarships for players on the team.
"We are extremely excited to announce our next club sport offering, disc golf," said OC Athletic Director David Lynn in a statement. "We have been very successful the past four years with the additions of men's and women's bowling, cheer, ultimate, and Esports. Disc golf aligns very well with our mission to create opportunities to attract new students to Oklahoma Christian while also providing a more organized opportunity for our existing OC students to connect with one another."
Oklahoma Christian has focused on offering scholarships across its D-II varsity and club sports to drive interest in the university. They said that they plan to aggressively recruit top college disc golf talent. "We will be offering both academic and athletic scholarships that can stack," OC Director of Club Sports James Hayes told Ultiworld Disc Golf. "Academic scholarships are based on GPA and test scores. Athletic scholarships are competitive and based on skill set."
OC has had huge success in recruiting players in their recently formed ultimate frisbee club. They signed multiple top athletes from Air Force, including the reigning Division III Player of the Year, in early 2020 before the COVID-19 pandemic cut short the season. The team later signed Kyle Henke, a star player in the semi-professional American Ultimate Disc League, who led them to a 2021 D-III College Championship title in December.
Oklahoma Christian isn't the first school to offer a disc golf scholarship: Milligan University in Tennessee debuted a disc golf program in 2020 and offers scholarships for the team.
The OC campus already hosts a 12 hole disc golf course, but Hayes said they will expand it to 18 holes.
Long-time disc golfer Calvin Ryan will serve as the OC disc golf coach. "I'm really thinking [of] networking at tournaments and finding players who are at that specific age," he said when asked about how he plans tor recruit players. "That's probably going to be my best bet, because then you have kids who already are passionate about disc golf that are going to those tournaments. They're going to every (tournament) they can. Past that, I think social media is going to be huge. That's just our day and age, really. Posting there and interacting with people there is going to be really huge. I also want to get in contact with people not so far away in Kansas. There's a huge disc golf scene in Emporia. There are a bunch of disc golf hubs there. … If they have kids who want to go to college and want to play disc golf and get scholarships and get part of their college paid for, to do something that they already love."