Tattar shoots highest-rated round of career to move into tie for second with Hokom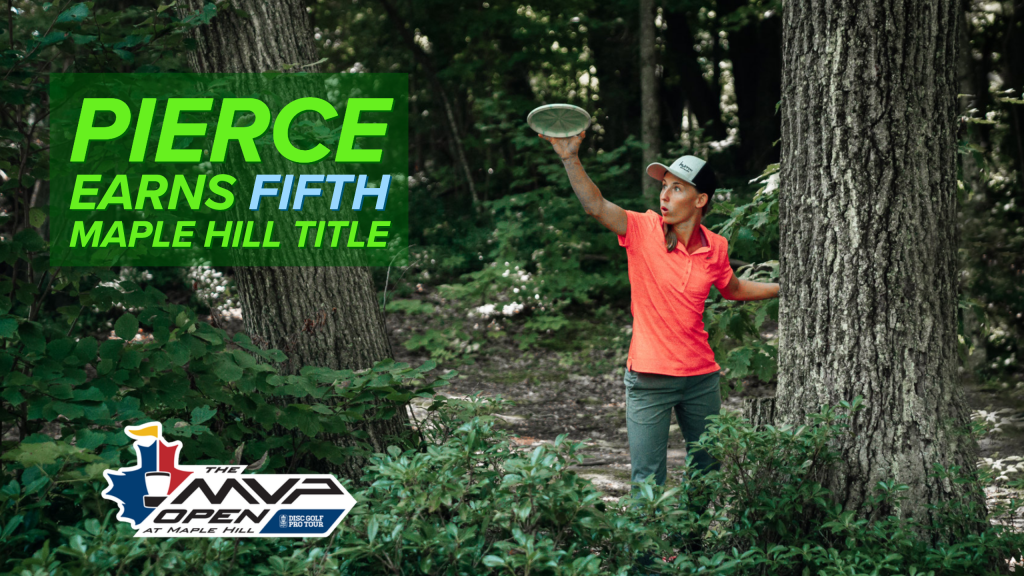 Sure, Paige Pierce came into the final round of the MVP Open with a sizable lead, but she knew how quickly fortunes could change.
The front nine is filled with two stroke swings and Pierce, who won the tournament four years in a row from 2014-2017, went from dominating Maple Hill to finishing seventh last season. Tides can turn and fast.
On Sunday, the first sign of danger happened on hole 3. Pierce struggled to find a clean putt after also missing her line off the tee and finally tapped in a double bogey. Kristin Tattar, who started the day in third place and had already picked up a stroke, birdied for a three stroke swing. The lead was down to four with plenty of danger left.
Except that's as close as it would get. With Tattar looking like she may gain another on Pierce on hole 4, Pierce hit a downhill 40-footer from the knee to stop the bleeding. From there it never seemed in doubt.
2019 mvp open round 3 Paige Pierce hole 4 putt
"Feeling more confident on the green is making me feel more confident the whole way down the fairway," Pierce said after the round. "Even when I wasn't getting close I was able to convert on the green. It doesn't matter where my upshot lands because I feel comfortable. When you're putting well it translates to better scores all around."
The big save on hole 4 was Pierce's only Circle 2 conversion during the final, but she added close to 10 on the weekend and finished the event leading the division in C2 percentage at 41%. And while her C1X putting could have been cleaned up a shade — four two-putts in the final round — her stroke looked like she would make every putt she stepped to.
Pierce carded a 993-rated, 3-under par 58 final to finish the event in first at 14-under par total, averaging 1011-rated golf over three rounds. While Pierce was complimentary of her own putting, she was more correct when saying that confidence bled into other parts of her game. She was first in the division in C1 in regulation, 50%, and C2 in regulation, 69%, and second in fairway hits at 72%.
The victory is Pierce's 12th individual win of the season, her ninth straight dating back to late May, and sixth Disc Golf Pro Tour title of 2019.
Seven strokes back of Pierce in a tie for second was Sarah Hokom and Tattar. Tattar's hot round 1002-rated, 4-under par is the highest-rated round of her career. She was top five in five major UDisc Live statistics. Hokom's bogey-free final was the only clean round of the weekend in Open Women, and she finished first in scramble rate and fairway hits.
TAGGED: DGPT, 2019 Disc Golf Pro Tour, 2019 MVP Open, Disc Golf Pro Tour, Kristin Tattar, Maple Hill, MVP Open, Paige Pierce, Recap, Sarah Hokom, UDisc Live