Lizotte and Freeman kept pressure on leaders from the chase card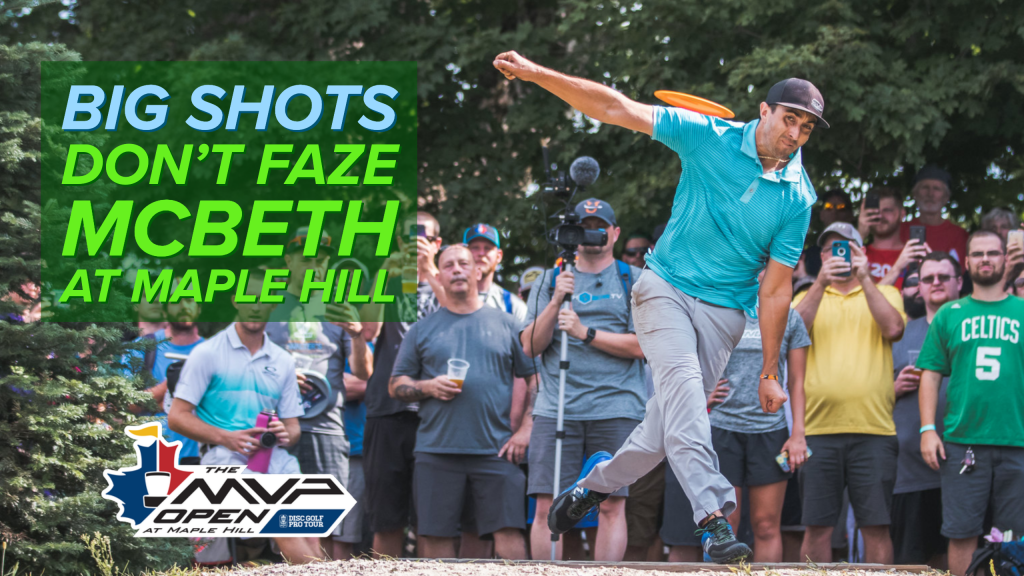 Walking up the 18th fairway there wasn't much left at stake. The island green was going to coronate a champion without drama, only ceremonial drop-ins and cheers from a boisterous bleacher crowd.
Paul McBeth won his first event at Maple Hill since the 2013 PDGA National Tour, edging Garrett Gurthie by two strokes. The MVP Open title is his fifth Disc Golf Pro Tour win of 2019, and it was anything but the cake walk on hole 18 would suggest.
With Gurthie's monster moving day putting him up a stroke heading into the final round, McBeth would be playing from behind, a position he's shown to like in the past. A perfect drive on hole 2 saw him tying Gurthie up early, but the world distance champ wasn't going to go quietly. After watching McBeth miss the fairway on hole 3, Gurthie piped his drive for a Circle 1 birdie as McBeth picked up a bogey, a two stroke swing that appeared to boost an already confident Gurthie.
As Gurthie played steady, McBeth was back in chase mode forcing shots. For the second time in the tournament McBeth went OB — a category, along with bogeys, he finished the worst in of top 10 finishers — running a putt toward the water hazard on hole 9, giving a stroke back to Gurthie he had earned.
From there is was vintage McBeth. Gurthie flinched with a two-putt on hole 11 as McBeth was on a five-hole birdie streak to start the back nine, giving a lead to McBeth in the process. It came down to gut checks on holes 15 and 17 that really won him the tournament.
Hitting early and finishing near the bottom of the hill on hole 15, McBeth's scramble out still let a lot to be desired. Gurthie was licking his chops inside the circle as it could have easily been a tie game after the players pulled the discs out of the basket. Instead McBeth connected from deep for a backbreaking par save. Gurthie tied the score with a birdie.
"It was a lot longer than I wanted," McBeth said of the look. "It was a good scramble 3 making that putt knowing he was parked. It set me up for the way that it finished."
A bogey on hole 16 by Gurthie gave the lead away, but McBeth left the door open on hole 17, the easiest on the course, when he overturned his disc and left himself with a hazardous approach from the right side of the fairway needing to make the corner. Gurthie didn't take advantage, juicing his drive into the woods long of the landing zone. Gurthie and McBeth landed near each other on their approaches, back in C2 looking at the elevated basket and impending death putt.
"He laid it up," McBeth recalled of Gurthie's safe play for a par. "I made a few of those earlier so I wasn't laying that one up. Maybe he knew that."
McBeth was in win-or-go-home mode and chased chains, arching high from the right to the pins to push the lead back to two. Gurthie didn't press for the hero shot on hole 18 and settled for second place.
2019 MVP Open Final Round Paul McBeth hole 17 putt
It was not a conventional win for McBeth, having given away a number of strokes with OBs. He did still dominate, not missing a C1X putt all weekend, and leading the division in fairway hits, C1 in regulation, and C2 in regulation.
McBeth turned in a final round 9-under par 51 to finish in first at 23-under par 157 total, averaging 1068-rated golf over three rounds. Gurthie was second at 21-under par total.
The battle for first wasn't the only jockeying on the day. Simon Lizotte and Joel Freeman were in a dead heat on the chase card looking for the final podium spot, and keeping the pressure on the leaders to keep pace. Both players hit four C2 putts during the final round, and Freeman tied McBeth's hot round 9-under while going bogey-free. A last hole bogey by Lizotte kept him in a tie for third with Freeman at 20-under par total.