Round Two Recap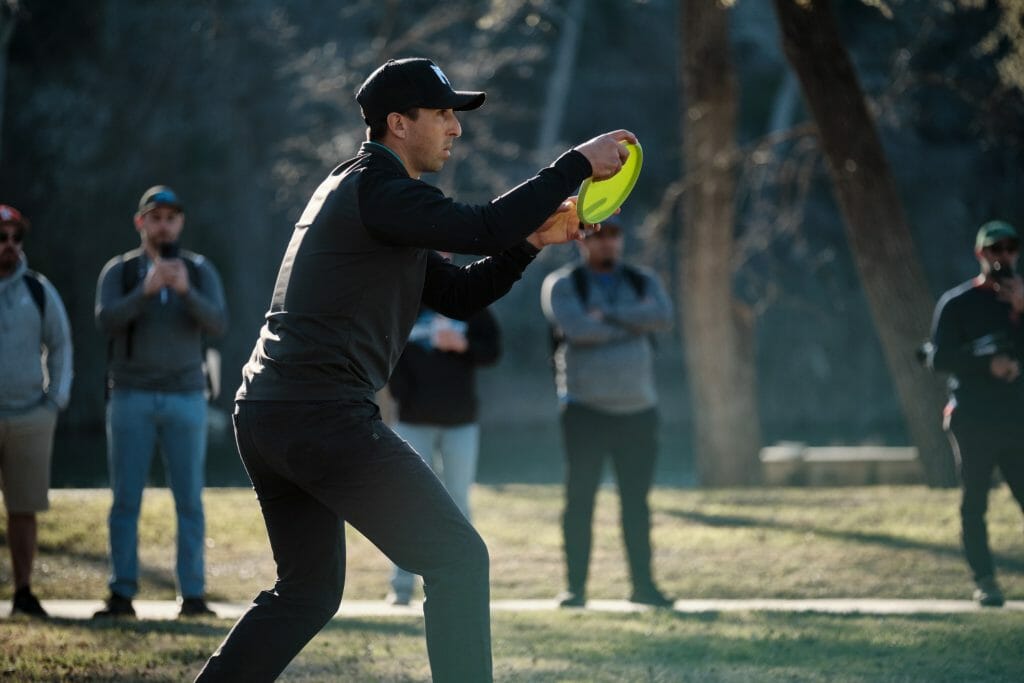 The weather took a turn for the better on Saturday in Waco, and scoring improved across the board. Despite the influx of birdies, no one could knock Paul McBeth off the top of the leaderboard after two rounds. To start the day, it looked like McBeth was chasing another perfect round out at Waco, pouring in five birdies to start his day, including a stellar recovery out of the woods to find the green in regulation on hole 4. He proceeded to go cold with three straight pars and carded two bogeys on the day, but on the whole it was a typical McBethian day. Great accuracy, great putting, and great golf, save for an OB stroke hunting the birdie on 18 and a bogey on the immensely challenging 15th. He truly had some incredible highs in his round — his upshot on 17 was a thing of beauty and his putt on 14 was money.
It was a game of inches on his lost strokes: slightly flubbing an upshot and airballing a steep uphill jumper or leaving the iconic 18 water carry short are easy mistakes to correct, and McBeth likely has a better round in him before the weekend is over. It remains to be seen whether he can keep the competition at arms length to take the title, but I wouldn't hold my breath with how accurate McBeth has looked through the large majority of the most treacherous holes at the bEast.
Contenders

Directly trailing McBeth is Luke Humphries, who stuck to his strategy of "throw stuff at stuff" from Day 1. While it may seem like a diluted way to describe the skill of great disc golf, Humphries really does make the game look that easy. His accuracy, both forehand and backhand, is a joy to watch, and he doesn't lack for power either, hanging in on the toughest distance holes Waco has to offer. He also made several long C1X putts through the round that kept him right in the hunt, carding 93% on the day.
Chris Dickerson again finds himself on a lead card following a superb 11-under round that was two strokes better than anyone else on Saturday. He made 14/18 greens in regulation and never went out-of-bounds en route to a bogey-free day. He is surely is hoping that the follow-up round goes better this time around. After the dust settled on Day 2 in Vegas, we saw Dickerson drop 11 spots in the standings while shooting five strokes worse than his strong prior round. For a player whose game is predicated on incredible consistency, it seemed out of character. The flashes have been there early for Discraft-era Dickerson, but cementing himself as a Player of the Year contender his first year fully touring is next on the docket for the Tennessee pro.
A host of players sit outside of the top 3's tight race at 11-under, including 2021 WACO podium placers Cale Leiviska and Bradley Williams, spin-putt sniper Matt Bell, and tour veteran Isaac Robinson. Clawing back at least seven strokes on a player of McBeth's caliber is a tall task, but the woods of Waco provide a variable that will keep these hopefuls in the hunt for more than a top five finish.
Shot of the Day
Paul McBeth's scramble on hole 17 is one of the best shots you'll see all season:
Waco Friendly Toward Returners?
With all of the preseason discussion on the return of the international players to the field, the bEast does not seem to be treating them well. The highest place an international player holds is T17, split between Linus Carlsson and Mikael Häme. In contrast, two of the players from the final card from WACO 2021 return to the final four on Sunday, with former champions Paul McBeth and Nikko Locastro also in the hunt. Having a familiarity with the tight hallways and blind shots required in the mid-stretch of the course is paramount, and it's paying off for those who have both succeeded before and those who have the extra year of play to master the bEast. Both Carlsson and Häme are specifically struggling on the wooded holes at WACO this weekend (only 4/12 birdies for Häme have come from the middle stretch through two rounds; 6/16 for Carlsson.), and that extra dose of familiarity may be helping the American pros gain an edge on their counterparts.
Statline
There were 589 holes played under par from the field in Round 1. On Saturday, 846 holes were played under par, a 43% increase that shows just how much better conditions were for round 2.
Round Two Highlights
Overheard
"Those are ones I feel like you should be getting, so it doesn't really change much. I know once I get to the woods, I know I got 4 and 5 there, which are good holes to get, but those woods don't let up through there. I got into some trouble on 6 or somewhere in there, I just wasn't hitting my lines, and you can tell there's really no chance for birdie once you're off the fairway a little bit. This year it does look a little more open, but the thorns are ridiculous out there. I got to experience them over there at hole 9." – Paul McBeth on his hot start and how he breaks the course up in his mind
"I'm just reacting to the shots that are placed in front of me. I don't want to have a plan or anything, I'm just gonna go out there and golf tomorrow, and enjoy the day. Cale Leiviska jumped up to lead card, and I'm stoked to play with him, Dickerson, and Paul tomorrow." – Luke Humphries, when asked what he wants to change ahead of his final round
TAGGED: DGPT Elite Series MPO, Bradley Williams, Cale Leiviska, Chris Dickerson, Isaac Robinson, Linus Carlsson, Luke Humphries, Matt Bell, Mikael Häme, Paul McBeth,
EVENTS: 2022 Waco Annual Charity Open