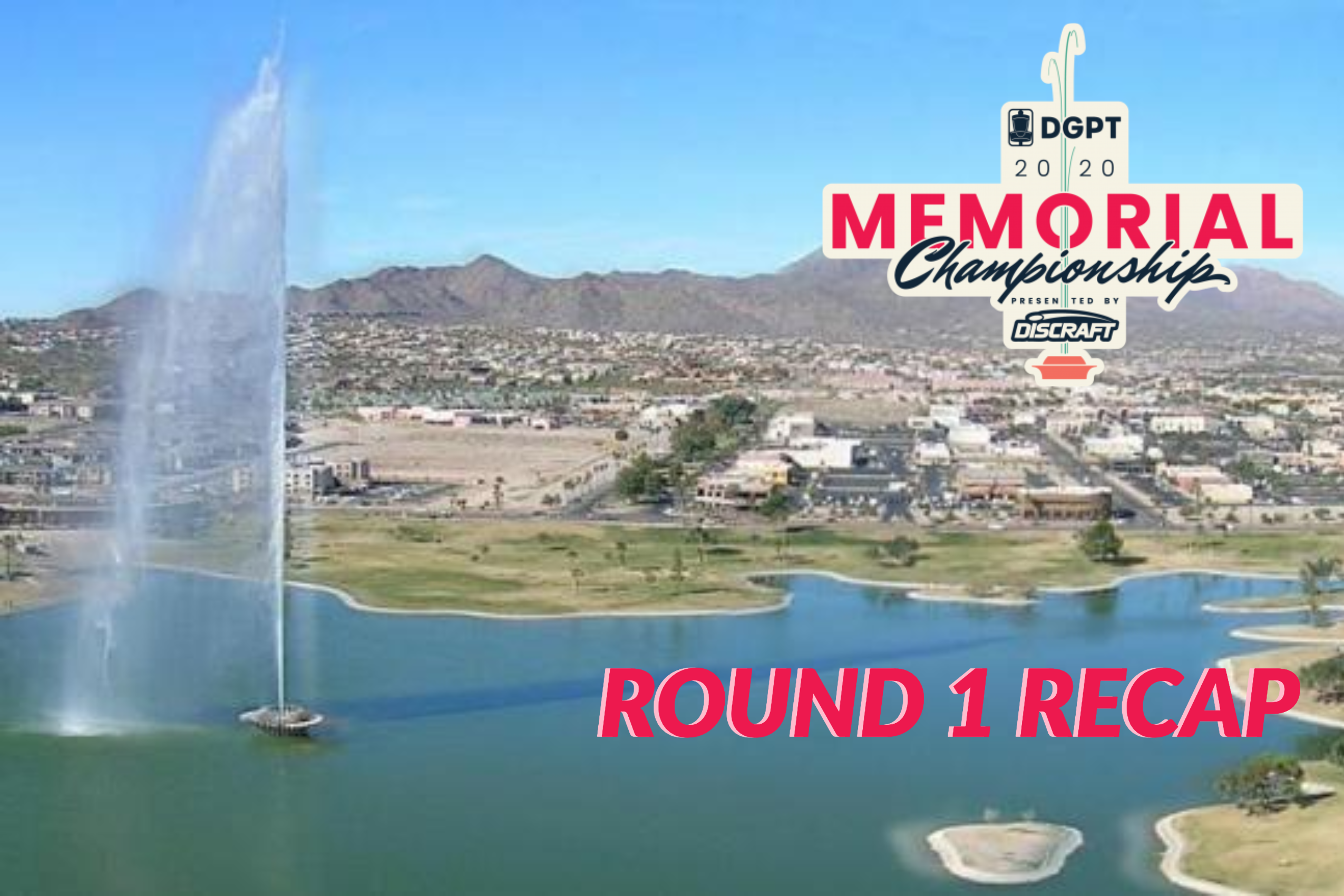 The Memorial Championship – Round 1 Recap
2020 Memorial Championship Round 1
Round 1 of the Memorial Championship was our first look at the Disc Golf Network, although the tournament is also streaming entirely on YouTube, and besides a slight hiccup with a UDisc Live scorer on the men's feature card, the early results look good.
The switch to Open teeing off first was welcome, and while the feature women's coverage was cut into, it was a seamless transition between the divisions, with numerous check-ins as both cards were in action.
Open
Drew Gibson posted the early hot round of 14-under par 42 and was the clubhouse leader as the feature card of Paul McBeth, Eagle McMahon, Nate Sexton, and Paul Ulibarri just got started. He is one stroke off the lead and the only player on round 2's lead card to finish 100% from Circle 1.
McBeth would catch and pass Gibson on the final card to match Calvin Heimburg's 1092-rated,1 15-under par 41. McBeth had a near ace on hole 6.
According to his scorecard, Heimburg didn't attempt a C2 putt on the day.
The lack of early season tournament play didn't seem to affect McMahon who would tie Gibson at 14-under par and sits in third.
Young Crush Boi Oskari Vikström made an impression with a 12-under par and is tied in seventh. He is one of two Europeans who will be on the chase card, joining Norway's Øyvind Jarnes who sits in fifth at 13-under par.
Las Vegas Challenge champion Nate Sexton was reportedly favoring a sore side during the round. His 9-under par has him tied in 28th.
Two sub-1000-rated players are currently in the top 10 at 11-under par: Jeremy Novak and Kristo Raik.
Heard
"I feel like I left a few putts out there. I didn't really have confidence in my putt today, which is kinda weird. I was able to sink a lot of putts though even with that so it feels food." – Paul McBeth
Statline
The Memorial is a sprint, and it's easy to get left behind. Since Will Schusterick come back from a five stroke deficit after round 1 to win the 2013 edition in a playoff, only one Open player has won The Memorial after trailing by more than three strokes after 18 holes.
Bascially, if anyone outside the current top seven emerges victorious it will be surprise.
Highlights
2020 memorial championship paul mcbeth hole 6 near ace
2020 memorial championship eagle mcmahon hole 18 putt