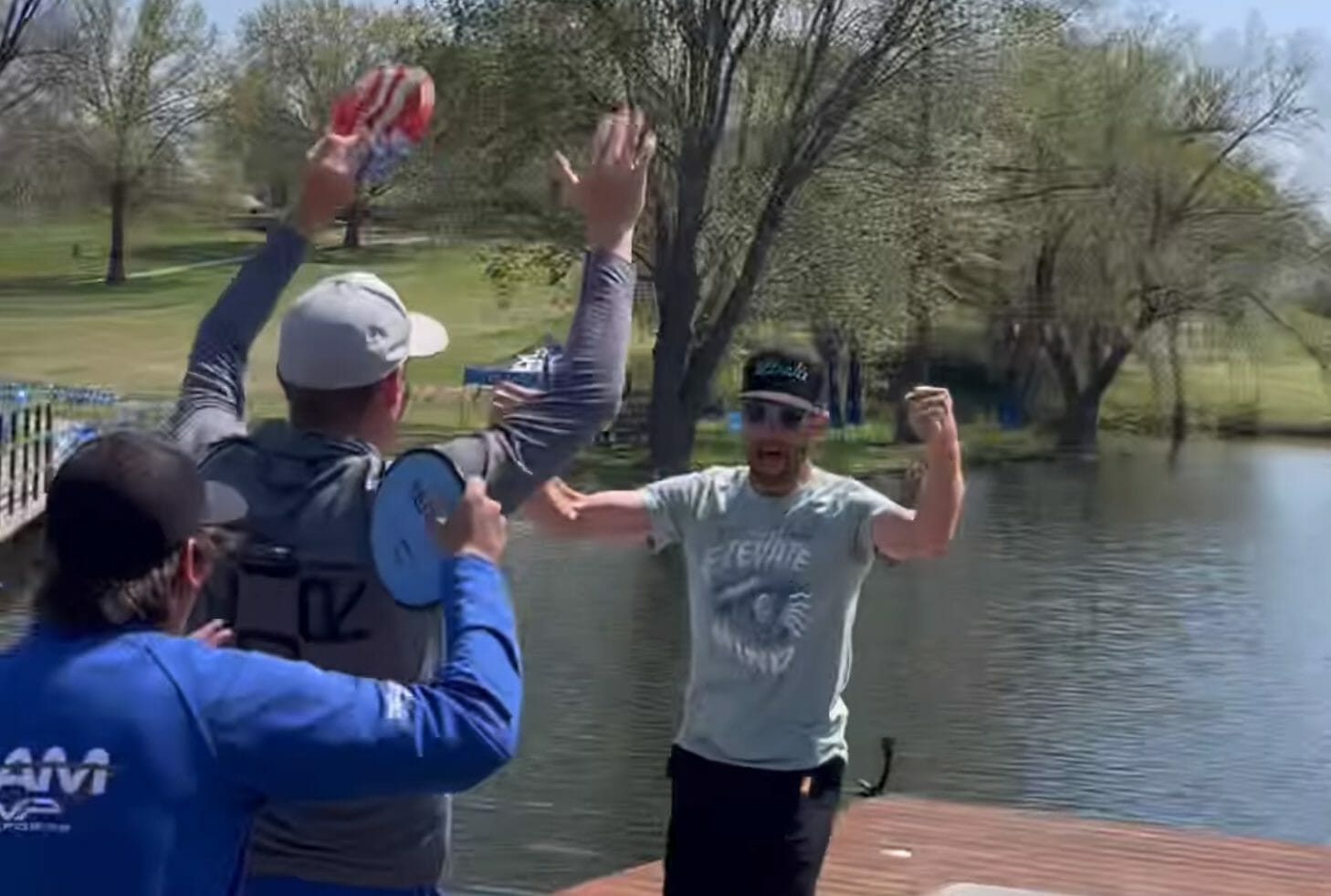 Not your typical practice round!
In a practice round at the Dynamic Discs Open on Tuesday, Matt Bell hit an ace on the island hole 16 at the Emporia Country Club and won a $25,000 prize from Early Recognition Is Critical (ERIC), a charitable non-profit that sponsors the Disc Golf Pro Tour.
"I've hit three other ace pots for over $1000 but nothing even close to this big," said Bell.
ERIC, a charity that uses disc sports as a conduit for teaching people to recognize the early symptoms of cancer, set up the ace pot to raise awareness about the organization and its message. Founder Jim Gerencser said that it was one of a number of initiatives that ERIC is working on with the DGPT.
Tournament staff did not want the ace pot to be a part of the DDO during competitive rounds as it might affect players' decision making on a key hole in rounds 3 and 4, so Gerencser decided to create the ace pot during a practice round. Pro players got one attempt each to ace in order to win the prize, which was covered by insurance.
There were seven cameras on the hole to capture the moment, including GoPros behind the basket and around the teepad. "We're working with Dynamic Discs and the Disc Golf Pro Tour to finalize [a video]," said Gerencser.
Bell said that winning the prize had a deeper meaning for him. "My girlfriend's uncle, who was basically her Dad for most of her life, passed away from cancer last week, so I told her I'd give $5000 to the mom (her aunt) to cover the funeral costs," he said. "So that was incredibly special to have them be a part of that."
He also cut some side deals with other players to split some of the pot before he threw in his forthcoming signature series Thought Stable Athletics Synapse for an ace.
Bigger and bigger ace pots are becoming a trend in disc golf. The Open at Tallahassee, a DGPT Silver Series event, was offering up a $25,000 offroad vehicle as an ace prize during the final round of this year's tournament. (Nobody hit it.) And the MVP Open will be hosting a $1 million ace run contest on each night of the tournament this fall at Maple Hill.