The standings were far from settled as the Open lead card teed off on a windy Sunday afternoon in Dunbar, Scotland, at the Bluebell Woods Open, the second Euro Tour event of the year. Estonian Silver Lätt was in the lead, but only had three strokes over U.S.-born representative of Switzerland, Tony Ferro. It was also possible that strong showings from Icelanders Blær Örn Ásgeirsson and Mikael Máni Freysson could eliminate their respective four- and six-stroke distances from Ferro.
Despite the opportunity for tight competition all around, only Freysson was able to make a move up the leaderboard.
Lätt's 1025-rated 7-under par 54 final round was unmatched on the lead card and gave him a comfortable eight-stroke win with a three-round total of 20-under par 163. Though he played his weakest round of the tournament, Ferro held on to second place with a 12-under par 171 total. Ásgeirsson stayed in third with a 7-under par 176 but had to scooch over on the podium to make room for Freysson and Belgian Maxime Tanghe, whose last rounds were good enough to catch Ásgeirsson.
Notably, Tanghe rose to third place from the third card, achieving the same final round score as Lätt, a 1025-rated 7-under par 54.
Lätt "Just Wanted To Execute;" Ferro "Just Had An Off Round"
When he got to the thickly wooded fairways where the Bluebell Woods Open was played, Lätt said he wasn't thinking much beyond trying his best.
"I didn't know what to expect," Lätt said. "I had no clue who was participating in MPO or how the course was set up for this year. I was just aiming for a good performance."
This seems to be typical of Lätt in this relatively early part of his season: He told the PDGA after taking second in the first Euro Tour event of the year, the Dutch Open, that he had attended that event not with the idea of winning, but simply "to enjoy the time."
Lätt took this attitude of focusing mostly on his own game and trying to have fun into the last round of Bluebell Woods, too.
"Going into the final round I was not thinking about the scores or how other players might perform," he said. "I just wanted to execute my shots and play better than day before."
From Ferro's perspective, Lätt accomplished that game plan on Sunday.
"Silver was on today," Ferro said on Sunday evening. "He definitely earned the win."
As or his own round, Ferro sounded willing to accept that sometimes things just simply don't go as you hope.
"Just had an off round today," he said earnestly. "I didn't feel like I was playing bad, just not getting good outcomes from my shots."
The Three In Third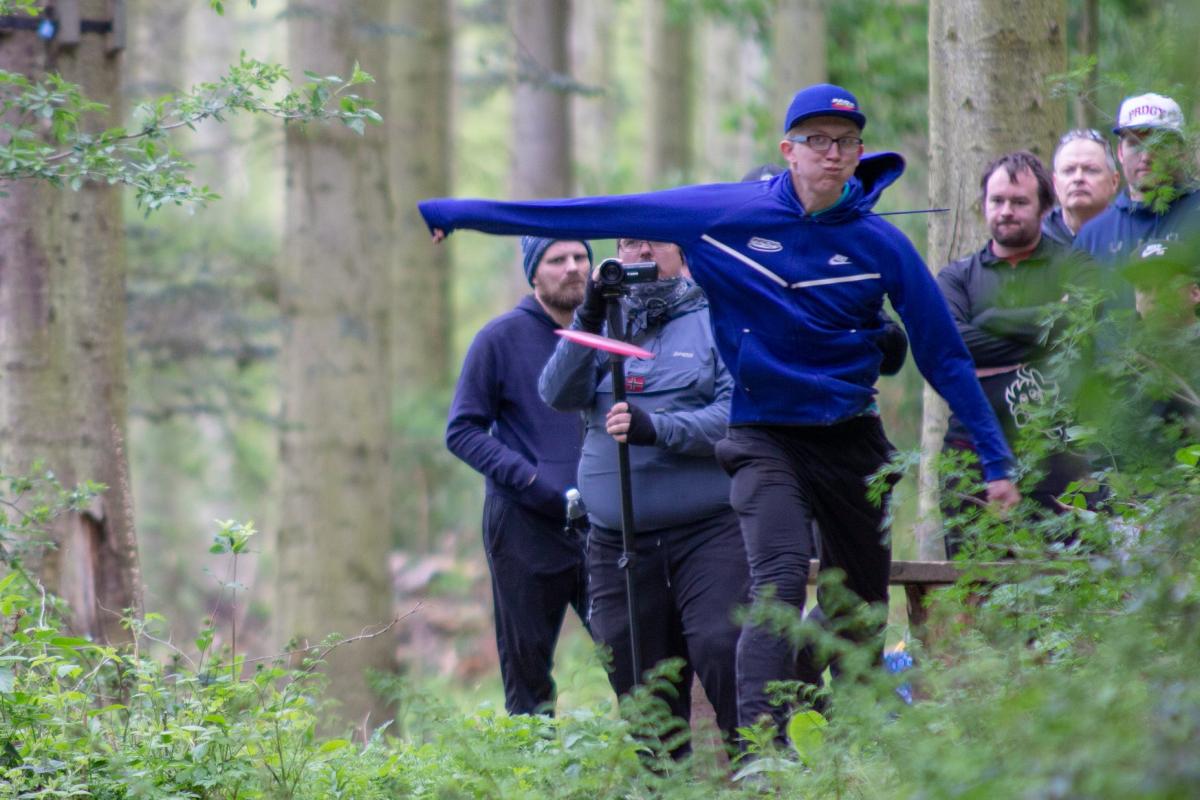 Going into hole 14 of the last round, Ásgeirsson felt that second place could easily be his. After a birdie on hole 1, Ferro had only put up pars and bogies, allowing Ásgeirsson to chip away an initial four-stroke deficit to just one.
However, as the rest of his card took birdies on the 204-meter (670-foot) par 4, Ásgeirsson carded a bogey.
"When I took five…I played myself out of the possibility of second place," Ásgeirsson said, referring to hole 14. "The rest of the round I was just battling for third."
Ásgeirsson admitted frustration with his performance this weekend. But it had less to do with where he ended up on the podium than with the quality of his play.
"This is my worst tournament this year and I'm absolutely not happy," Ásgeirsson said. "I played under my rating, which I'm not happy about because my main goal this year is to get 1000 rated."
Tanghe — one of the two players who came from behind Ásgeirsson to tie him for third place — took from the tournament not only what he can do better, but also the confidence that he can reach a higher ceiling.
"I can say that I surely was not expecting to play that good on Saturday night," Tanghe said. "I do not really know what happened during my [4-over par 65] second round, but it was really frustrating…On the other side, my last round is what I'm expecting to play every time. I need to work on my mental game. Need to be focused a lot more, to live the round, not just pass through it like it was a practice."
While Tanghe made his 1025-rated move without the pressure of being on lead card, Freysson admitted that he started the round with some jitters.
"I was certainly a little nervous going into the final round because, although I have been on lead cards with great players before like Simon Lizotte and Philo Brathwaite, this was my first time being filmed," he said. "I felt like this was my first real chance of getting on the podium at a tournament of this caliber."
Playing through the nerves, Freysson emerged from the heavily wooded, treacherous first five holes of the course under par, after which he said he "could breathe a little bit easier." By hole 12 he caught Ásgeirsson and even had a whiff of second place, being just two back of Ferro. However, a double bogey on 13 quickly ended that dream, and Freysson kept his mind on staying third from then on.
Overall, Freysson was satisfied with his podium finish.
"I take a really positive and valuable experience from this tournament and am excited for the rest of the season," he said.
Euro Tour action continues May 18-19 in Denmark with the Kokkedal Open.