Final Round Recap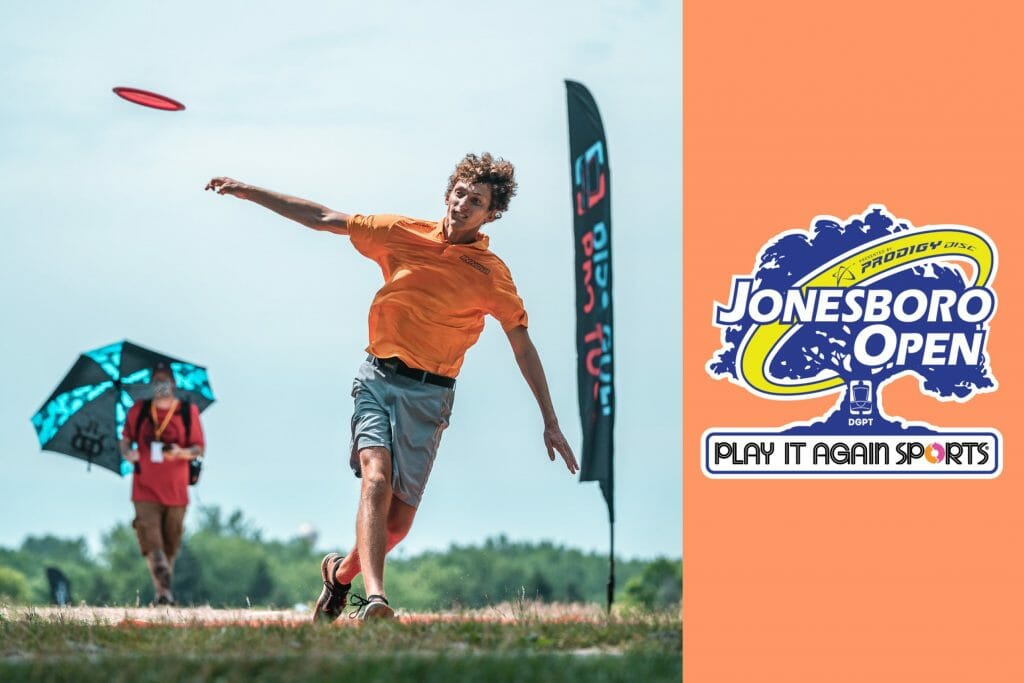 Nothing stood in the way of the hot rounds during the final day of the Jonesboro Open.
It was clear early that the Jonesboro Open was going to come down to two players, Paul McBeth and Calvin Heimburg, and that's just how it went down. McBeth entered the day with a three stroke lead over Heimburg, but was tied by hole 5 when a bogey swung the advantage to the Floridian. The two stayed tied until Heimburg broke the deadlock on hole 9 with a birdie to go in front, and he didn't look back. Heimburg tied the weekend hot round with a 12-under par, topping McBeth's final round 8-under par, to win his second DGPT event of the year at 31-under par. McBeth finished in second, one stroke back at 30-under par.
Heimburg was steady for the entire day, hitting 100% of his putts from Circle 1X. He was third overall for the weekend, missing only once. His biggest connect on the round, however, came from C2. With McBeth in C1 for birdie and the most difficult hole on the course looming on the next tee, Heimburg hit a birdie from 38 feet, obstructed in the woods on hole 17. The birdie kept his lead at two strokes, and a fairway hit with his drive on hole 18 confirmed the victory for Heimburg.
Moving up from the chase card to grad the final podium spot was Garrett Gurthie. He backed up his second place showing from 2019 by shooting a 10-under par on Saturday to finish at 25-under par total. He aced hole 15 in round 1.
Alden Harris won his first career A-tier at the Music City Open last weekend, and he posted a bogey-free 11-under to move up eight spots into a tie for seventh at 21-under par total.
Qualifying for the USDGC were: Andrew Presnell (T-4th), AJ Carey (T-7th), Reid Frescura (T-7th), Trevor Harbolt (T-16th), and Trevon Crowe (T-22nd).
Coverage
2020 Jonesboro Open | FINALF9 LEAD | McBeth, Heimburg, Ulibarri, Presnell | Jomez Disc Golf
2020 Jonesboro Open | FINALB9 LEAD | McBeth, Heimburg, Ulibarri, Presnell | Jomez Disc Golf
2020 JONESBORO OPEN | FINAL RD, F9 | Gurthie, Dickerson, Gilbert, Jones | DISC GOLF COVERAGE
2020 JONESBORO OPEN | FINAL RD, B9 | Gurthie, Dickerson, Gilbert, Jones | DISC GOLF COVERAGE