Planning for the Dynamic Discs Glass Blown Open — which takes place this week in Emporia, Kansas — is no small task. In fact, the second stop on the 2019 PDGA National Tour has made a name for itself as the largest annual happening in disc golf, with various side events and a festival atmosphere stacked on top of the competition.
The continued drive to make the GBO bigger and better is ingrained in its 16-year history, a lasting calling card that has resulted in consistent excellence. But it also leaves Tournament Director Doug Bjerkaas and staff scratching their heads at a singular question every year:
How are we going to top this?
"We have that conversation every year," Bjerkaas said as he took a brief respite from putting the finishing touches on the 2019 GBO. "And sometimes it's with size, sometimes it's with quality. And when I say that, we're always working to improve the quality."
But until Emporia — population 24,724 — features some extra hotel beds, the size of the tournament is necessarily capped. So for this year's GBO, the focus was even more on quality, which has resulted in a handful of significant changes — especially on the National Tour side of the event.
First, though, Bjerkaas and the Dynamic Discs crew still found a way to go bigger.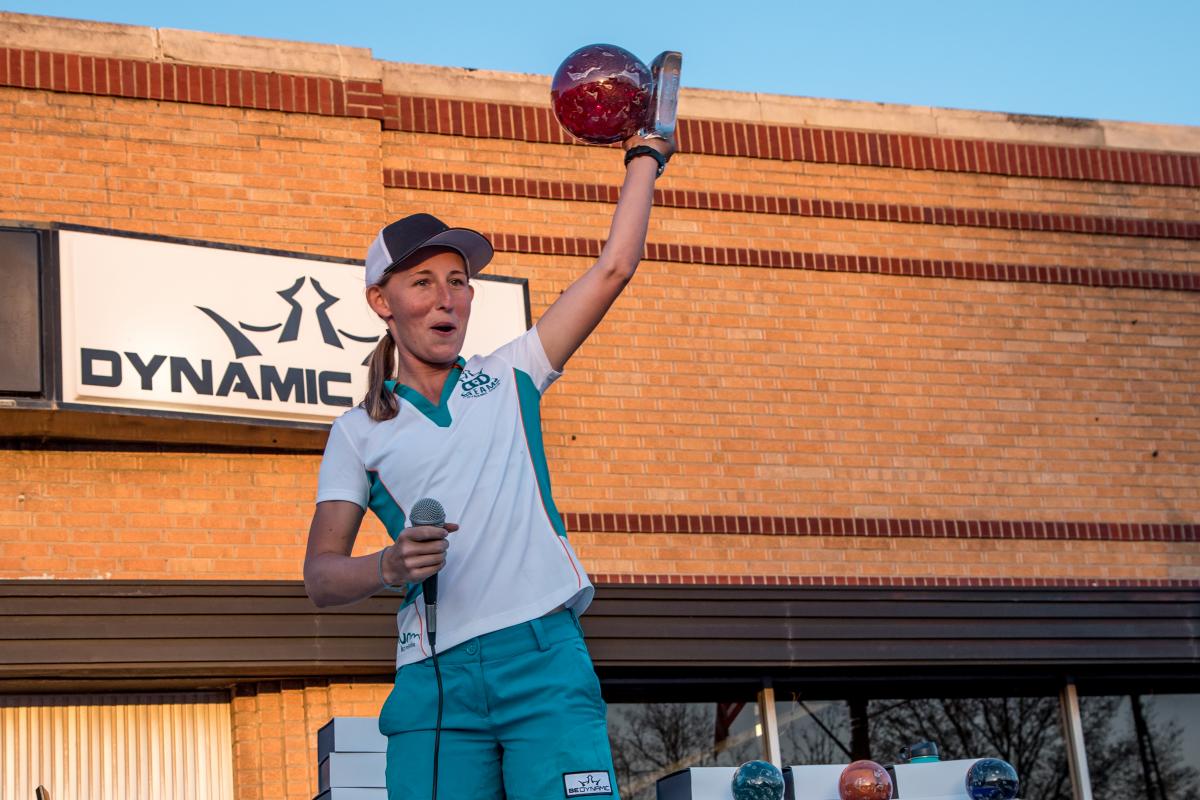 The National Tour side of the event will now run four days — Wednesday through Saturday — which provides not only a showcase final round for the Open and Open Women's divisions, but also flexibility in case the notoriously finicky Midwest weather fails to cooperate.
With the quantity of play increased by 18 holes, quality then took over. After the Open Women played at three different venues last year tournament staff changed course. The FPO division will now play exclusively at the Emporia Country Club on a layout that comes in about 1,400 feet shorter than the MPO field's, yet still clocks in at 9,229 feet.
"Our thought [last year] was we would build a gallery of more ladies that might want to watch their professional counterparts," Bjerkaas said. "That didn't exactly work out the way we envisioned, so we've gone back this year to how we've always done it."
"I think it's awesome," four-time GBO Champion Paige Pierce said. "I really love that we're playing one course and that it's the best course in town."
With both elite fields confined to a single venue, staff then set out to do what came naturally: improve that single venue.
[embedded content]
Leading off the lineup of changes to the Emporia Country Club: new tee pads. All teeing surfaces were moved off the existing cart paths and given their own fresh pour, and pre-existing solo pads were extended by a James Conrad-friendly four feet. Bjerkaas said both the surface — cat paths are slick — and length of the boxes were frequent complaints, and the Country Club is a willing partner.
"This is an NT," Bjerkaas said succinctly. "We don't need to be teeing off of sidewalks. We can be teeing off of tee pads."
Relocating the teeing surfaces opened the door to a handful of additional alterations — some more drastic than others. Hole 2, for example, … while hole 7 was moved slightly to the right, putting the box under some trees that make players drive out of a chute toward the fairway.
Bjerkaas and 2010 PDGA World Champion Eric McCabe, an Emporia native who started the GBO back in 2003 and was the Country Club's primary designer, both found the biggest opportunity to make their mark on holes 8 and 10.
How To Follow The Glass Blown Open »
In its previous life, hole 8 was a 555-foot downhill bomb of a par 3 that was rarely birdied. It was followed by another long par 3, the 549-foot ninth, that was the most difficult on the course, averaging 0.84 strokes over par.
Those two holes have now been combined into a 990-foot (903 for the Open Women) super hole, a par 5 that could amp up the risk/reward ratio — depending on who you ask.
"Doug and I actually have a bet, a lunch bet, on how many eagles we're gonna see on that hole in the MPO," McCabe said. "I think we're gonna see zero. He thinks we're gonna see at least three."
That now means that what was previously hole 10 is now hole 9, and it's received a major makeover. Instead of teeing down across a valley and finishing on a righthand upslope, a brand new fairway was carved through the trees that used to make up the right-side rough. The result is a tight, 651-foot (611 FPO) par 4.
"We added a wooded hole on a course that had no trees, which to me is awesome," McCabe said. "The fans want to see it, the viewer wants to see it, and I think the players are really gonna enjoy. It's definitely made that hole play a minimum half a stroke harder."
Add in a brand new hole 12 and a shorter pin on 18 that is flanked by bleachers, and this isn't the GBO to which competitors have grown accustomed. Sure, they only have one course to learn, but the curve just got steeper.
"I think a lot of it boils down to getting together after the event and discussing problem areas, maybe areas where a hole played way too easy," McCabe said. "…How can we make the players think, make them attack the hole in a different manner?"
And after 72 holes to determine the GBO champion, there will be three more frames where organizers intend to make it nearly impossible for players to think.
The top four finishers both the MPO and FPO field will tackle the Rainwater Razz Round, a three-hole loop that comes to the GBO after Dynamic Discs staff saw the concept in action at the Nantucket Disc Golf Open. Spectators will be allowed to purchase team-colored noisemakers and be as obnoxious as possible while mixed doubles teams battle for a $2,000 first place purse.
"Apparently it is a heck of a good time," Bjerkaas said. "…It'll be the opposite of what you want to do at an NT."
Which is ironic, considering that Emporia has set the tone for larger and larger events each year. So perhaps it's exactly what you want to do.