McBeth up seven spots into 7th, one off lead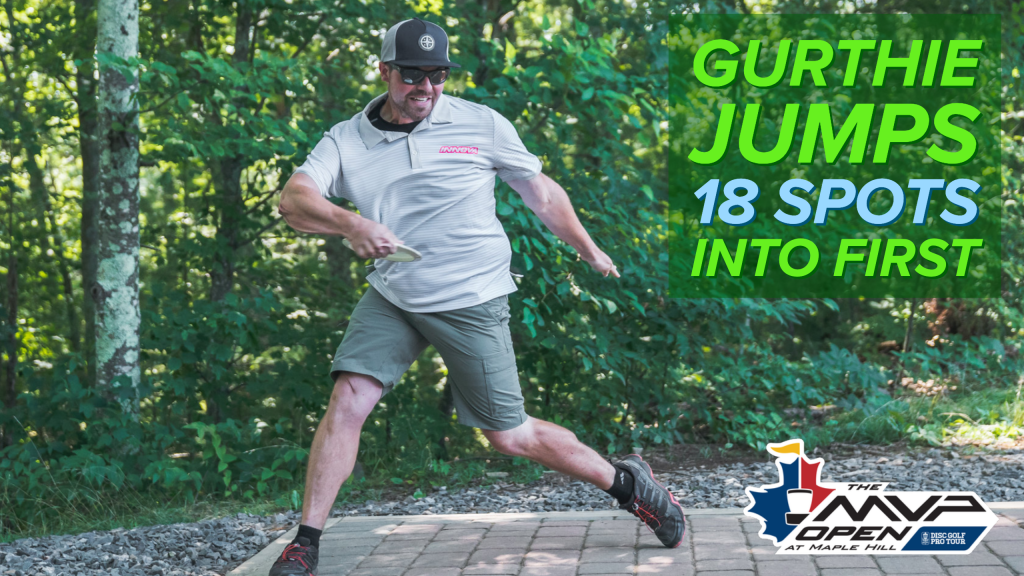 The lead card moved through Maple Hill in relative silence.
Round two at the MVP Open was all fits and starts for the players at the top of the leaderboard, and it certainly wasn't helped by the loud cheers that occasionally erupted from later holes signifying big moments from players trying to make their own runs. It's the exact thing you don't want to hear when you're struggling to record a birdie.
A lot of that noise could be attributed to Garrett Gurthie's card. Gurthie started the day in 19th place but shot an 1101-rated, 12-under par 48 to takeover solo first place at 15-under par 105 total.
"I had a really good game plan to try to give myself an opportunity and take advantage of it," an ecstatic Gurthie said after the round. "Tried to take advantage of the par 4s. I only had one 4 today on hole 18."
The bogey-free round from Gurthie really kicked into gear on the scorable middle stretch of the course. Starting with hole 8, Gurthie strung together six consecutive scores under par, including birdies on three of the par 4s he was targeting.
Gurthie's big day moved him into first in Circle 1 in regulation at 50% overall after an average first round. He's also now second in the tournament in fairway hits and C2 in regulation, increasing his round-over-round percentages by 28 and 22 percentage points, respectively.
Making his own noise Saturday playing from the third card was Paul McBeth. Back-to-back bogeys on holes 8 and 9 appeared to threaten his chances and working back into podium contention. Instead, he carded seven birdies and no blemishes over the back nine, finishing on five straight birdies to jump seven positions into solo second place, one stroke behind Gurthie at 14-under par total.
McBeth has yet to miss a C1X putt this weekend, and leads the division in C2 in regulation. He finished with a 9-under par 51 during round two.
Gurthie and McBeth shaking up the podium was only a fraction of the jostling happening on a hole-by-hole basis on moving day.
James Conrad's lead card-best 5-under par keeps him in third place at 13-under par, but he bounced around the lead and second place for much of the day. He's the only player who retained his spot in the top three.
Gregg Barsby and Simon Lizotte, who have settled into a tie for fourth place at 12-under par, similarly were moving around the top three spots as Nathan Queen, Joel Freeman, and Adam Hammes moved down.