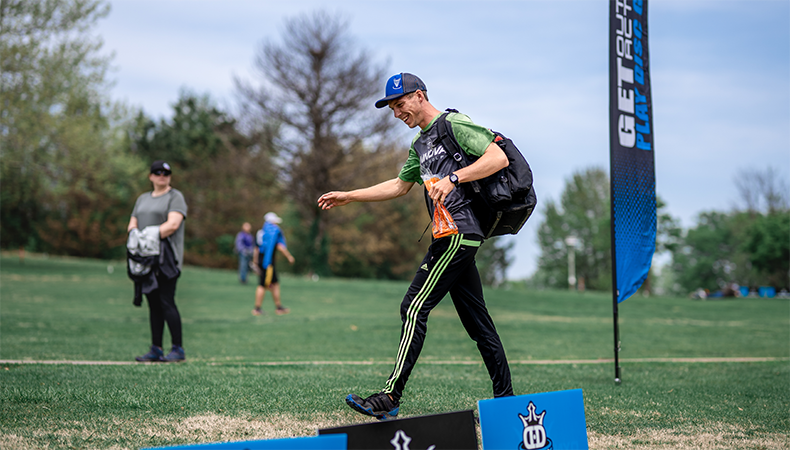 EMPORIA, Kansas — The 2019 season hasn't exactly started the way Joel Freeman hoped it would.
The Colorado product brought high expectations into his second full year on the road, and he hasn't quite lived up to them yet. Sure, he has three top-five showings at A-Tiers, but he hasn't cracked anything better than 25th at PDGA National Tour and Disc Golf Pro Tour events, and that left him searching for answers as he came into the Glass Blown Open.
Little did he know that he'd find those answers by simply doing less searching.
"I've been working hard, kind of sorting through a lot of weird things with putting, driving, this and that, and things haven't been feeling great," the 24-year-old admitted. "This week I've been trying to prioritize enjoying myself, having a positive impact on other people, and what do you know? I play better that way.
"If that's my focus instead of just trying to shred," he continued, "I play better."
The new mindset propelled Freeman to a career-best 1077-rated performance, as his 11-under par 54 at the Emporia Country Club Wednesday put him atop the leaderboard. JohnE McCray — who is 22 years Freeman's senior — is in second place after a 9-under par 56 performance, while Simon Lizotte, Cale Leiviska, Paul McBeth, Ricky Wysocki, and Drew Gibson are knotted up for third at 8-under.
Freeman was on fire early, connecting on five consecutive birdies thanks to strong circle's edge putting. He was perfect from 10 meters and in during the round.
"I definitely had a good handful of testers, which is great for me to say," Freeman said. "…It felt really good to start relaxing and just feeling more confident today."
Freeman logged another five-birdie run on the back nine, and he said his score potentially could have been better: He was distracted on hole 17, concerned that a spotter who didn't see he was ready to play might signal a green light midswing. It left him hesitant on the tee and resulted in one of his two penalty strokes on the day.
"I didnt quite commit to my shot, and I left the disc about two inches out of bounds, which I ultimately think it would've saved me two strokes," Freeman said. "Could've been a 13 (under), but that's always how those rounds go: They feel good, then you always think about those couple little things that could have happened."
[embedded content]
Playing on the day's feature card, McCray brought his putter to play. The 46-year-old connected from 40 feet to can a birdie 3 after an errant tee shot on the 669-foot 7th, then mashed one from 50 on the narrow 13th. Often outdriving the younger competitors on his card — including defending GBO Champion Eagle McMahon, who started off the tournament with a 7-under par showing — McCray said his counterparts on the course pushed him to the performance.
He also got a little sage advice from his wife/caddie, Jennifer.
"Not bad. I stayed solid, stayed to the game plan," the McCray said. "I was arguing with the wife whether I should go for hole 16 there on the island or not, and she talked me out of it. It might've been a good decision, because I parred it."
McCray withdrew from the Jonesboro Open after battling some health problems, but he looked no worse for the wear on Wednesday. As he tallied up his scores, a passing fan shouted, "JohnE is my hero!" and it was clear that the graying, yet fierce competitor was inspiring the crowd.
"I hope to have that support out here all week," McCray said. "It's great to have that support."
Two-time GBO winner McBeth struggled inside the putting circle but was money from beyond the arc, as he paired a 43% circle 1 rate with an 80% circle 2 mark. His 1057-rated showing was marked by some misfires off the tee as well, meaning he has plenty of room to improve over the next three rounds. That registers as fairly scary considering he's been disc golf's hottest player for the last month.
"Inconsistent's the word and I'm on chase card," McBeth said. "If I can just put that together, 11-under — I think that's what Joel shot — is very doable.
"If an inconsistent round is 8-under," he continued, "I can't wait to see what the rest of the week has in store."
Freeman, meanwhile, was leaning into the groove. Though he's not an elite distance thrower like some of his lead card compatriots, he plays well on golf course-style layouts.
"I definitely like playing overstable discs, so I like playing the skip. I like playing my percentages," Freeman said. "And these are the kinds of courses that allow my style of game to …push me closer to the top."
Stat of the Day
Water balls (OK, discs) on hole 16's island: 83.
Quote of the Day
McCray, on his Santa Claus-esque facial hair: "That's gonna be my offseason job next year."
What's Next
The Open lead card tees off 3 p.m. Central. Tune in live on SmashboxxTV.
[embedded content]