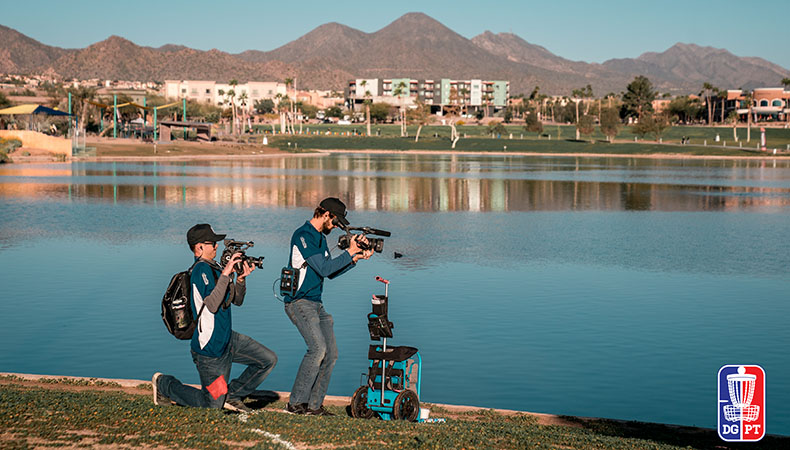 After beginning the season with a media strategy that Tour Director Steve Dodge admitted was "about as bad a start as I could have imagined," the Disc Golf Pro Tour is making some adjustments.
That starts with bringing back former partner SmashboxxTV to tackle each tournament's live production, the DGPT announced this week. Beginning with the Play It Again Sports Jonesboro Open, Smashboxx will handle streaming, switching, and graphics for the Open and Open Women's live coverage, with the DGPT's camera crew from early this season staying on board.
"This partnership will then allow the DGPT and Smashboxx to build on the positives of the past three years of Smashboxx improvements, plus the significant technology upgrades that took place over the offseason," the DGPT said in a news release. "The camera improvements alone have allowed for higher quality footage, and Smashboxx is excited to work with the improvements to help create a better broadcast."
The tour had previously announced it would bring all production in-house as it sought to balance the needs of tour sponsors and viewers.
"SmashBoxxTV is looking forward to partnering with the Disc Golf Pro Tour again," company co-founder Jonathan Van Duerzen said. "We are excited to showcase the top players in our sport at some of the best events on the tour. We feel that SmashBoxxTV's years of expertise, combined with the Disc Golf Pro Tour's new technology, can give the viewers a high quality live experience."
Fans accustomed to going to YouTube to find the live coverage, though, will need to update their bookmarks. The tour is shifting its stream to DGPT.tv, which will allow it to promote new ad-serving technology in the hopes of not only enhancing the viewing experience, but also attracting new sponsors to the tour.
"In order to grow the sport, we need to find a way to bring in outside investors. This new platform gives us a side door into those advertising dollars," Dodge said. "We successfully tested this platform during Waco and are excited to take the first step towards building an independent golf platform outside of the YouTube ecosystem."
The tour has also introduced risk-free advertising for any potential sponsors who want to be featured during the Play It Again Sports Jonesboro Open live broadcast.
The tour has not announced any changes to its post-production coverage, which has seen both Open and Open Women's cards produced by its in-house team. Dodge said post-produced rounds will still be released on the DGPT YouTube channel. He also said that talks were ongoing with regard to bringing back coverage from Jomez Productions, Central Coast Disc Golf, and other post-production companies, but that no announcements were imminent.
The Play It Again Sports Jonesboro Open takes place April 12-14 in Jonesboro, Arkansas.