More Europeans will have the opportunity to earn DGPT points and a 2024 Tour Card.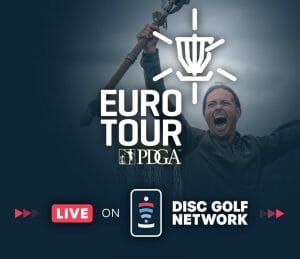 After hosting a Silver event at the PCS Sula Open in Finland in 2022, the Disc Golf Pro Tour is expanding its presence in Europe in 2023.
The Tour announced a new partnership with the PDGA Euro Tour to provide live-streaming coverage of seven events and offer DGPT Silver points at all but one of those tournaments. It expands the number of Silver events to 15 and offers a pathway for more European players to earn DGPT points and even a Tour Card for 2024.
"The DGPT is dedicated to supporting the continued expansion of high-level competition in Europe, and the PDGA Euro Tour is the leader and cornerstone of that growth," said DGPT CEO Jeff Spring in a statement. "Our enhanced partnership with the Euro Tour means the Disc Golf Network will deliver expansive opportunities for European disc golf fans to watch live broadcasts in their time zones and for European professionals to earn points toward the DGPT Championship. We are thrilled to feature the best up-and-coming European players competing at world-class courses."
DGN will stream the following tournaments. All but the Andalucía Open will hold DGPT Silver status:
Konopiště Open | Konopiště, Czech Republic | June 16-18
Krokhol Open | Oslo, Norway | June 23-25
Swedish Open | Borås, Sweden | June 30 – July 2
Skellefteå Open | Skellefteå, Sweden | July 7-9
Åland Open | Åland, Finland| July 28-30
Alutaguse Open | Johvi, Estonia | August 10-12
Andalucía Open [Tour Championship] | Costa Ballena, Spain | October 20-22
The DGPT had previously announced plans to host an Elite Series event at the PCS Open as well as live coverage of the European Open.
The PDGA Euro Tour, originally announced to begin in 2020, was delayed two years due to COVID-19 and got its start last season. It's not the only tour in Europe, though. In 2022, a separate event series, the European Pro Tour, made its debut alongside its own streaming service, Disc Golf Stream, for broadcasting its events, mirroring the approach of the DGPT in the US. The EPT will now face competition not only from a competing event series — the biggest European tournaments are split between the two, and they have a number of conflicting dates on the calendar — but also a competing streaming platform, one with significantly more reach and coverage of the sport's biggest tournaments.
"It is good to see there is now more will to provide live coverage from events all around Europe than ever. We hope to see this and all other cooperations succeed and evolve for even better in the future," said European Pro Tour CEO Juha Kytö. "Disc golf is absolutely taking off in Europe, and it also shows in the amount of media. There are a couple of high-interest events added to the livestreaming calendar, and the hardcore fans have over 100 rounds of live disc golf to follow and watch your favorite players, even around the clock!"
Paul McBeth's European Trip & The Announcement's Timing
The announcement of the DGPT's broader European move came on the heels of Paul McBeth announcing a seven-event European tour during the 2023 season. He will compete at six PDGA Euro Tour events (including the PCS Open, which is also a DGPT Elite Series) along with the European Open. McBeth had been planning a bigger European swing last season but ultimately just played at the European Open.
McBeth will skip three Elite Series events (Dynamic Discs Open, Des Moines Challenge, Preserve) and an Elite+ (Portland Open) to tour in Europe. He told Ultiworld Disc Golf that he was interested in changing up his schedule, noting that he has played in Emporia, Kansas, for 16 years straight. His European swing will take him to some familiar stops but also some brand new places, including Norway and Croatia. "We haven't seen where disc golf is in these countries," said McBeth.
He said that he did hear that the Pro Tour was considering offering livestreaming coverage of more events in Europe and that he also learned that some of his tour stops would offer DGPT Silver points when he spoke to Spring in December about his decision to skip a big stretch of DGPT events in the US. At that point, he had already decided to travel to Europe: "I told Jeff, 'I'm going regardless of whether or not they're Silver events. [But] do it. It would be awesome for European disc golf.'"
"I think that the driving commonality here is that the Pro Tour is focused on growing professional disc golf across the world, and it seems like Paul has a desire to also encourage growth," said Spring.
Some pro players online expressed frustration about an announcement about more points-earning opportunities coming so close to the start of the season.
On The Upshot podcast, Spring acknowledged that they would have preferred to announce earlier but that it was a big decision that required a lot of preparation. "We're five months out from when these events start, so I think if people want to adjust their schedules, we're still in the preseason; we're still about a month before we kick off," he said. He also said that the additions were not designed for US players, who would likely have to skip Elite Series events to play the Euro Tour Silver ones.
"This is really focused on European pros and the burgeoning pro scene there," he said. "We've seen a lot of the pros that are really at the top of the ranks. We're hoping that this encourages more European players to play."
Streaming Notes
The DGPT will broadcast the seven European events on Disc Golf Network but won't send over full media crews from the US like they did for last year's PCS and European Open. Instead, they are partnering with Pulsea, a European live production company that started broadcasting disc golf last year, to build a European studio and run the streams, which are often going to be concurrent with US-based streams.
Pulsea has a background in live production but struggled with picture quality and consistency in its disc golf streams at times last year. Spring told The Upshot that they were impressed with Pulsea and that the DGPT will have the necessary oversight to ensure typical DGN quality for the European streams.
"Partnering with the DGPT strengthens the international reach of our sport and unveils the potential for further collaboration down the road," said PDGA Euro Tour Manager Matěj Verl. "Only now, with the growth of the sport and with this cooperation, disc golf is finally, truly, and fully entering its international era. With European players entering the main stage, the competition gets tighter and more appealing to viewers. With more top USA players finding it appealing to also compete in Europe and with European players getting more opportunities to showcase their skills on their home turf, this cooperation finds the best of both Worlds."