Final Round Recap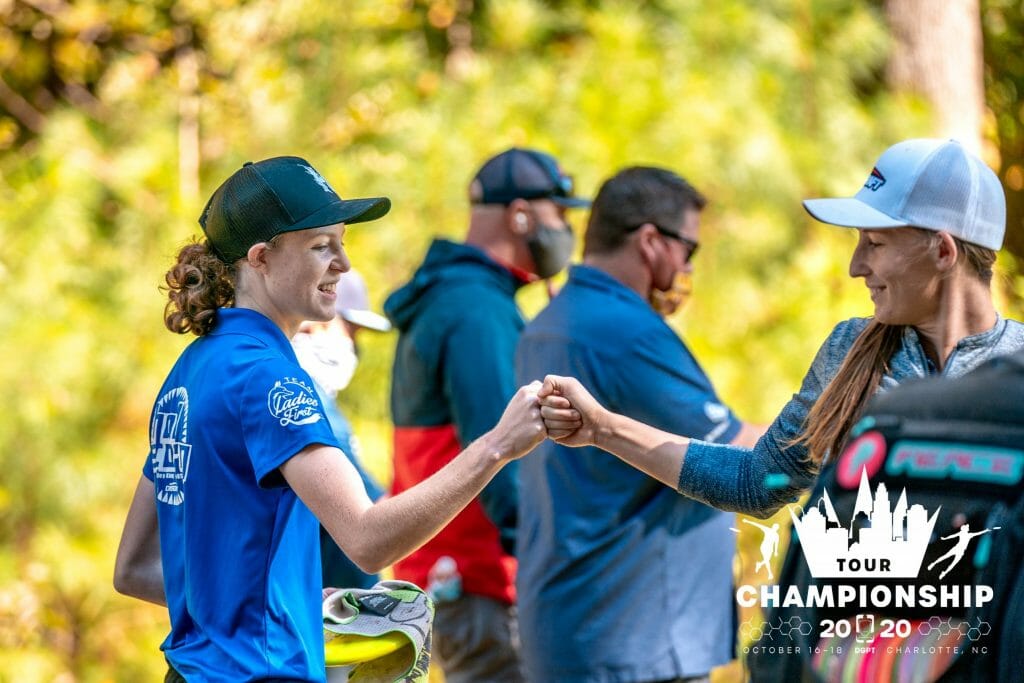 For the second year in a row, the Open Women's Disc Golf Pro Tour Championship at Hornets Nest in Charlotte, North Carolina was decided by a playoff.
Hailey King's putting was not as sharp as usual on Saturday, despite posting the lowest score in the semifinals, but it was back on track Sunday. King only missed a single Circle 1X putt on the day, and, more importantly, she connected on a 25-footer for birdie on the second playoff hole with Paige Pierce to secure the biggest win of her career.
King was down by as many as four strokes to Catrina Allen at several points in the round, including as late as hole 14, as three of the players in the finals went back and forth in scoring all day. Pierce and King were let back into the contest after Allen hit early trees on hole 17, and four-putted on the elevated, rocky basket placement. Pierce also bogeyed hole 17, dropping her score to 2-under par where her and King finished tied to force the playoff.
After both picking up pars on the first playoff hole, hole 8, it was King who looked more seasoned than her 18 years of age on the second playoff hole, hole 11. King laced her drive through the woods into a safe fairway position and threaded her upshot into C1X. Pierce was scrambling off the tee, but hit a C1 tester to save par and put the pressure on King. She calmly hit the birdie to win the event, her 13th made C1X putt of the round.
The DGPT Championship is King's third win of the season, and highest-profile of her young career. Her best previous finish at an Elite Series event was second at this year's Green Mountain Championship, where she held a lead over Pierce before a late final round double-bogey.
King's $20,000 paycheck is the largest ever prize awarded to an Open Women's player, and matches 2020 DGPT Championship Open winner Kevin Jones's prize as the largest ever awarded to a professional disc golfer. The first place prize money is $4,000 more than King had previously made in her career tournament earnings ($15,970.50).
Heard
"You definitely gave me some words of advice and I've taken them. I mean, I guess it worked." – Hailey King, thanking Paige Pierce after the event.
"I really played my heart out. I worked so incredibly hard to get my confidence back. It's easy to look back and think, man I wish I would have laid up on hole 17. But, after some reflection I think the fact that I went into 18 telling myself to not give up and then actually birdie it, says a lot about how far I have came and I will end the season with my head held high. I know hard work and resilience will eventually pay off." – Catrina Allen
Coverage
2020 Disc Golf Pro Tour Championship| Finals F9 | Pierce, Allen, King, Fajkus | GKPRO Disc Golf
2020 Disc Golf Pro Tour Championship| Finals B9 | Pierce, Allen, King, Fajkus | GKPRO Disc Golf