Big money.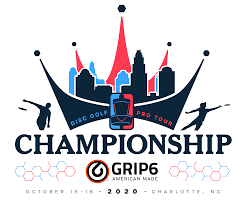 Just hours before the start of the 2020 Disc Golf Pro Tour Championship, they sweetened the pot.
Alongside the announcement of belt maker Grip6 as the tournament's presenting sponsor, the Pro Tour has increased the tournament payouts to a combined $130,000, making it the highest total purse in disc golf's history, just beating out the 2016 PDGA Pro Worlds' $129,882 purse.
The champions in both MPO and FPO will now take home a $20,000 cash prize, which will set a record for the biggest single tournament payday for individual players as well. Previously, Ken Climo and Nikko Locastro had the biggest MPO paydays — $15,000 — for winning the 2007 and 2009 USDGCs, respectively. Paige Pierce has the current claim to the highest FPO prize — $5,500 — after winning the 2017 PDGA Pro World Championships.
Every player competing at the DGPT Championship will walk away with at least a $1,000 prize. Reaching the finals on Sunday means guaranteeing a $3,000 payday: $20,000 goes to the winner, $10,000 to second place, $5,000 to third, and $3,000 to fourth.
Players have even more incentive to reach the finals than just the money: the players on the final card will be featured in a two-hour broadcast on ESPN2 next month.