Also new: Tournament Central, more post-production, higher DGN prices.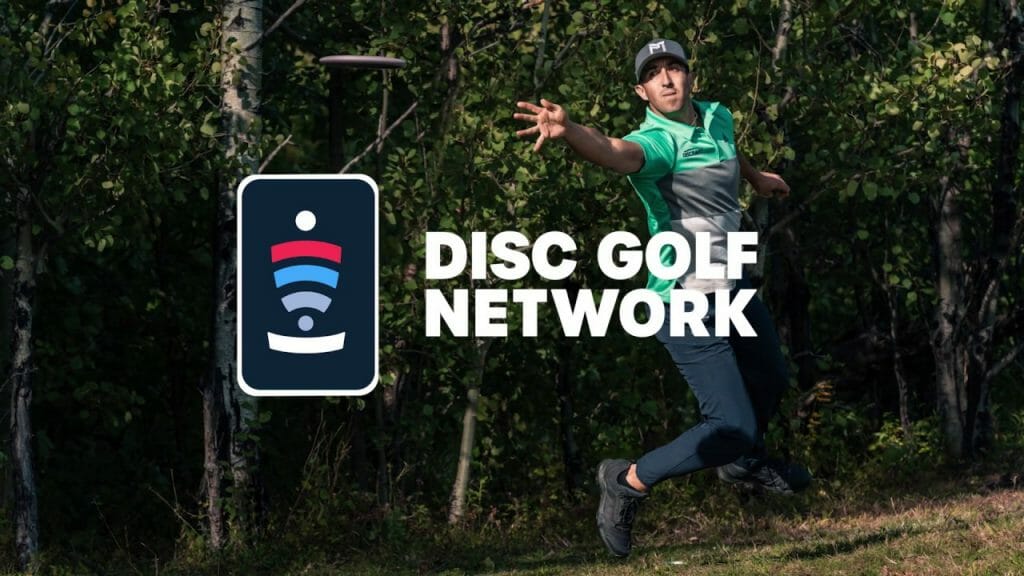 The media coverage of disc golf will continue to deepen in 2023, as the Disc Golf Pro Tour announced expanded live and post-produced coverage of the tour.
The Disc Golf Pro Tour's over-the-top livestreaming service Disc Golf Network will fully broadcast all rounds of its events, including Silver ones, which last year only had their final rounds aired live. DGN is also adding a new pre/post/halftime show, Tournament Central, to Elite events and above, providing analysis before, between, and after the FPO and MPO round coverage.
"Tournament Central is the next step forward in the evolution of our live product and will add more depth and quality to the live viewing experience," said DGPT Media Directorr Mahmoud Bahrani in a statement. "With more interviews, highlights, and analysis, it'll be easier than ever for disc golf fans to immerse themselves into the constantly evolving storylines on the Disc Golf Pro Tour."
Prices Are Rising, Free Live Round Switching from Final to First
Along with the increased broadcasting comes another price hike: monthly access is rising $1 from $11.99 to $12.99 and annual access will now be $129.99, a 30% increase from last year's $99.99 price. Additionally, the tour will no longer offer the final rounds of tournaments live on its YouTube channel; instead, the first round of Elite events and above will be available for free.
"With Disc Golf Network's live product continuing to evolve and production value increasing each season, we are exploring live broadcast distribution on multiple platforms beyond YouTube," said DGPT CEO Jeff Spring. "As we work to deliver live disc golf to an expanded national audience, it's important that we maintain flexibility to distribute final rounds on other platforms while increasing the value of the Disc Golf Network subscription."
All PDGA Pro Majors Included with Subscription
As in 2022, all five PDGA Pro Majors — Worlds, USDGC, US Women's, European Open, and Champions Cup — will be broadcast live on DGN and available to all subscribers without additional fees. The only announced pay-per-view content above and beyond having a standard DGN subscription is the Presidents' Cup at the European Open and Monday Qualifying at the USDGC/TPWDGC.
Post-production coverage of both European Open and USDGC/TPWDGC will be exclusive to DGN.
PDGA Members Get Free Content, Discount on Subscription
PDGA members will continue to receive 50% off of a monthly DGN subscription, bringing the price from $12.99 to $6.50. Additionally, all PDGA members will receive complimentary access to live broadcasts of the Las Vegas Challenge, the Champions Cup, the U.S. Women's Disc Golf Championship, the final two rounds of Pro Worlds, and the MVP Open.
Jomez Taking Over FPO Lead Card Coverage; FPO2 on Ace Run Pro
Last week, the DGPT announced its post-production media plan. Jomez Pro, in the second year of a two-year rights deal for MPO lead card at DGPT events, will continue offering MPO1 coverage but will also be covering FPO lead card this season, taking over from GK Pro. Jomez, with 419,000 subscribers on YouTube, has the largest media platform in disc golf.
Gatekeeper Media will continue to cover MPO chase card. Now, FPO chase card will get consistent coverage as well from Ace Run Productions.
GK Pro will now focus exclusively on its popular skins matches and providing support to DGN with a deeper partnership with the Tour. The Tour Series Skins will "become a spectator event taking place the day before each tournament starts. This will be part of a new practice day ticketing initiative from the DGPT that will allow fans to spectate the final day of practice before each tournament starts, including access to special autograph signing sessions from Tour Card players," according to the DGPT.
Central Coast to Cover Silver Events
Last year, the DGPT hosted post-production coverage of Silver events on its own YouTube channel. Fans often complained about release delays and other problems with the productions.
This year, the Tour is pivoting and giving Silver post-production rights to Central Coast Disc Golf, who did some of the production for the DGPT channel last year. CCDG will cover both MPO and FPO lead cards at Silver events.
"We are thrilled to expand our post-production media partnerships this year," said Bahrani. "Media continues to be a cornerstone of growth for the Tour. These partnerships strengthen all parties and ensure continued fan access to high-quality post-produced coverage we've all come to know and love."
Coverage of the 2023 season begins at the Las Vegas Challenge on February 23rd.