Two rounds in one day rated above or near 1100 give Hastings an unrivaled feat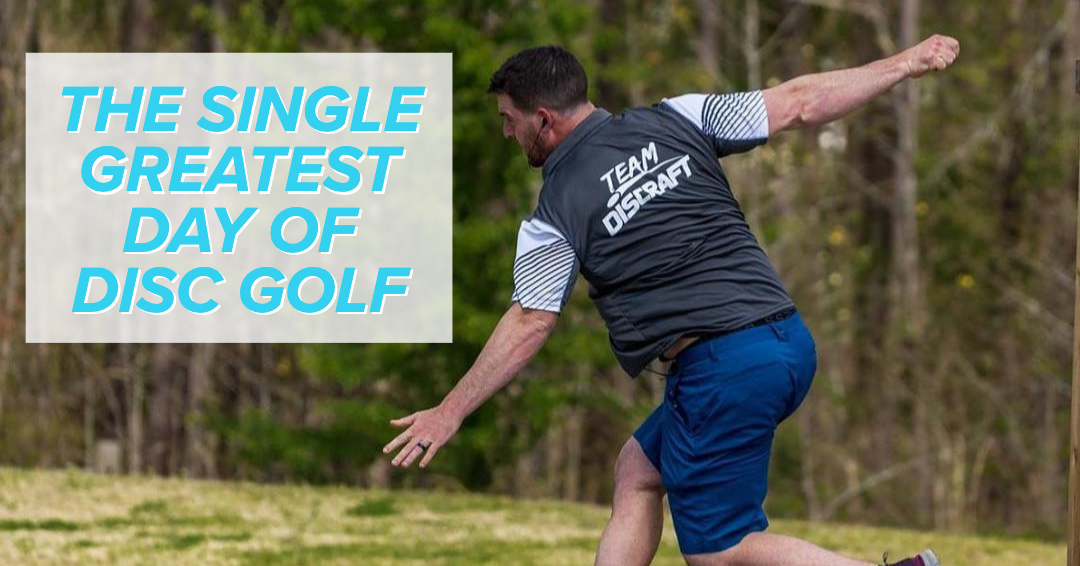 As Garrett Gurthie and Catrina Allen were on the West Coast picking up National Tour victories, Dan Hastings was putting together something special in the land of the longleaf pine.
At the 19th Annual Tar Heel Tournament in Chapel Hill, North Carolina, Hastings played what is most likely the best single day of disc golf on record. Hastings threw an 1111-rated first round and 1090-rated second round on Saturday on the 20-hole UNC-Chapel Hill Disc Golf Course. As it currently stands, it is believed to be the highest-rated multiple rounds by a player in one day.
Hastings opened the tournament with a perfect 20-under par 42, and somehow followed it up with an 18-under par 44.
"Day two was fun. Everyone was talking about how that could've been the highest-rated multi-round day of golf ever," Hastings told Ultiworld Disc Golf. "My dad made sure to point out a comment on Facebook, 'Don't follow it up with a 950-rated round.'"
He took a 19-stroke lead into the final two rounds on Sunday, and finished in first place1 by 23 strokes after two more 1040+ rated rounds to finish at 65-under par total.
But back to those openers. How does the 1017-rated Hastings put up such big numbers at a local B-tier with only 12 other Open players, none rated over 1000? We'll let Hastings tell it.
"My previous event was my worst performance in a long time, so I made it out to practice the course Wednesday and Friday," Hastings said. "On Wednesday, I was still uncomfortable and my game didn't feel right and I found myself getting frustrated. Since spraining my ankle two months ago, I just haven't felt right on the course.

"So my wife — also my chiropractor, and caddy, who has been rehabbing the ankle — and I went back to the course Friday. It was fun, it's been a while since it was just me and her out on the course just throwing shots. It just put me in a good place mentally. I told her a 50 would be a good round, but I want a great round. It was just a really fun night and my game felt great.

"My card [Saturday] morning was amazing. I had one of my best friends, Jared Askew, on the card and he helped create an environment that allowed me to stay focused. It was fun and everyone was supportive and cheering me on.

"I started 8-for-8 and hit a tree early on hole 9 to end the streak. I never really thought about how well I was playing after that, but my putter literally never touched the ground and I putted 100% from both Circle 1 and Circle 2. I finished the round birdieing 10 in a row from holes 10-19, and getting an eagle on the soft par 4 hole 20.

"I knew the round was hot, it felt perfect, but 1100 has always just been a fantasy land. It's one of those courses that on every hole, the perfect shots gets a 2, but it can also easily be an auto 4."
Things were similar for Hastings after a midday break. His putter finally missed the basket when a 50-footer on hole 3 didn't drop, and hole 5 was another par, but he didn't miss a birdie over the final 15 holes.
"Halfway through round two I knew it was my weekend," Hastings said. "It didn't matter where I landed, the putter was in and the card was cheering. My putter was on fire, if that pink CT Challenger was in my hand, it would soon be in the basket."
Dan Hastings Circle 2 Putt Tar Heel Tournament Round 1 Hole 3
Hastings putts from Circle 2 on hole 3 during round one.
Hastings also attributed his continued motivation on Sunday to Discraft Team Captain Paul Ulibarri reaching out and congratulating him Saturday night. Fellow North Carolinian Jeremy Koling also hit Hastings up Saturday night.
For the weekend, Hastings averaged 1073-rated golf over four rounds, better than his previous highest single round ever, a 1068-rated first round at the Maple Hill Open in 2015.
"This weekend still has me super shook and excited," Hastings said of the 1100+ rating showing. "It's something I never imagined accomplishing, much less almost doing it back to back."