Nobody pulled away from the pack early.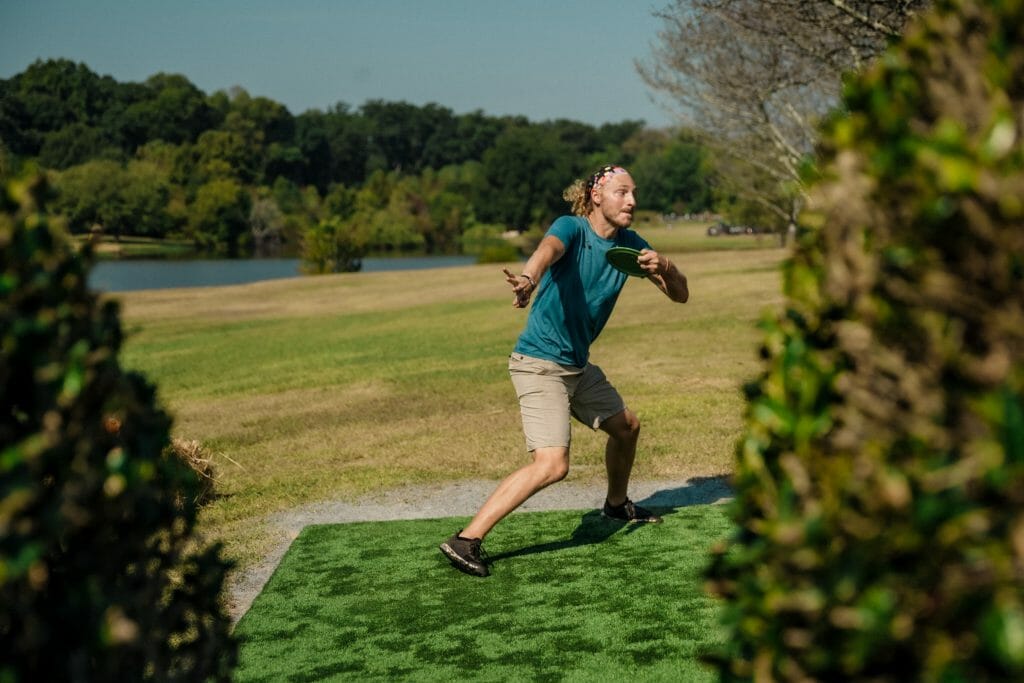 ROCK HILL, S.C. — After a twisting, turning round one at the 2019 United States Disc Golf Championships, the tournament title race is wide open.
10 players are within two shots of the lead1. Thursday's lead card features four players who, between them, have never won a major. Oh, and defending champion and world #1 Paul McBeth just shot his worst round ever at Winthrop Gold2 and sits 14 shots back.
The course was punishing. The two holes that were removed this year were among the easiest on the course; the two new ones are among the hardest. There were 67 recorded triple bogeys or worse in the field, and multiple players in the top 25 had otherwise great rounds cut down to size after carding a 7 or an 8. Not a single player avoided taking a bogey.
Perhaps it's appropriate, then, that the tournament leader, Chris Clemons, was one of the few players to post a drama-free round. A bogey-free, six birdie back nine pushed him to the top of the leaderboard with an 8-under par 59.
Clemons, the highest rated left-handed player in the world, carved up the course. Taking advantage of the frequent right-to-left shots that set up perfectly for lefties, Clemons gave himself birdie chances on 14 holes and converted nine of them.
"I think I'm just feeling confident and my backhand is starting to click," he said. "I think last year I kinda fell in love with my forehand, and there were a lot of courses where I threw a lot of forehands, so I kind of neglected the backhand. So I made it a point to work on it over the offseason and at the beginning of this season, and I'm in a good mental state so that makes a huge difference."
He should be feeling good: he has quietly put together an excellent second half of the season ("sneaky!" he said), finishing 12th at Worlds and 2nd at the Green Mountain Championship. Now he's got a shot to again be on the lead card at a major.
"Of course there will be some extra pressure, but I enjoy it, I welcome it," he said. "And it gives you something extra to play for."
He'll be joined on the lead card by Drew Gibson, Simon Lizotte, and fellow lefty Nathan Queen, all of whom sit at 7-under par.
"Now that the course is playing harder, this is definitely my best performance so far [at Winthrop Gold]," said Lizotte, adding, "I only had one OB stroke today, which for me out here – that's never happened before."
Like Clemons, Lizotte took just a single bogey and played less aggressively than he often does. Gibson got more birdies than Lizotte but also took three bogeys. Queen led the field in birdies, though, with 11. He was on target for a huge round — 7-under through 10 holes — before succumbing to a triple bogey on hole 12.
LISTEN: Nathan Queen on The Upshot's live USDGC round one recap podcast
He was not the only one to get punished by a single bad hole. 2016 USDGC champion Jeremy Koling was putting together a gem and stepped to the 18th tee sitting at 8-under, tied for the tournament lead, and bogey-free. After a perfect tee shot, he left his upshot a little bit left and it got knocked down out of bounds by some branches. His next upshot went square into the tree guarding the corner and he went OB again.
"I kind of lost my composure and then threw another one out of bounds," he said.
He completely missed the basket on his putt from there and had to save a triple bogey with a difficult putt from below the basket.
"It's kind of hard to feel happy right at this particular moment, but I think when you assess the way I played throughout the round being bogey-free up until hole 18, definitely have nothing to hang my head about," he said. "I played incredibly well, putted really well minus one short mishap on hole 15, and kept the disc relatively in bounds, and when I didn't, I saved par. That's exactly what you have to do."
That's exactly what Paul McBeth didn't do.
A buzz reverberated around the course in the mid-afternoon when, after eagling hole 10, McBeth played what might be the worst three hole stretch of his entire professional career, carding a double bogey six, a quintuple bogey nine, and a triple bogey eight on holes 11 through 13. That was the first nine ever recorded for McBeth in over 3000 holes in the UDisc Live scorekeeping application, and he's only had eight double bogeys or worse all season.
"I started out the round great, finished it great with the final three holes," said McBeth. "But in that middle stretch, it was horrendous."
The two-time US champion said he struggled with his grip throughout the round — "I lost my birdie bag on the fifth hole and didn't get that back until [hole 13], so I was trying to use the dirt and clay and all that, so that was kind of filmy. So that kind of sucked through that stretch." — but also said he was releasing his shots way too low, which left him with long, difficult putts or with OB strokes.
McBeth seemed a bit mystified about what happened. He said he felt good about his preparation for the tournament.
"In practice, I feel like I threw multiple shots and still threw fewer than I did today," he said.
But, in true McBeth fashion, he's not counting himself out.
"I need to get it together," he said. "And luckily this is a four round tournament, so even though I'm six over, I don't think it's over."
Notes
Paige Pierce shot a 1010-rated 2-over par 69, which included five birdies in the back nine. If she plays like she did today and cleans up a couple of small mistakes, she could become the second woman ever to cash at USDGC after Juliana Korver managed the feat in 2001. Kristin Tattar shot a 13-over par 80.
Nick Newton got the day off to a fun start with an ace on hole one. Near the very end of the day, Thomas Gilbert got an ace on hole 17.
It was a great start to the tournament for Eagle McMahon, who at one point sat at 8-under but finished with a 6-under par 61.
There are a lot of great players within three strokes of Clemons at the top, including four past USDGC champions (Koling, Nate Sexton, Steve Brinster, and Barry Schultz).