If you organized the Open results of the 2019 Dutch Open by rating, you'd find Stanislaus Amman, the 966-rated Austrian, far closer to the bottom than the top. He came into the tournament 21st by rating in a field of 32. Add to that that there were five players rated 1000 or better—a strong field at most European events, let alone a B-tier—and it's easy to see why almost no one would have put money on him to leave Rijswijk, Holland victorious.
And that goes for Amman, too. When asked between the third round and final nine that he entered with a seven-stroke cushion over second, he had no hesitation when responding to the question of whether he expected to win the tournament when he registered for it.
"No. No way," he said, smiling.
Amman easily maintained his grip on first through the final. Averaging 1034 golf over the weekend (a staggering 68 points over his rating), Amman finished six strokes clear of second with a 20-under par 191. In a tight battle for second and third, the 1001-rated Estonian Silver Lätt came out one stroke ahead of 1010-rated German Kevin Konsorr. Lätt ended at 14-under par 197 and Konsorr at 13-under par 198.
Learning How To Win
Amman first thought he had a real chance to win after the first day of competition. He had finished Saturday's two rounds two strokes ahead of then-second place Dominik Stampfer, a 1003-rated German.
"My thought on Saturday evening was just, 'If I continue this good throwing, I'm gonna win the tournament,'" Amman said.
But when Amman did just that and threw the hot third round of 7-under par 53, it gave him such an edge going into the final that he felt a little confused.
"It was kind of a strange situation for me," he said. "My lead was so big that I didn't know if I should still attack really hard or just be sure to get pars."
Strangely, it wasn't until Amman made a mistake that he was able to relax. After taking a bogey on a long, downhill par 3 (tournament hole 9, but the sixth hole in the final), he did a few comforting calculations.
"I knew nobody was going to catch me after hole 9," he said. "I was the only one who got a bogey, but I counted the score again and I knew it was still six strokes—if I just played par, nobody could catch me."
But Amman didn't just play par, and one of his favorite moments of the tournament came on the penultimate hole—a 200-meter (656-foot) par 4 where competitors play their first shot up a hill only to have a second shot over a small valley to a basket placed on the slope of another hill. Amman's second shot landed near the bottom of the valley at the edge of Circle 2. He proceeded to put his next attempt in the basket to add an extraordinary birdie exclamation mark near the tail-end of his first-ever win at a two-day tournament.
Top Players Battle For The Podium
While Amman's victory was almost a foregone conclusion at the start of the final, there was plenty of suspense about who would take second and third. Stampfer's 11-under par 169 was holding second by just one stroke over Lätt and Konsorr, who were tied.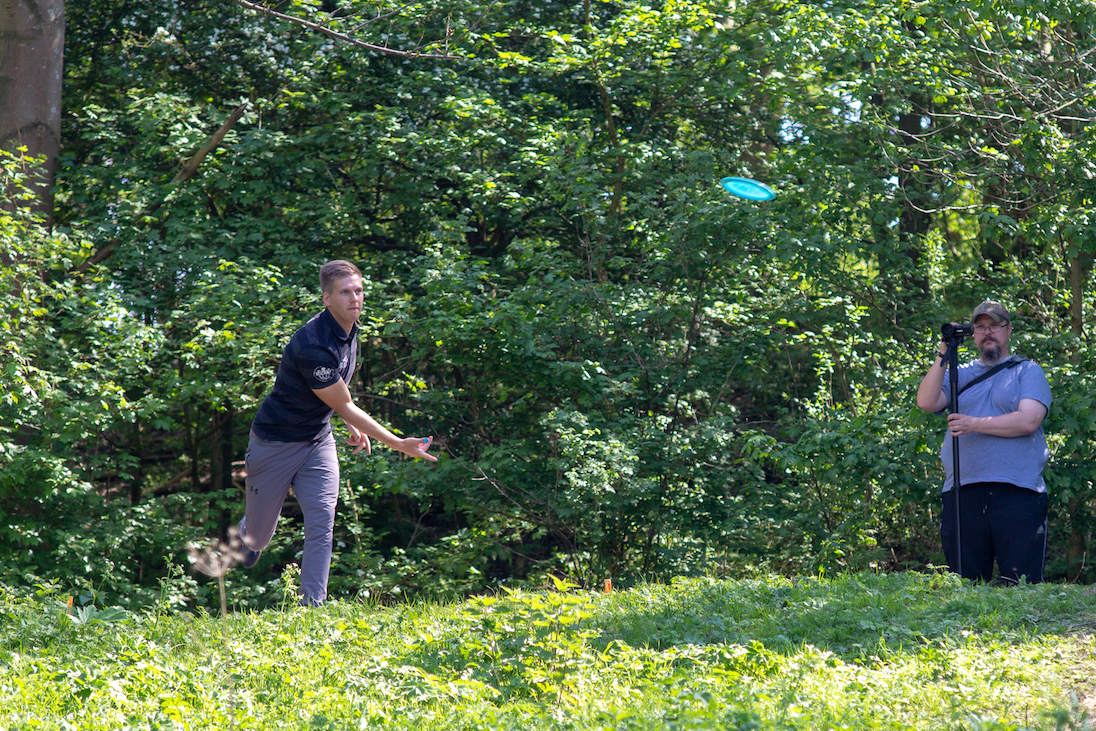 However, early mistakes by Stampfer soon lost him his slim lead and took him out of the running for the podium. Lätt and Konsorr, however, both played strong and were tied for second going into the penultimate hole of the final, tournament hole 16. As mentioned in our recap of the Open Women action, this was a par 4 hole that played first uphill, then downhill, and back up again. It also featured a mandatory that not only protected those on 17's tee pad, but forced players to shape their shots through a line of mature trees with low-hanging branches.
Approaching this hole, prior experience had made Lätt feel good about his prospects.
"I'd played three rounds with him [Konsorr] at that point," Lätt said. "He never had a birdie look on 16, and I birdied it three times. So I felt pretty confident."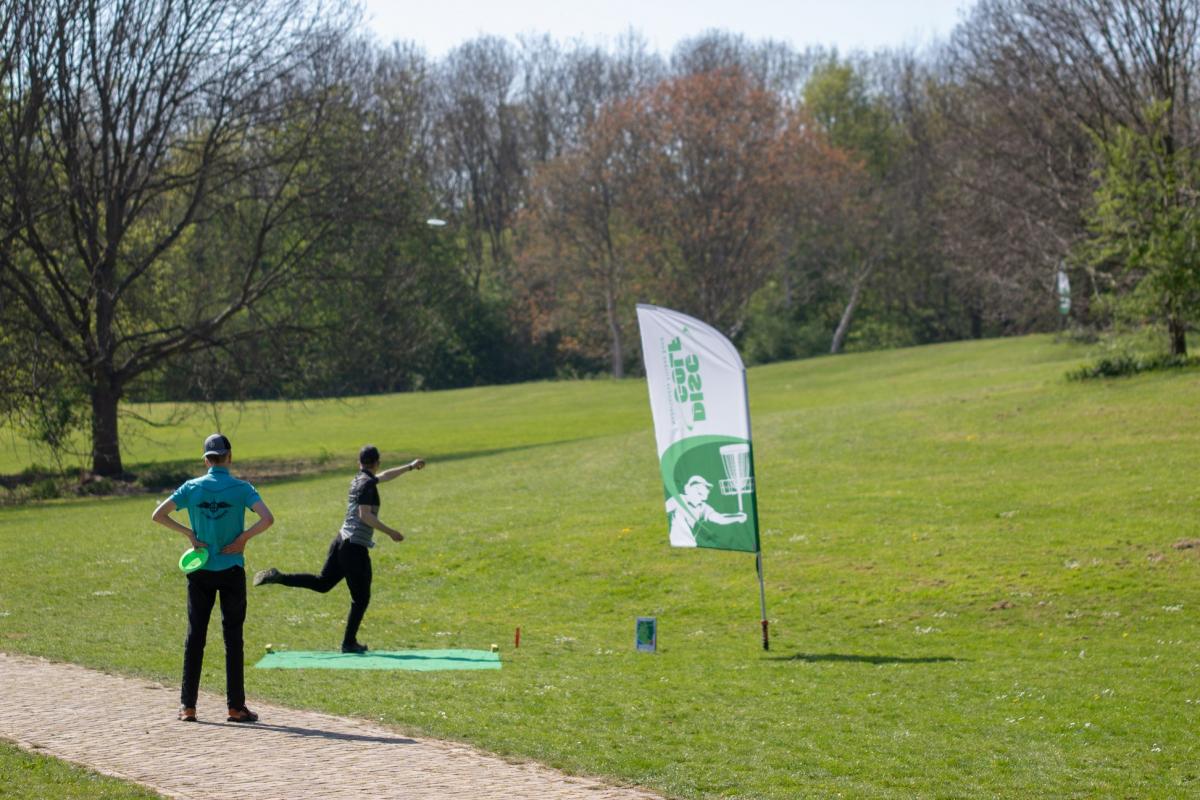 It turned out that confidence was warranted. Konsorr's anhyzer flexed out left, putting him at an angle to the mandatory where his best option was a short forehand cut roller just to make the mandatory and set up the possibility of a par. Lätt, however, used his powerful forehand to make great progress up the hill while keeping his disc turning right, well away from the mandatory and in a position where a good upshot would provide an easy birdie bid.
When asked to describe his thoughts at this point in the final, Konsorr's first reaction was just a little laugh and a brief pause before a further explanation.
"My first thought was, 'Oops,'" he said. "I wanted to go big on that drive because in the rounds before I'd played it too tight…but I overcompensated and it ended up really close to the mandatory line."
After Lätt's second forehand parked the hole, Konsorr took his only option and rolled past the mandatory to set up an upshot. Unfortunately for Konsorr, that upshot turned out, in his own words, "pretty bad." Konsorr failed to make a putt to save his par, and Lätt ended up beating even his own best hopes and took a two stroke lead going into the final hole.
Though Konsorr went on to birdie the last hole of the final while Lätt parred, those two strokes were the true difference in the close-fought contest.
Lätt, while at first unsure, decided he was satisfied with his result.
"I think it's so early in the season that my game isn't at the level I want it to be," said Lätt when reflecting on the tournament. "I played in Estonia over the winter and also in Mijas, Spain, but I haven't competed much. It felt different—I had nerves I haven't felt before, like shaking on putts inside the circle. But overall, I guess I'm happy. I didn't really come to win, but just to enjoy the time."
Konsorr, while admitting he could have executed some things better, was pleased with his play overall.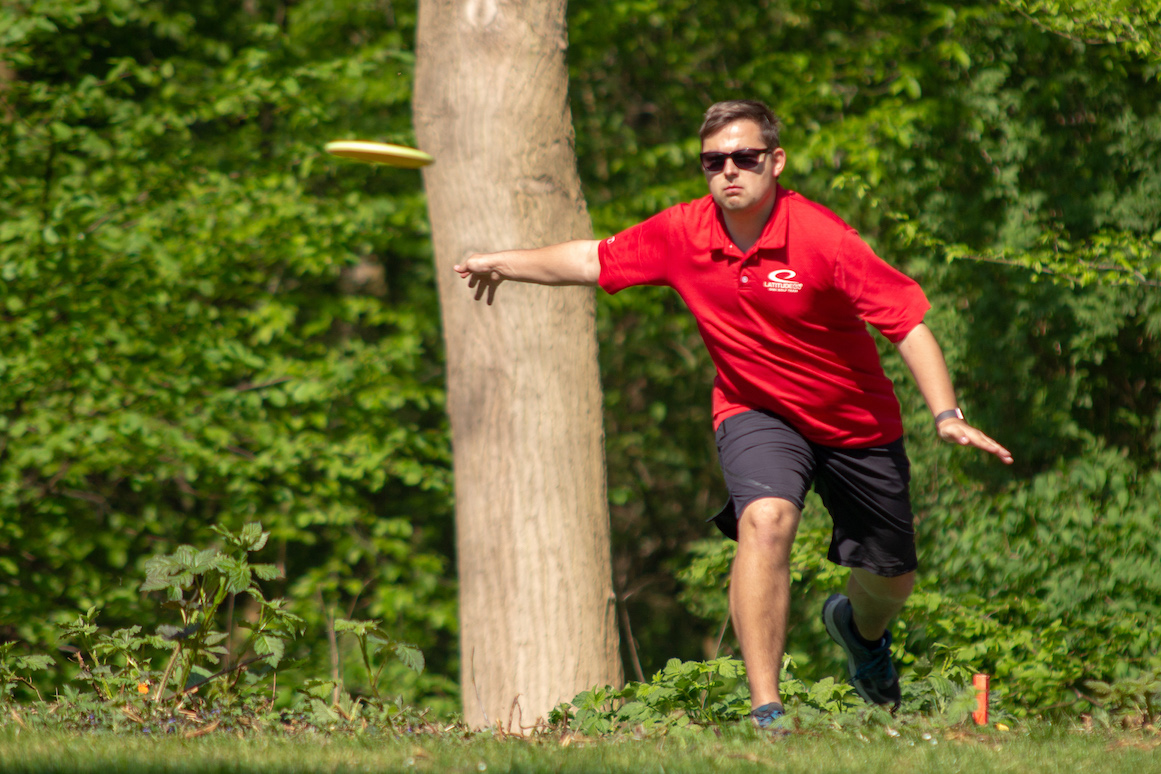 "It was kind of a rough start," said Konsorr. "I didn't always hit my lines like you have to on this course. But I don't really set specific goals in relation to what place I come in. My main ones were to play my game and putt well. I also played one or two points above my rating. So, I think I met my goals."
Of the podium finishers at the Dutch Open, only Lätt is participating in the second EuroTour event, Bluebell Woods in Scotland, which takes place May 3rd-5th.