Chase card comeback took strong finish down the stretch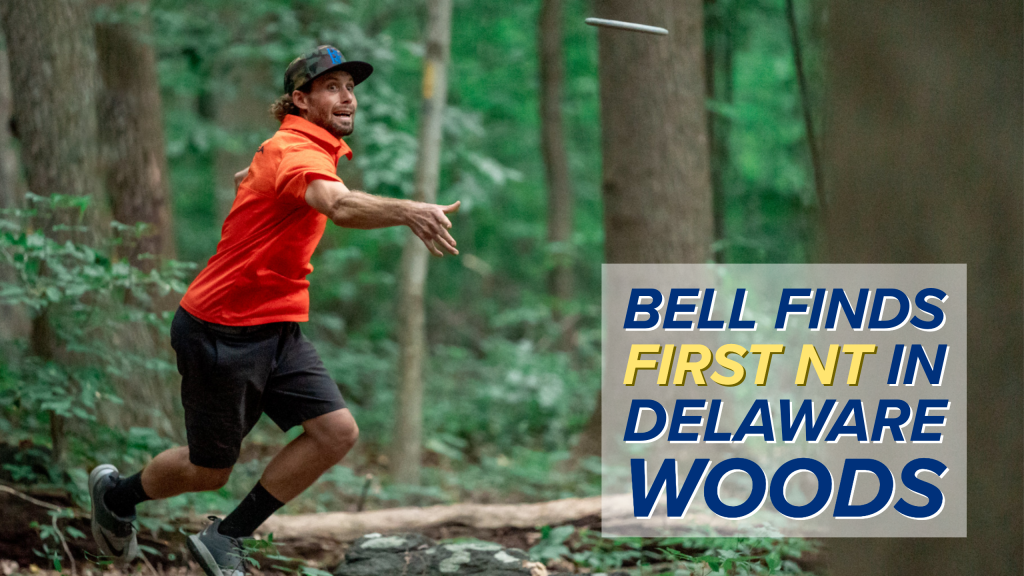 The PDGA got lucky with its National Tour events in 2019. For the fifth time in as many events, the Open division has produced a different winner, three of which were first-time NT victors.
In one of the most exciting finishes of the season, Matt Bell joined that list of first-time NT winners, earning his W at the Delaware Disc Golf Challenge off the chase card. Bell started the final round in a tie for fifth, and shot a 1048-rated, 8-under par 61 to beat Ricky Wysocki by a single stroke.
"Going into the round I thought I might have a chance," Bell said Monday after letting his win sink in. "I made a couple of mistakes which I thought put me out but I knew I had my card beat going into 15. That was a turning point, hole 15."
Bell had been hanging around the top half of the leaderboard all weekend. He carded a 67 on a rainy first day of action, but at a course like Iron Hill, his 2-under par was good enough to keep him in contention. On day two, his 7-under par 62 was bested only by Väino Mäkelä who shot the only 60 of the weekend. On day three, Bell's 61 was tied with James Conrad and Garrett Gurthie for the hot round. Bell got better as the tournament wore on, while many of his competitors stayed more or less static.
For his part, Wysocki played solid golf all weekend, shooting 64 for round one, 63 in round two, and 64 in the final stretch. In fact, going into the final nine of the round it looked like Wysocki was going to run away with the title. Wysocki went 8-under over the front nine, including an eagle on hole 8, building up a lead of five strokes. He stumbled on the back half of the notoriously unforgiving Iron Hill, however, bogeying holes 12, 13, 16, and 17.
matt bell delaware challenge leaderboard
Bell just needed his own jumpstart to make a run. He got it on hole 15, coming off an already big Circle 2 birdie on hole 14.
"I hit first available, scrambled onto the fairway to about 65 feet, and made that putt for a 3, and the gallery that was following me just went nuts," Bell said. "They were so loud that I felt like I knew what that meant. It was that cheer. I birdied the last three holes. I didn't check UDisc until my drive on 18 landed in a great position and then I knew I needed to get up and down to force [Wysocki] to birdie just to tie."
Wysocki struggled up the fairway on the final hole and was looking at the basket from C2 for the birdie and to push the event to a playoff. Wysocki's putter has been hot since Pro Worlds, and as he lined up the long attempt, his disc looked like it was tracking for the huge save.
Instead, Wysocki's Aviar hit the band on the basket, clanking down for a tap-in par. Bell wasn't there to celebrate his win though. He was already back on hole 1 expecting the extra holes of golf.
A day later and Bell still wasn't completely basking in his signature win. He's taking it in stride like a true Californian, but feels like Delaware comes at the right time.
"I just like to take it one day at a time. My mind will be focussed on Maple Hill for sure," Bell said, thinking back to how he got here. "When [Gregg] Barsby first took me on the road, I won my first A-tier and have stayed out for the past five years. I've been looking for that first NT win and that's why I'm doing it. It's reassurance that I'm on the right journey and progressing at the right pace.
"I think I'm a season or two away from settling into my game and being more well-rounded."
Bell was in the top 10 for each major statistical UDisc Live category except for fairway hits, including ranking third in Circle 1 in regulation at 37%. He made good on those birdie opportunities, hitting 93% of putts inside C1X and 42% from outside 10 meters, collecting the most under pars scores of the event.
"Putter was on, it's definitely one of my strengths," Bell said. "I used a couple of putters I hadn't used since Masters Cup, and with the rocks [in Delaware] it was extra incentive to not get 'em too chewed up."
Bell finished in first at 17-under par 190 total. Wysocki was second at 16-under par 191 total and Joel Freeman was third at 14-under par 193 total.