Weese moves into third but only two women are under par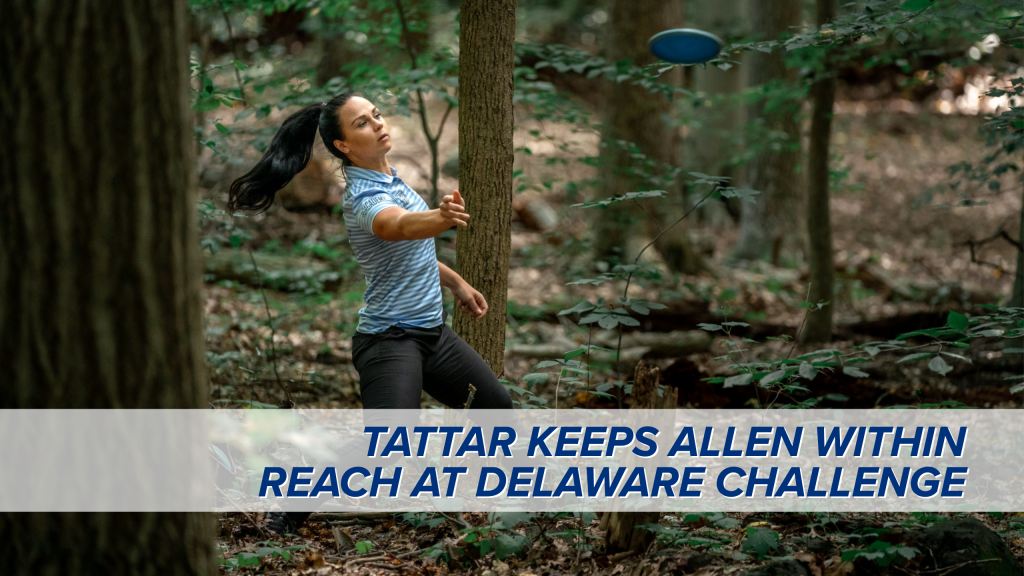 For the second day in a row, Catrina Allen came out at the Delaware Disc Golf Challenge on a tear, looking like she could run away with the lead. And for the second day in a row, Kristin Tattar made sure we'd have a close competition down the final stretch.
Allen remains in the lead by two strokes at 7-under par 131 total after posting a 2-under par 67 Saturday. She quickly had added two strokes to her round one lead in the opening holes after going three down through three, connecting on Circle 1X putts on each for birdie. Hole 1 continues to jumpstart Allen's rounds, as she's the only player to have birdied the redesigned hole and has done so both rounds.
Despite the good start, Iron Hill does not give up strokes easily and Allen was carding more bogeys than birdies over the back nine. Only one over par score can be attributed to missed putts. Of three three-putts during round two for Allen, only one resulted in a bogey. She is still third in the division at 83% C1X putting, and leads the field in both C1 and C2 in regulation.
For everything Allen has done well, Tattar has essentially matched it. She's second in C1 and C2 in regulation, third in C1X putting, and lead the division in fairway hits at 71%. She's got the second fewest holes over par, and had Allen within one stroke for much of the back half of the course. She matched the 2-under par round and is at 5-under par 133 total. Tattar and Allen remain the only women under par for the event.
Jessica Weese tied the day's hot round to move into third place at 1-over par 139 total. She technically did not hit a C1X putt on the day and had only one bogey. Alisha Schafer remains on lead card in fourth place at 2-over par total.
TAGGED: PDGA, 2019 Delaware Challenge, 2019 PDGA National Tour, Catrina Allen, Delaware Challenge, Delaware Disc Golf Challenge, Kristin Tattar, National Tour, PDGA National Tour, Recap, UDisc Live