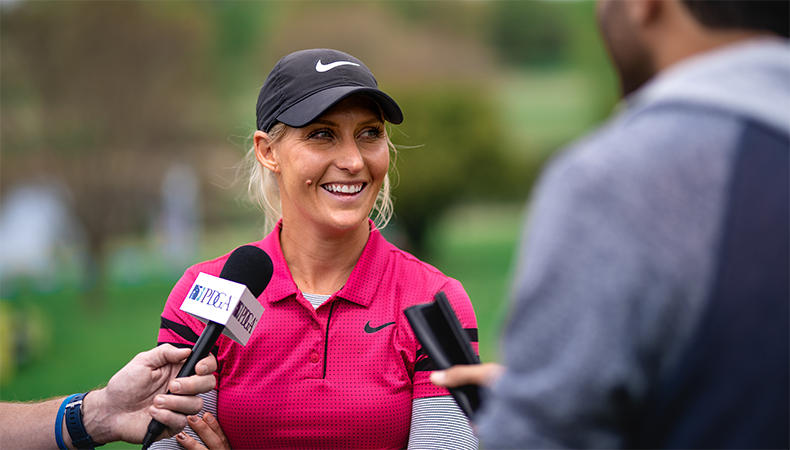 EMPORIA, Kansas — Catrina Allen wasn't going to let a sluggish start slow her down Wednesday at the Dynamic Discs Glass Blown Open.
After a 15-minute backup on hole 2 found her playing hacky sack instead of disc golf, the two-time GBO Champ snapped back to life with a scorching back nine to log a 4-under par 60 at the Emporia Country Club, a mark that has her in control early at this four-day PDGA National Tour event. Jessica Weese's 1-under par 63 put her in second place, while Jennifer Allen, Rebecca Cox, and Paige Bjerkaas sit in third place at 2-over.
Allen's performance was rated at 1003. It's the sixth time in 2019 that she has crested four digits, but it just took a while to get going.
"It felt like two different rounds," Allen said. "…I think it took us just as long to play 8 through 18 as it did 1 through 5 or 6. I felt good, birdied the first hole then we sat and played hacky sack for 15 minutes and I was like, 'Oh yeah, I have to play disc golf."
She yanked her first drive back from the break out of bounds, then misfired her approach shot on the 521-foot fifth on her way to racking up three bogeys in four holes.
Once the pace quickened, though, so did Allen's scoring. She canned a circle's edge putt on 6 and later connected from 40 feet for deuce on the downhill, OB-lined 11th. Back-to-back birdies on 14 and 15 put her at 2-down for the round, but she wasn't done with the scoring parade.
Allen ran straight at hole 16's 262-foot island and landed safely on the front side, but she was unable to connect for the rare 2 (only three players in the Open Women's field birdied the hole). On the 680-foot 17th, Allen took a bold approach: She fired a lazer of a second shot over the out-of-bounds golf green that flexed and settled to 30 feet, and she once again hit the long-range putt for 3.
"17 was kind of aggressive and a little bit risk/reward," Allen said. "But I thought, I'm playing well and I can get up and down if I do go OB and I should still be sitting ok."
The Minnesota native was good on 91% of her bids inside the circle, and she added to that clip with a flourish to close the round. After smashing her drive on 18 out over the water, it drifted back in to that money range once again, and Allen lofted another push putt up and into the chains to finish the day with authority.
"I was like, 'Well, I'm in prime position, uphill inside the circle,'" Allen said. "I have to go for it."
[embedded content]
That attacking mindset played well for Allen, but Weese said she should have played it safer during her strong showing. The California pro went out of bounds three times during the round, including a stray shot on 17 that left her still feeling wounded as she ordered lunch at the Country Club's restaurant. Despite needing to clean up those miscues, she's sitting pretty after a perfect circle 1 putting performance.
And while Weese lamented only three penalty strokes, defending champion Paige Pierce doubled that number on the way to a 6-over par 67 that put her in a tie for sixth place with Vanessa Van Dyken, Hannah Leatherman, and Missy Gannon.
"I had a couple I just had the wrong angle on and they just hyzered out, and a couple that should have went OB that stayed in on the front nine. That was good," Pierce said. "Toward the back I had a couple errant releases on the wrong angle, so it was bound to go OB."
Pierce particularly lamented her second shot on hole 14, when she thought she was in bounds because her disc was on the inside of the border signage that lined the golf green. Those signs sit a few feet beyond the OB marker, though, and it led to another shot over par.
"It's confusing, but it's also my own fault because on every other hole the white flags are OB," Pierce admitted. "…I actually aimed at the white flag thinking it was the circle's edge and I hit my mark, so it's hard to be upset about that because I threw the shot I needed to at the moment. Just lack of preparation cost me maybe two or three strokes."
Stat of the Day
The newly redesigned hole 18 played as the third most difficult during the round, clocking in at 0.89 strokes over par. Allen's birdie on the 413-footer was one of only three in the 38-player field; Jennifer Allen and Hailey King had the others.
You Should Have Been Here For…
…the love of a young fan. A junior girls player followed the top cards for the whole round, dragging her Zuca cart behind her. And in that cart? Snacks for the players, of course. During a backup on 17 she distributed Goldfish and fruit snacks, much to the delight of appreciative competitors.
What's Next
The Open Women's lead card tees off at 9 a.m. Central for another crack at the Country Club. Tune in live on SmashboxxTV.
[embedded content]