EMPORIA, Kansas — The Emporia Country Club's 16th, a 262-foot island hole for the Open Women's field, was designed to inflict added pressure on competitors and sow chaos on scorecards.
Mission accomplished.
Paige Pierce used the island to induce a three-stroke swing that tied her with Catrina Allen on Saturday during the final round of the Dynamic Discs Glass Blown Open. But with two holes still to decide the tournament, Allen was able to regain her composure and connect on an uphill birdie putt on hole 18's elevated basket to secure her fourth career GBO title.
Allen's final round 3-over par 67 took her four-day total to a 1-under par 255 and helped her pocket the $2,000 first place purse, while Pierce — who chased down six strokes during the round — took home second place with an even-par 256. Jennifer Allen climbed two places on the leaderboard to finish in third place at 14-over for the week, while Jessica Weese (+17) and Sarah Hokom (+18) completed the top five.
Though she ended up with the victory, it was shaky in the early going for Allen. She gave away two of her six strokes out of the gates, missing her par bid from 20 feet off the left side of the chains and carding a bogey, while Pierce was surgical in gathering an opening birdie. But Pierce couldn't connect from 25 on hole 2, missing off the top band to yield one back to Allen, who was parked for the birdie 3.
"It was a long round," Pierce said. "Strokes were coming and going…kind of got some lost some, got some lost some."
The back-and-forth persisted, with Pierce picking up a stroke when Allen misfired her putter approach on 5. On the par-4 7th — the second easiest hole on the course by score — Allen missed another putt low from 20 feet to help Pierce gain an edge.
"I remember telling myself this could happen on every hole," Allen said. "So if you get upset about these and continue, you've already lost the tournament."
Pierce ceded one back to Allen with a double-bogey 7 on the 903-foot, par-5 8th that vexed competitors all week, while Allen sprayed her drive into the right-side brush on 10 to give it back. It was ping pong on the scoreboard — when one rival would serve, the other would fire back — until the gap was whittled down to three heading into one of disc golf's most climactic holes.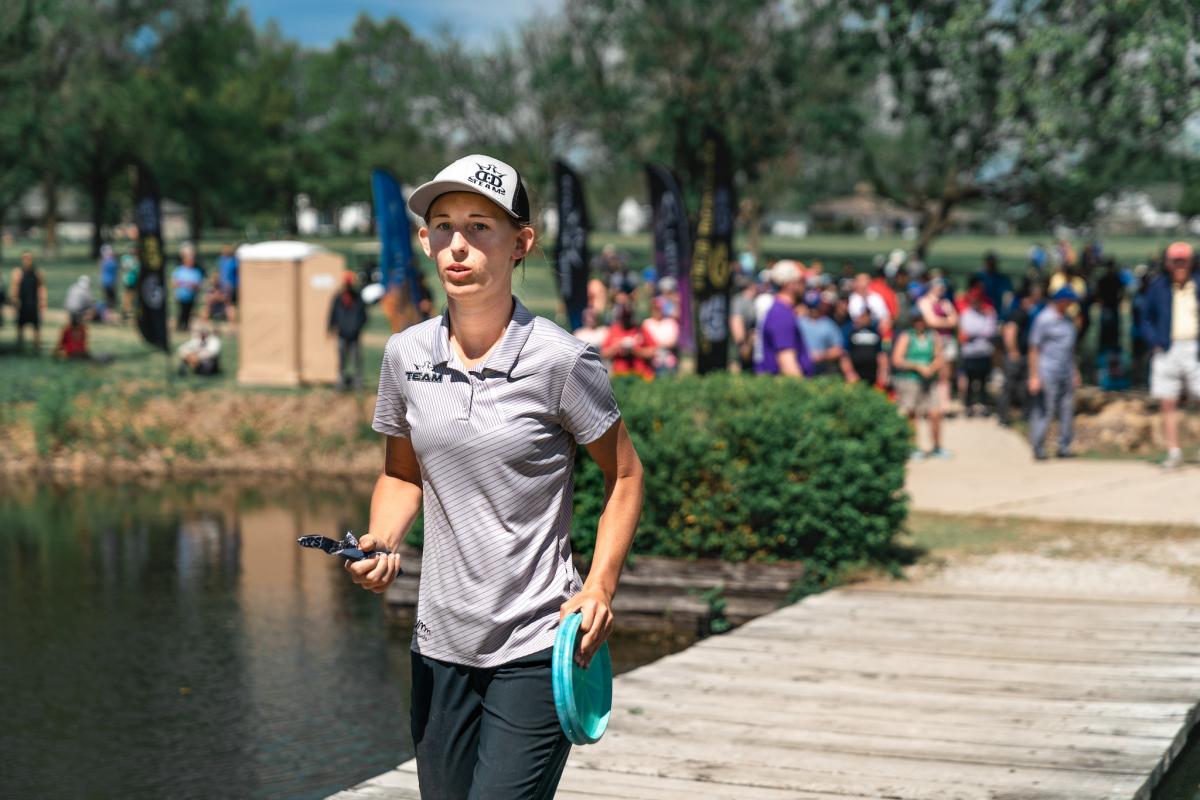 That left Pierce consulting practice partner Missy Gannon to get her opinion on what route Allen would opt for.
"I was wondering, 'What is Catrina gonna do on 16?'" Pierce recalled. "She's probably gonna lay it up."
Pierce was in no position to do the same, and she put a Marshal safe to the left edge of the green. What she did not realize, though, was that Allen would not deviate from her strategy, running the island with a PA-1 like she had all week. The Minnesota pro fired a shot that was tracking on a beeline toward the basket, but a tailwind pushed it down into the rocks and it flared into the drink. She approached safely from the drop zone, but was stewing over missing the shot.
"Just, like, heartbreaking," Allen said. "I felt like I played great all week, and my shot looked good, and for that to happen was absolutely devastating."
Sitting furthest from the pin, Pierce said she blocked out every negative thought — her putting was less than stellar during the week, and she had already missed three times inside the circle during the round — and hit the chains with authority. She let out a high-pitched yelp and unleashed an emphatic fist pump, raising it in the air as she strode triumphantly to collect her disc from the bucket.
"I felt every emotion at once," Pierce said. "Those are the moments I really live for. Regardless of what happens through 18 holes, those are the moments why I play disc golf."
Allen needed to connect on her bogey bid to save a one-shot lead for the final holes, but she waved by the left side of the basket again — she cited a lack of follow-through as the reason for her woes on the green — and tossed her mini out of frustration. Pierce issued a courtesy warning for the outburst, and Allen cleaned up a double-bogey that led the pair to a tie.
"I'm an emotional player, and I feel like when the guys do that it's not even a conversation," Allen said. "…When I feel like it's a bad break like that I do have emotions and I'm gonna show it. And at the end of the day, I feel like I'm a compassionate, empathetic person, so I'm not that upset about it, to be honest."
The pair pushed on hole 17, leading to a final showdown on the 413-foot 18th. Pierce was still first to tee and took the high hyzer route, clipping a branch for the second day in a row and landing roughly 70 feet short of the pin. Allen, looking to seal the win, launched the same flat, aggressive D2 shot she had all week and watched it bounce above the pond before fading out and skipping 20 feet above the basket.
"I thought about, oh, you know maybe I'll just put it in bounds and see who gets up and down," Allen admitted. "And then I was like, I've been working so hard and I've gained distance in the last, even, months, I feel like. I was like, no, just go for it, and if you lose going for it then that's a better feeling than laying up."
Even after connecting for the win, Allen still wasn't quite sure it was all real.
"It didn't sink in until I went back to my bag and I'm like, 'You made it,'" she said, "'And you won.'"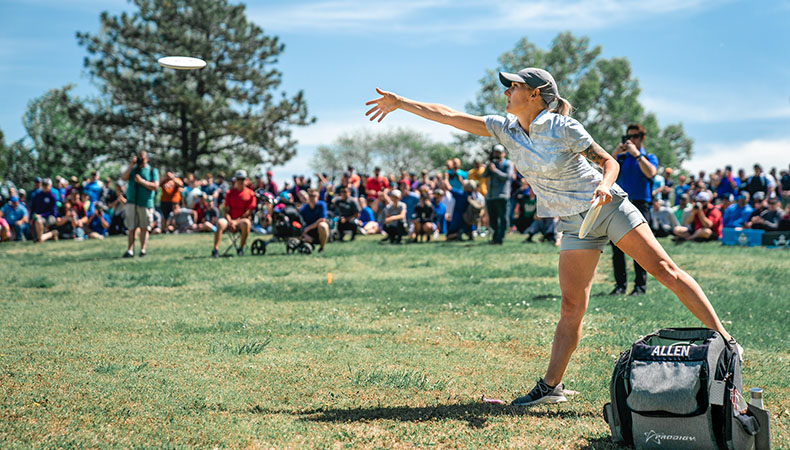 Chain Reaction