Tattar had deficit to one stroke with three holes to play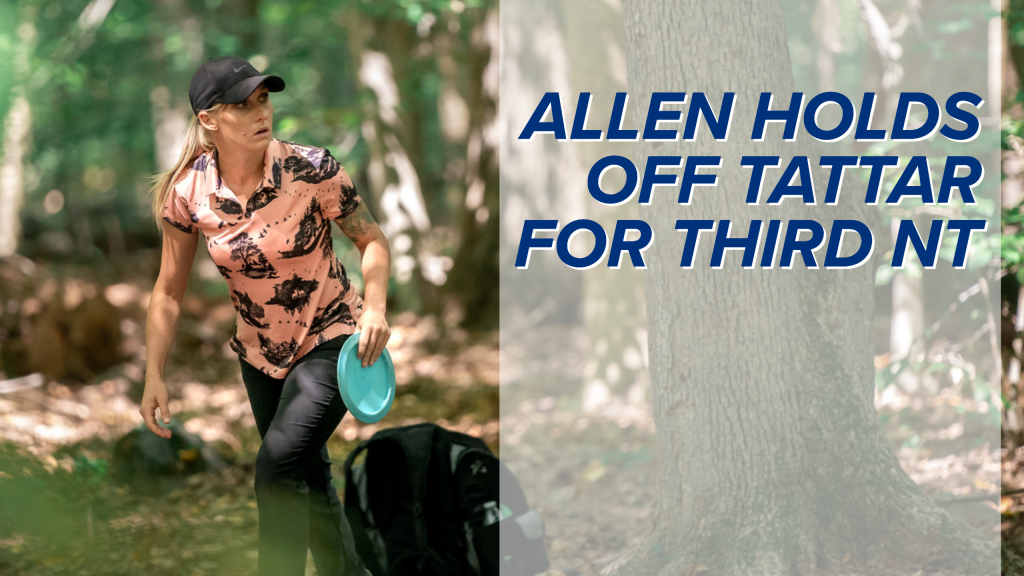 As the Delaware Disc Golf Challenge neared its final holes, the Open Women's division had become another tight contest.
Catrina Allen had led the tournament wire-to-wire, but was having trouble maintaining her advantage over the back nine of Iron Hill. During round one Allen was 7-down before a bogey and double-bogey on holes 16 and 17. Round two had her over par over the final 10 holes after starting the day with a turkey.
Sunday was no different.
Allen was 2-under on the day and had increased her lead to seven strokes over Kristin Tattar after making the turn onto the final nine holes. While she hadn't connected on any attempts from Circle 2, she had found C2 in regulation every hole over the first 10 and was bogey-free.
Tattar was not having her best day on the course, having already two-putted four times, but a birdie on hole 11 saw her begin to chip away at the lead.
"I had lots of opportunities in the beginning of the round to gain some strokes, but I just kept missing putts," Tattar said. "I'll keep working on my putting. This has been the weakest part of my game for the past month and a half."
Despite another two-putt from Tattar on hole 12, the Estonian would pick up two strokes to Allen due to a rough go up the fairway by Allen that resulted in a triple-bogey 7 on the par 4. Allen's first miscue appeared to rattle her, as she would bogey hole 13 and miss a birdie chance inside the circle on hole 14.
Then Tattar really put the screws to Allen, parking the 295-foot hole 15 for an easy tap-in 2. Allen responded by getting off the fairway and having to work for a bogey-save.
With three holes left Tattar was one behind Allen at 3-under par total to Allen's 4-under. She had erased six strokes in five holes.
"Yes, I knew about it," said Tattar of the slim margin. "But overall I played so bad the last round that these last holes really didn't change anything. Of course, I tried my best to keep fighting but it just wasn't enough this time."
Another two-putt for Tattar on hole 17 pushed Allen's cushion back to two strokes and she added a birdie on the final hole to win by three at 5-under par 202 total to Tattar's 2-under par. Both women were over par during the final round for the first time at the tournament.
Delaware is Allen's third PDGA National Tour win of the season. She finished first in four major UDisc Live statistical categories, including both C1 and C2 in regulation, and was second in fairway hits and C1X putting. Her 79% C1X putting percentage and rank was her best showing since April's Nick Hyde Memorial where she finished in first at 80%.
Defending DDGC champion Sarah Hokom made a final day run to the podium. Her 988-rated, 3-under par 66 was the only round under par of the day and pushed her into third place at 1-over par 208 total. She ranked third in all four major driving categories at the event.
TAGGED: PDGA, 2019 Delaware Challenge, 2019 PDGA National Tour, Catrina Allen, Delaware Challenge, Delaware Disc Golf Challenge, Kristin Tattar, National Tour, PDGA National Tour, Recap, Sarah Hokom